REWIND
REVIEW

"
This is the real-life inside-story of The King Of Rock & Roll and the girl who became his queen.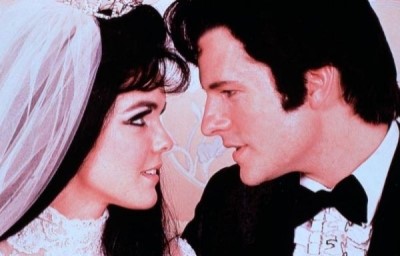 Starring
Susan Walters, Dale Midkiff, Linda Miller, Jon Cypher
Billy Green Bush, Ann Haney, Marshall R. Teague, Hugh Gillin, Mark Thomas Miller, Kristin Holstrom, Elden Henson, Erick Ratliff, Maria Claire, Sarah Martineck, Chris Ufland, Greg Webb, Alice Cadogan, Ken Gibbel, Cynthia Harrison, Wayne Powers, Lisa Stahl, Holly Dorff, Ilona Wilson, Vivian Bonnell, Greta Brown Update Cast
Priscilla Presley has said that that she wrote "Elvis and Me" to combat the tabloids opinions of Elvis because she could not imagine how their daughter would react to the stories from the tabloids. She wrote the book so Lisa Marie could know that her father was a compassionate man.
More Trivia from Elvis And Me
Review
Based on 1986's phenonmenal #1 New York Times Best Seller, "Elvis And Me" is not told from the perspective of Elvis Presley's friends, relatives, or even Elvis himself. Like Marion Zimmer Bradley's novel "Mists Of Avalon" tells the story of King Arthur's reign through the eyes of women, Elvis And Me tells the tale of The King of Rock & Roll through they eyes of the only woman who could legally call Elvis her husband, Priscilla Presley.

Elvis And Me was certaintly not intended to be a tell-all, end-all revelation of Elvis's true character, it was simply meant to be a story told through the eyes of Priscilla, and what Elvis meant to her.

"I would not be honest if I did not say revealing our life, which was so dearly coveted, has been more than a struggle for me.There were many times I wanted to back out, give up, forget, or not deal with this labor of love. Some will find I have left out many important dates, specific facts, and countless stories. I don't think anyone can begin to capture the magic, sensitivity, vulnerability, charm, generosity, and greatness of this man who influenced and contributed so much to our culture through his art and music. I did not intend to accomplish such a feat, just to tell a story. Elvis was a giving soul who touched and gave happiness to millions all over the world and continues to be respected and loved by his peers. He was a man, a very special man."

Priscilla Beaulieu (Susan Walters) grew up a beautiful but ordinary child of a family whose father was in the air force, which meant the family moved every two or three years. One of these moves landed Priscilla in West Germany, where she was to meet her future hip-shaking husband. A ten year age difference, 14 and 24, made Mr. and Mrs. Beaulieu wary, but Priscilla was smitten.

And why shouldn't she be? One minute she was a shy junior-high student trying to adapt to West German culture, and the next minute she was dating a handsome superstar who the first night he met her serenaded her with "Are You Lonesome Tonight", and seemed to be generally intrigued with her.

Like all real life fairy-tales-come true, things progressed quickly for the couple,and after only two years of long-distance courtship Priscilla found herself living in Elvis's regal country mansion, Graceland.

"In truth, I was as mystified as my parents were about why Elvis wanted me to come live with him. I think he was attracted by the fact that I had a normal, stable childhood and that I was very responsible, having helped my parents raise my younger brothers and sister. I was more mature at sixteen than I was at fourteen, when he'd met me, not only because I'd gone through the normal growing period, but also because I'd experienced the pain of living without him for those two years."

At Graceland, Priscilla saw a side of Elvis that was hidden from the rest of the world. She learned that he had a very close, almost spiritual connection to his mother; at her death an empty space was left in Elvis's heart that even Priscilla couldn't fill. She witnessed first hand his possessiveness, his jealousy, his generosity as a parent, his addiction to pills, his heart of gold, and his desire to reach a higher state of consiousness.

"Elvis and I took half a tab. At first, nothing happened. Then we started staring at each other and laughing --our faces were becoming distorted. I became engrossed in Elvis's multicolored shirt. It started to grow, getting larger and larger until I though he was going to burst. It was captivating, but I did not like the feeling. I thought, this isn't real, be careful, you're losing it. I tried to hang on to sanity. We all gathered around the large aquarium outside the master bedroom, fascinated by the tropical fish. Funny--there were only two or three, but suddenly I saw an ocean of brightly colored fish. I strolled off and found myself in Elvis's huge walk-in closet, purring like a kitten. It was early morning when Elvis and I went downstairs and walked outside. Dew came down, creating rainbows in the mist, glistening on the trees and the lawn. We studied the leaves, trying to count each dewdrop. The veins in the grass became visible, breathing slowly, rhythmically. We went from tree to tree, observing nature in detail. It was an extraordinary experience. However, realizing it was too dangerous a drug to fool around with, we never tried LSD again."

Elvis Presley was an incredibly deep human being and was a different man to everyone he met. Since Priscilla'a best-selling novel was released after Elvis's death, it's hard to tell which part of her story is fact or whether or not parts have been fabricated to hurt Elvis's pure legacy. At times, the way Priscilla portrays life with Elvis seems exaggerated or completely made up, since the majority of people who personally knew The King said he was one of the most compassionate people they had ever known.

Since Elvis is no longer with us to give us his side of the story, it seems we may never know the complete legend behind his and Priscilla's relationship, however this film portrays Priscilla's recollections and also includes some real life home video of the two on their honeymoon and just having a good time playing around at Graceland.

This film is a definite must-see for fans of biographies, and fans of the Presley's in particular. The film as well as the novel suck the viewer or reader in until they feel like a voyeur into the lives of the most famous legend in the world whose life ended tragically, suddenly, and mysteriously. The originator of Rock & Roll itself, it's hard to conceive what our music world would be like today if a man named Elvis Aron Presley had never been successful.
Author:
Bridgette Marie
Update This Review
Verdict
Where do I begin... I am a fan of Elvis and the rest of the Presley family.

I love the city of Memphis. With Graceland, Beale Street, delicious food, museums, and great places to shop, it's the perfect mix of country and city. I always feel really at home when I visit Memphis, and I've considered moving there.

If you're interested in visiting Memphis, Graceland is located at 3734 Elvis Presley Blvd. Priscilla Presley is the owner of the restuarant "Elvis Presley's Memphis" at 126 Beale Street which offers great southern cuisine and cool entertainment. Also, if you're interested in taking a tour of Graceland, a ticket is $16.00. A very reasonable price, and totally worth it in my book. I swear to God, I could live in Graceland!

I also love Lisa Marie Presley. She is so gorgeous and seems very intriguing. I would love to have the chance to meet her one day.

Ok, well obviously there were a million pieces of info I could have chosen from to put in the trivia section, so I just picked a few pieces of trivia that interested me and that I hope interest you.
Great adaption of the novel, fast-paced, great real life home video. Susan Walters does a great job of portraying Priscilla Presley.

They should have gotten someone else to play Elvis, like Michael St.Gerard or something.
Rewind Rating
The Movie Data
Key Crew
Director: Larry Peerce
Writer: Priscilla Presley, Sandra Harmon, Joyce Eliason
Producers: Lynn Guthrie, Robert Lovenheim, Priscilla Presley, Joel Stevens
Locations Manager:
Update The Crew
The Movie Trailer
Jump To: Music & Soundtrack Vibes
Or use the menu to navigate
1988 ABC Studios
1999-2020 fast-rewind.com
V4_27 Powered by Rewind C21 CMS