REWIND
REVIEW

"
Mandroid. Mercenary. Scientist. Ninja. Each one a specialist. Together they are ELIMINATORS!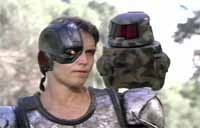 Starring
Andrew Prine, Denise Crosby, Patrick Reynolds, Conan Lee
Review
What do you get when you cross a mad professor, a mandroid, a jungle guide, a beautiful scientist and a Ninja? That would be Eliminators. Mix in three ruthless adversaries and a few Neanderthals and you have quite an adventure.

Abbott Reeves (Roy Dotrice) is a mad professor who, with the help of his assistant, Takada (Tad Horino), has perfected time travel and constructed a "weapon" like no other…The Mandroid. Half human, half machine, he has but only one goal – to rule the world. But that will not be as easy as he thinks!

Reeves once rescued The Mandroid, or "John" (Patrick Reynolds), from a downed plane, rebuilt him, wiped out his memory and planned on using "it" for his evil convictions. That all changed when the Mandroid escapes captivity and has a goal of his own – to find out who or what he is and how he came to be. Only then can he seek revenge.

Along his journey, he first encounters Nora (Denise Crosby). She is a beautiful scientist and expert in robotics who works for Reeves; but she is not happy with how her work is being used. She agrees to help John and together they set out to get answers. On their way to find Reeves, they run into Harry Fontana (Andrew Prine), a Mexican jungle guide with a sly sense of humor and a magnet for trouble. The two hire Fontana to lead them down river to find Reeves' hideout. All the way, three other angry guides proceed to chase Fontana for "stealing their fare". They soon run into Kuji (Conan Lee), a Kung Fu Ninja with a mission of his own. He also decides to join the group in pursuit of the mad scientist. Now the Eliminators are complete and revenge is imminent! Soon after, they finally reach the lab of Reeves so that the Mandroid can confront his maker. It sets up quite an end battle, a few surprises and a very suitable ending.
Author:
80'sRocked
Update This Review
Verdict
Eliminators is a good mix of sci-fi, action, adventure and even a nice amount of comedy. This "B" movie is one I would rate a touch above that – probably a B+. The acting could be a bit better at times and there's really no soundtrack, but a decent storyline and non-stop action comfortably make up for that. Being a huge fan of sci-fi, I do recommend giving this one a look. What's the worse that can happen? You won't like it. This is only available on VHS at the moment. Hopefully, that will change one day.
Non-stop action, pretty good storyline and nice mix of humor.

Not much of a soundtrack and cheesy acting at times.
Rewind Rating
The Movie Data
Jump To: Music & Soundtrack Vibes
Or use the menu to navigate
1986 Empire Pictures
1999-2020 fast-rewind.com
V4_27 Powered by Rewind C21 CMS