REWIND
REVIEW

"
I am not an animal! I am a human being! I ...am ...a man!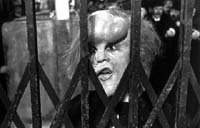 Starring
Anthony Hopkins, John Hurt, Anne Bancroft, John Gielgud
Wendy Hiller, Freddie Jones, Michael Elphick, Hannah Gordon, Helen Ryan, John Standing, Dexter Fletcher, Lesley Dunlop, Phoebe Nicholls, Pat Gorman, Claire Davenport, Orla Pederson, Patsy Smart, Frederick Treves, Stromboli, Richard Hunter, James Cormack Update Cast
Cameos
Look for Christopher De Vore, Eric Bergren, Pauline Quirke making a cameo appearance!
Review
He was a man plagued by nightmares of his mother. He was labeled as a "freak" in a circus side show. He was tormented by fellow human beings. He was disfigured on the outside, beautiful on the inside. He was John Merrick. He was...The Elephant Man.

This beautiful but heartbreaking film directed by David Lynch tells the true story of a twenty-one year old English man named John Merrick. Mr. Merrick was born with a rare crippling and disfiguring disease which caused his appearance to be altered and had ignorant people be cruelly inhuman to him. Despite his appearance, he was a very intelligent, kind, gifted young man who's warm smile and kind heart touched many lives and continues to inspire.

When Dr. Frederick Treves was first introduced to John he was in a "freak" side show at a circus and was referred to as "The Terrible Elephant Man". He was suffering from chronic bronchitis and had been cruelly beaten and ridiculed by the proprietor of the side show who claimed to "own" John, as if he were an animal rather than the beautiful soul that he was.

Dr. Treves took it upon himself to make sure that John had the best life possible and gave him a permanent "home" in the London Hospital. He finds out John is a brilliant man, who although shy and intimidated at first, does indeed know how to speak, and does so rather gentlemanly. Although he has all the reason in the world to be angry at God, he isn't, and considers the Bible one of the most beautiful things he's ever read. He even memorized Psalm 13 and recites it in a very touching part of the film. He also created a model of a church cathedral which is so beautiful you can hardly believe a disabled man created it, although he certaintly did.

John constantly expresses his gratitude to Dr. Treves and the hospital staff, who although at first are shocked at his appearance, come to love him very much. He is given nice suits to wear and a shaving kit and is so touched by those gifts that the viewer watching the film cannot help feeling selfish for whatever they complain about in their lives when here is a man who is in the worst situation possible and yet in his own words is "Happy every hour of every day", because he now knows he has people who care about him.

John is a great fan of the theater, although he's never been to a play, and is utterly beside himself when Mrs. Kendell (the most famous actress of the time) starts a friendship with him. There is a beautiful, poignant scene where Mrs. Kendell and John recite Shakespear's Romeo and Juliet and Mrs. Kendell tells him he is not the elephant man, but Romeo, indeed.

John even has the support of the royal family. The Princess of Wales makes a visit to the hospital and commends them on the kind, christian act of taking care of such a wonderful man as Mr. Merrick. Although the hospital chairmen were considering transferring John somewhere else, they certainly change their mind after the Princess addresses them.

Although only twenty-one years old, John is dying, but his last day on earth is a beautiful one. He had a balcony seat to one of London's most wonderful plays which Mrs. Kendell dedicated to him, and he received a standing ovation.

That night John was the happiest he'd ever been and so wanted to leave the world that way. He arranged his pillows so he could sleep lying down (which he couldn't do before because his large head would cut circulation of blood and oxygen off) and passes away in his sleep.

This film is beautiful, touching, heartbreaking and heartwarming. There are many heartbreaking scenes I left out because I feel it is well worth it to watch this gorgeous film starring Anthony Hopkins as Dr. Treve and John Hurt as John Merrick. Words cannot describe the inner beauty of this man who will forever be known as a legend in his own right.
Author:
Bridgette Marie
Update This Review
Verdict
I have to give this film such a high mark because it's beautifully done, realistic, and heartbreaking.

I admit I was hesitant to watch this film again because I knew I would definitly be reduced to tears, but it is a great reminder for all people to realize they shouldn't feel so sorry for themselves and complain about small things because there are people out there who are fighting much tougher battles, and I certaintly can't think of someone who's had a harder life than John Merrick. He's a beautiful person because his hearts beautiful, and every time I see the movie I want to give him a big hug and adopt him.

I really, really recommend this movie for anyone with a compassionate, humanitarian heart.
Excellent makeup, wonderful acting, very realistic, an absolute must.

Other than the fact that it's very sad, there are no weaknesses.
Rewind Rating
The Movie Data
Jump To: Music & Soundtrack Vibes
Or use the menu to navigate
1980 Paramount Studios
1999-2020 fast-rewind.com
V4_27 Powered by Rewind C21 CMS