REWIND
REVIEW

"
An out-of-this world, down-to-earth comedy adventure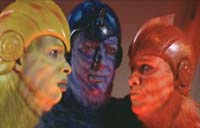 Starring
Geena Davis, Jim Carrey, Damon Wayans, Jeff Goldblum
Julie Brown, Michael McKean, Charles Rocket, Larry Linville, Rick Overton, Diane Stilwell, June C. Ellis, Felix Montano, Rick Hurst, Leslie Morris, Lisa Fuller, Stacey Travis, Nicole Kramer, Wayne 'Crescendo' Ward, Tita Omeze Update Cast
Cameos
Look for Angelyne making a cameo appearance!
Earth Girls Are Easy was directed by Julien temple, who has had a considerable underground reputation ever since his cult, Sex Pistols movie "The Great Rock and Roll Swindle", a decade earlier. His previous film was the strange, difficult "Absolute Beginners, in which he shows a visual style that was willing to go to any length to make a point. Preparing for "Earth Girls", he seems to have studied Little Shop of Horrors and the works of John Waters, and gives the viewer a science fiction musical where the art direction is so flamboyant it should almost be billed along with the actors.
More Trivia from Earth Girls Are Easy
Review
Yeah, yeah, yeah.

You all know L.A. is the ultimate and that the Valley is, like, totally bitchin', but believe it or not, fellow dudes and dudettes, there are places and people who are even more "far out!" Okay, okay, I know what you're thinking... Who could be so zany and outrageous that they attract attention in the entertainment capital of the world? Three furry aliens from outer space, that's who! Now, don't freak out! Just have a mental margarita, lay back and chill, because "Earth Girls Are Easy" is going to totally blow you away!

This California fairy-tale-gone-berserk revolves around a twenty-something named Valerie Gail (Geena Davis) who lives in a typical California style home in the San Fernando Valley of Los Angeles, California. She's been pushing her fiance Ted to be excited, for a change, about their wedding, which is coming up next month, but nothing seems to be working.

Valerie works as a manicurist in a salon called "Curl Up & Dye" (love that name), which is fitting since she claims she doesn't "know anything about anything except nails". Her best friend is carmine, red-headed co-worker, Candy (Julie Brown). Candy is the epitome of what it is to be chic and sexy 1989 California style, and so decides that all Valerie needs is a beauty makeover to arouse Ted's wilted spirits. Candy belts out in song to "Brand New Girl" in a cute music sequence while Valerie gets permed, facialed, body wrapped, bikini waxed and bleached and turns into a blue eyed blonde.

To put it bluntly, the makeover doesn't work. Valerie walks in on Ted with a blonde, silicone-breasted bimbo, and she feels horribly spurned. Talk about a major bummer. Valerie completely trashes her and Ted's house while lip synching Jill Jones's song "The Ground You Walk On". Maybe, she thinks, the whole concept of "Mr. Right" is a lie. Valerie is fed up with men. Temporarily.


Meanwhile, a trio of primary colored aliens are scoping out the universe in a spaceship which, according to Valerie, looks like a "giant blowdrier". The spaceship crashes into Valeries pool, and now Val is stuck with "wookie" looking martians named Mac, Wiplock, and Zebo who know absolutely jack about earth, and that can be a problem.

The aliens are fast learners however, and they're gonna have to be. Michael McKean guest stars as Woody, a surfer type who fixes pools. The pool needs to get drained if the aliens are ever to return to outer space, but Woody informs Valerie that it takes a whole day for the pool to drain, so until then, Valerie has the job of babysitting the most colorful aliens you'll ever see in a movie.

How can these e.t.'s get transformed into gorgeous hotties ready to hit the busy streets of L.A.? By taking them to Candy of course! The master of makeovers, she shaves the trio and outfits them in some kewl duds. Although they're aliens "They can still be dates!", Candy figures, so the five of them party it up in a bodacious club called "Deca Dance"(a play on the word "decadence").

Mac and Valerie are attracted to each other and as the movie progresses they help each other out. Valerie keeps her jealous ex at bay from Mac, while Mac helps Valerie's broken heart to mend. Wiplock and Zebo, however, are a bit of a handful. They get in a whole mess of trouble, even accidently robbing a licquor store and almost getting killed by Ted. Julie Brown even does a cute beach sequence singing "Cause I'm A Blonde", no less.

Like most 80's movies, this film has a happy ending where Valerie and Mac literally go riding off, or should I say flying off, into the sunset. Do you think "Earth Girls Are Easy"? Watch this film, which is a mixture of "Xanadu" meets "The Jetsons" meets "Club MTV" and I'll let you be the judge!

DVD NEWS: Region 2 DVD owners have seen a poor showing on DVD, but if you have a multi-region DVD player capable of playing PAL disks (same as UK/Europe), you can now enjoy Earth Girls Are Easy on widescreen anamorphic DVD for about £7 !!!

How? In Australia (region 4) it is available with an absolutely stunning transfer and can be ordered worldwide. We have checked this service and ours arrived in 4 days!!! The remastering is so good it was like watching a new film. It could have been THX approved, it is that good! This is great news for fans of this cult classic. Click Here for more details and to order. Get it quick before it is deleted...
Author:
Bridgette Marie
Update This Review
Verdict
It was really hard to catagorize this film 'cause it's a mixture of a musical, comedy, adventure, sci-fi, fantasy, and romance. I think this film is really adorable. Definitely one of my favorite 80's films which I feel has been underrated.
Great clothes, makeup, music, actors. One of the best examples of 8os culture at its finest.

Some might find it far fetched or cheesy, but I doubt it. Most people should love this film.
Rewind Rating
The Movie Data
Key Crew
Director: Julien Temple
Writer: Julie Brown, Charlie Coffey, Terrence E. McNally
Producers: Tony Garnett, Duncan Henderson, Terrence E. McNally
Locations Manager: Donald A. Potts
Update The Crew
Data
Release Date: 12 May 1989
MPAA Rating: PG
Studio: Kestrel Films
Production: De Laurentiis Entertainment Group (DEG), Earth Girls, Kestrel Films
Genre: Dance / Music
Update The Data
The Movie Trailer
Jump To: Music & Soundtrack Vibes
Or use the menu to navigate
1989 Kestrel Films
1999-2020 fast-rewind.com
V4_27 Powered by Rewind C21 CMS