REWIND
REVIEW

"
Alex Gardner has an extraordinary gift. To keep it may cost him his life...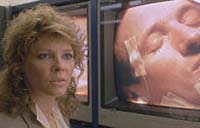 Starring
Dennis Quaid, Christopher Plummer, Max von Sydow, Kate Capshaw
Eddie Albert, David Patrick Kelly, Larry Gelman, George Wendt, Cory 'Bumper' Yothers, Redmond Gleeson, Peter Jason, Chris Mulkey, Jana Taylor, Madison Mason, Kendall Carly Browne, Kate Charleson, Eric Gold, Virginia Kiser, Carl Strano, Brian Libby Update Cast
Review
In the early eighties there came a film that was like no other. It was a fairly good film with some great special effects. Dreamscape was its name. Letís take a journey into the world of Alex. Sit down, relax but whatever you do, Donít fall asleep...

What are dreams or nightmares? Are they a part of our psyche? If they are, can they be controlled? If they can, then letís pretend that a man, with a little help from science, could psychically project himself inside the mind of another man. This is Dreamscape...

Alex is a gambling, womanizing man with a gift. His gift is being a psychic. Now an ex-colleague wants him to participate in a new experiment, where Alex must project himself into the dreams of other participants. But as always there are bigger issues at hand. It seems the government funded the experiments and Bob Blair, the most powerful man in the government, has a sinister plan for those who pass the test.

The test...

The president is having nightmares. He is dreaming about the world after a nuclear holocaust. So he takes steps to disarm the country, thus ending the Cold War. This is not taken well by Bob Blair and his cronies. They want him dead, but an assassination would be too messy. The only way is to have him treated (Killed) by the dream specialists.

Now Alex, being the good guy, must use his gift to help the President. But his major obstacle is Bobís right hand man, Tommy. He is an egotistical, murdering, psychic, who will use every card in his hand to bring down Alex. Maybe even Alexís worst nightmare.

Will our Hero save the President, or will the President die in his sleep?

I guess you will have to watch the film, wonít you... ;))
Author:
Marty
Update This Review
Verdict
When I was younger this was one of my favorite films. Any time it came on HBO I would sit down and watch it again. This movie touched me, it became a sort of obsession. So now I own it. It had old style special effects, the good kind before all the computers took over. If you have watched it you know what I mean. If you havenít, I would suggest that, if you enjoy 80ís movies, you rent it...You wonít be sorry.
Great plot, good actors.

Kind of dated... like the whole Cold War thing.
Rewind Rating
The Movie Data
Jump To: Music & Soundtrack Vibes
Or use the menu to navigate
1984 Bella Productions
1999-2020 fast-rewind.com
V4_27 Powered by Rewind C21 CMS