REWIND
REVIEW

Dead Men Don't Wear Plaid
"
Laugh, or I'll blow your lips off!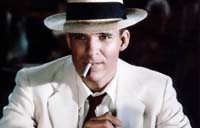 Starring
Steve Martin, Rachel Ward, Reni Santoni, Carl Reiner
Brad Baird, Jean Beaudine, Eugene Brezany, Dieter Curt, Kent Deigaard, George Gaynes, Bob Hevelone, Peter Kearns, Gene LeBell, Francis X. McCarthy, Britt Nilsson, Charlie Picerni, Adrian Ricard, George Sawaya Update Cast
In this film, Nazi Field Marshall Von Kluck, played by Carl Reiner, manages to destroy a town using cheese mold.

That town is Terre Haute.

Von Kluck's last words are "Well at least I managed to get Terre Haute, Indiana", to which Steve's reposte is "Damn, they were just about to get a public library".

Terre Haute, Ind. is singled out as the city destroyed by cheese mold because of Steve Martin's personal distaste for the town. It relates to his days doing stand-up comic routine when he visited the town formerly run by Al Capone and once known as "Sin City."

Some people there say that Martin had a bad night there, and it is suggested that perhaps residents of Terre Haute, being religious mid-west folk, were shocked by his routine. After the incident, Steve did several television interviews where he apparently called Terre Haute "the most nowhere place in America." He's also described Terre Haute as "the armpit of America" and references the town in several of his films, though usually in not a good light. I believe he mentions it in "Trains, Planes and Automobiles". (It is also mentioned in the Christmas Story, which is set in Indiana)
More Trivia from Dead Men Don't Wear Plaid
Review
Remember those film noir movies from the 40's? Well, they are about to be spoofed in the hit noir parody DEAD MEN DON'T WEAR PLAID.

Steve Martin stars as private eye Rigby Reardon, who stumbles across a shocking story involving a noted scientist named Mr. Forrest. The scientist was apparently killed in a car wreck, but the cause of the crash is still pending.

Then the scientist's daughter Juliet (Rachel Ward) walks into Rigby's office claiming that her father's death was no accident. In fact, the scientist was murdered and someone was responsible. As the story develops, Rigby searches for clues linked to the so-called car crash.

Interacting with noir characters from the 1940's, Rigby must find every twist and turn to solve the case and try not to think about Juliet while investigating the Carlotta lists.

But soon things change as Rigby and Juliet fall in love, but when Juliet leaves town, Rigby begins to suspect that she is a spy working for the Nazis. He sets out to follow her while continuing to search for clues on the so-called Carlotta woman.

The action goes all the way to Germany, where Rigby is reunited with an old pal (Reni Santoni), who is now a US captain who helps Rigby capture Nazi Field Marshal Von Kluck (Carl Reiner), the man believed to be responsible for the apparent death of Mr. Forrest.

When Rigby finds the Nazis hideout, who else would be there besides Juliet Forrest? It turns out that Juliet can speak German, and then she helps Rigby foil Von Kluck's plan before it's too late...
Author:
Philip Martin
Update This Review
Verdict
DEAD MEN DON'T WEAR PLAID is a hilarious parody that was filmed in black and white.

The scenes from the 1940's noir classics may make people think that the film makes no sense, but with a good storyline and Carl Reiner directing, this movie has its share of fun.
An excellent spoof of Film Noir movies with Steve Martin being as funny as he's always been.

With the classic movie clips, people might think that the film makes no sense.
Rewind Rating
The Movie Data
Jump To: Music & Soundtrack Vibes
Or use the menu to navigate
1982 Universal Studios
1999-2020 fast-rewind.com
V4_27 Powered by Rewind C21 CMS