REWIND
REVIEW

"
On December 26th 1985 Whitley Strieber had a dream...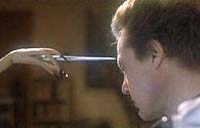 Starring
Christopher Walken, Lindsay Crouse, Andreas Katsulas, Frances Sternhagen
Terri Hanauer, Joel Carlson, John Dennis Johnston, Dee Dee Rescher, Aileen Fitzpatrick, R.J. Miller, Holly Fields, Paula Shaw (II), Juliet Sorcey, Tifni Twitchell, Joshua Miller (II), Kate Stern, Johnny Dark, Jonathan Fromdahl, Andrew Magarian, Basil Hoffman Update Cast
Cameos
Look for Madeleine Mora making a cameo appearance!
Review
A strange awkward film, not without some degree of charm, this adaptation based on Whitley Striebers novel, has Walken giving another bizarre turn here as Strieber himself; a man who claims to have been abducted at the hands of Extra Terrestrials, forming some kind of spiritual connection with those from other worlds and ultimately, himself.

Beginning in New York, we are introduced to the enigmatic characters family life, his struggle in finding inspiration for his writing and the frustration shown towards this resulting in permanent limbo for his latest novel...

When he and his wife and child, go to their woodland retreat with friends they witness a strange nocturnal occurrence, brilliant white lights illuminate them all whilst they sleep. At breakfast they discuss the happening, with Strieber adamant it was the moon, or the security lights out in the grounds.

Suffering strange dreams following the weekend, he has visions of bug like beings, the trances have them surrounding his bed and altering his sub-conscious, could he be the subject of alien abduction?
Gradually losing touch with reality he resents the edgy personality that has been created and listens to the advice of his suffering wife and sees a hypnotist in an attempt to unravel the confusions in his mind.

Regressing sufficiently to outline the abduction, we see him taken from his bed and subject to some form of experiment using an rectal probe. These sessions prove difficult yet soon he recovers to join a group who have suffered similar encounters, still finding it hard to come to terms with his own feelings he decides to find out for himself what and why he has been chosen.

Going back to the rural retreat and facing the ultimate confrontation he moves toward a glowing craft hidden in the woods, inside the small gargoyle-like aliens dance to music and greet with global hand gestures. In this dreamscape world inside the UFO the character has visions of himself as other forms and comes finally to an inner peace concerning the existential rendezvous that has occurred in his life, he returns with his mind rejuvinated and his soul rekindled.

Discussing the phenomena with his wife whilst strolling around a gallery is one of the highlights of the film, the possibility of other worlds in relation to their own presence in the universe is given a unique zen-like aspect with Eric Clapton's score. Scenes where they all gather on a rooftop to acknowledge the visitors is suitably mellow with Walken embracing the ant-like friends ghostly face at his computer desk and proclaiming "What do I call a book about you?"

Hence, the ground is laid for the best selling novel.
Author:
Nik Allen
Update This Review
Verdict
The film relies on Walken to give it life, his study of the writer is not an understated affair, the eccentric character does enable the actor to improvise his already loose delivery of words and emotions. The surrealistic actor lends a sufficient air of fantasy to a story that is suitably bizarre, effects are likeable and thankfully non CGI, sometimes na´ve effects can produce a reality missing from bigger budgeted millennium showcases.

This film, though hollow in parts, is a revelation again for Walken and for Clapton, who's score like "Homeboy", fits perfectly to the images laid before us.

The overall experience is that of almost Kharmic oddity, an aspect witnessed in many films but not within a set up involving this subject matter.

Is this story true?... When you come to the realisation that Stieber was a rather prolific author of Horror and fantasy novels then there is a question of a mind altered somewhat by what has gone before. Here though it is given authenticity by the very nature of the questions asked, the individual mindset is an important factor to the impact the movie can have, locating these notions is difficult but possible and it is here where Whitley Striebers Communion succeeds.
Walken is his customary brilliant self.

Not one for the ray-gun fans and definitely no light sabres!
Rewind Rating
The Movie Data
Jump To: Music & Soundtrack Vibes
Or use the menu to navigate
1989 New Line Cinema
1999-2020 fast-rewind.com
V4_27 Powered by Rewind C21 CMS