REWIND
REVIEW

"
This summer Prince Akeem discovers America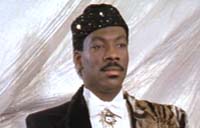 Starring
Eddie Murphy, Arsenio Hall, John Amos, James Earl Jones
Shari Headley, Samuel L. Jackson, Madge Sinclair, Eriq La Salle, Paul Bates, Frankie Faison, Vanessa Bell Calloway, Louie Anderson, Allison Dean, Sheila Johnson, Jake Steinfeld, Calvin Lockhart, Feather, Stephanie Simon, Garcelle Beauvais Update Cast
Early Appearances
See Cuba Gooding Jr. before they were famous!
Cameos
Look for Vondie Curtis-Hall, Uncle Ray Murphy making a cameo appearance!
Review
Have you ever wondered what would happen if an African prince came to America to find his bride?

No?

Well, neither have I, but this plot is the basis to one of the funniest comedies to come out of the eighties. From juicy hair to McDonald's rip-offs this movie's got it all, not to mention a Kaleidoscope of familiar faces. The movie begins with scenes of a very pampered African Prince named Akeem, played by 80's comedy icon Eddie Murphy. Awoken by an orchestra and draped in his robe (pure silk, I'm sure), the prince is wished a Happy Birthday by his manservant, Oha. Akeem is ushered to the restroom and then begins a dialogue with his manservant that leaves me in stitches every time.

"Oha, It is my twenty-first birthday, do you think, perhaps, just once I might use the bathroom by myself?" said Akeem as he gives one of those big, cheesy Eddie Murphy smiles and puffs out his chest.
"Most amusing sir.....WIPERS!" bellows Oha as Akeem's chest deflates and his smile fades. Hysterical.



Akeem has breakfast with his family, father played by James Earl Jones and a very elegant mother played by Madge Sinclair. We find that Akeem is arranged to be married upon his twenty-first birthday and will meet his future bride that evening. Akeem doesn't seem to be happy with the arrangement, but his father assures him that his future bride is a suitable pick.

Later we meet Akeem's best friend, Semi, played by former late night talk show host Arsenio Hall. Akeem explains to Semi, during a rhythmic bout of stick fighting, that he would rather marry a woman for love and intellect, rather than marry a woman he barely knows. Semi doesn't agree, of course, proclaiming that a royal bride needs only to have "a pretty face, firm backside and big breast like Casaba Melons. " Needless to say the fight ends with Semi on his back, defeated.

We are then treated to the lavish celebration in the fictional Zamunda, filled with rich colors and vibrant costumes that seem to jump from the screen. Akeem's future bride's introduction is preceeded by a tribal dance, complete with feathers, beads and scantily clad women rocking it out in large headgear ala' Vegas showgirl. A scene that is definitely not to be missed.

Akeem finds his future bride to be beautiful and obedient, but still has doubts and expresses them to his father, who assumes that Akeem only wants to "sew his royal oats" before the big day. He makes arrangements for his son to travel to America and return in forty days to be to married to his ready-made bride.

Akeem has his own plans and decides to seek his bride in New York, in none other than the notorious Queens district. Everyone knows that a future King can find a suitable bride in Queens, right?
Many laugh out loud high jinx ensues, including a variety of colorful characters played by Hall and Murphy. Akeem finally finds the right girl, Lisa McDowell, played by Shari Headley, and gets a job in her father's restaurant, McDowell's (McDonald's knock off). But surprise of surprises, she's already spoken for by the crowned prince of juicy hair, Darryl, played by a dripping Eriq LaSalle of "ER" fame. Akeem tries many things to win Lisa's affections, but will his tactics work?

It's an eighties movie. What do you think?
Author:
Maisha Cron
Update This Review
Verdict
I really can't say enough about this movie. It has charm, heart and laughs for days. Every single time I see this movie I am in tears from laughing so hard. The acting is surprisingly good and the African accents are believable. I remember the first time I saw this film as a kid, which is rare, so the movie must have made an impression on me. It was at the five-dollar Eddie Murphy double feature. Raw and Coming to America back to back. We went with my sister's dad who was cool enough to take two kids to see a rated R film. It was definitely an adventure.

I remember being enchanted with the beautiful Zamunda cinematography, laughing constantly and feeling my heart soar when everything came around in the end. We enjoyed it so much we stayed and watched it a second time (adventure numero dos). I remember walking out with stars in my eyes, thinking that one day my prince would come and sweep me off my feet. I'm still waiting.

There's nothing in this world like, seeing a film that draws you into the fantasy and sprinkles fairy dust in your eyes. God bless eighties movies!

A true eighties film, filled with comedy, acid washed jeans, funky hair and a feel good flair... Gotta love it!
Extremely funny. You can just feel the chemistry of the entire cast. Great fun.

I could have done without Eddie Murphy howling Jackie Wilson's "To Be Loved" after his date with Lisa.
Rewind Rating
The Movie Data
Jump To: Music & Soundtrack Vibes
Or use the menu to navigate
1988 Paramount Pictures
1999-2020 fast-rewind.com
V4_27 Powered by Rewind C21 CMS