REWIND
REVIEW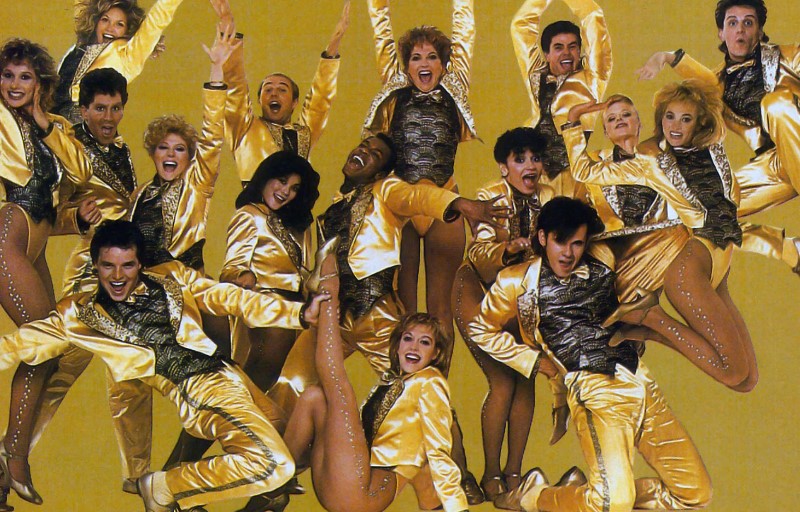 Starring
Michael Douglas, Alyson Reed, Vicki Frederick, Cameron English
Gregg Burge, Charles McGowan, Audrey Landers, Nicole Fosse, Michael Blevins, Yamil Borges, Jan Gan Boyd, Sharon Brown, Tony Fields, Michelle Johnston, Janet Jones, Pam Klinger, Terrence Mann, Justin Ross, Blane Savage, Matt West Update Cast
Review
Based upon the longest-running Broadway Musical.

The plot follows a group of 18 young dancers as they reveal some of their most deep secrets, some funny like Mike's "I Can Do That" or Diana's "Nothing" some sad like Bebe, Maggie and Shelia's "At the Ballet" some outlandish like Val's "T*ts and A**" (or as it's known in the civilized world, "Dance: 10, Looks: 3").

However it strays from the original musical.

Beginning in the first moments of the show with the brilliantly choreographed opening set to an 80's-ized version of the song, we learn that they are auditioning for a brilliant director/choreographer that's a little moody. It is cut to the final 17, with one missing, Cassie.

As with all movie musicals, they had to change it, and now rather then going through the experience, she comes in late, and spends over an hour trying to get a chance to dance. Because of this, we interrupt the story line repeatedly to see what she is doing.

The original musical was an accurate portrayal of life in the theatre, and it still is, but some of the things that made it revolutionary are cut, as well as some of the best songs.

In 1975, it became the first musical to discuss homosexuality matter-of-factly, and now it's glossed over. They also deleted the Montage, the 15-minute song about growing up, and to showcase Burgee's dancing talents replace it with "Surprise, Surprise!" (Which was nominated for an Oscar) and do a funky bit with the lights that makes most people think their TV is busted!

They also got rid of "Music and the Mirror" and replace it with "Let Me Dance For You" which isn't a bad song, but they use it to put flashbacks in, and by this point the audience has stopped caring (if they ever did).

They also do some role switching and remove "What I Did For Love" from Diana and chop it and take it out of context to fit Cassie. All in all, what was once an awesome show, becomes really bad.
Author:
Garrett Kilgore
Update This Review
Verdict
All in all an okay movie if you're bored, a fan of the cast, or if you're like me and like "A Chorus Line" and have no other way to fufil your need for it.
Great music and dancing and good casting ideas

Strays to far from the show, and trys to give it a romantic sub-plot that doesn't work
Rewind Rating
The Movie Data
Jump To: Music & Soundtrack Vibes
Or use the menu to navigate
1985 Embassy Films
1999-2020 fast-rewind.com
V4_27 Powered by Rewind C21 CMS