This is topic They Came from Outer Space tv show in forum Ŧ 90's Movies at iRewind Talk.


To visit this topic, use this URL:
https://www.fast-rewind.com/ubb/ultimatebb.php/topic/9/955.html

---
Posted by aTomiK (Member # 6575) on :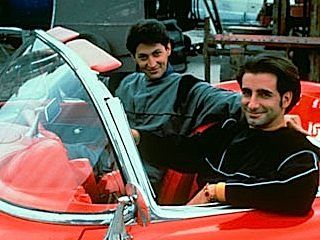 Anyone remember this show created by Tom McLoughlin (Friday 6, Date with an Angel) which aired in 1990-91?

"The series stars Dean Cameron as Bo, and Stuart Fratkin as Abe, two teenage fraternal twin aliens from the planet Crouton.
They thwart their parents' plans to send them to Cambridge University, in Great Britain, and instead they decide to travel throughout California in their 1959 classic red Chevrolet Corvette,
in an effort to pick up women and to learn more about life on Earth. They are pursued by a pair of bumbling U.S. Air Force officers, Lt Col. Tom Barker, and Lt. Pat "Monkey" Wilson,
who would like to capture the two for scientific study. Abe and Bo were constantly taking odd jobs to support themselves on their American road trip." (Wiki)

20 episodes were made and i just watched this tape which includes the last two eps Sex, Lies & UFO's part 1 and 2.
Itīs silly, mindless fun. The boys just fool around and meet beautiful girls with nice cleavages


Timeless Media Group released They Came from Outer Space- The Complete Television Series on DVD in Region 1 back in 2012.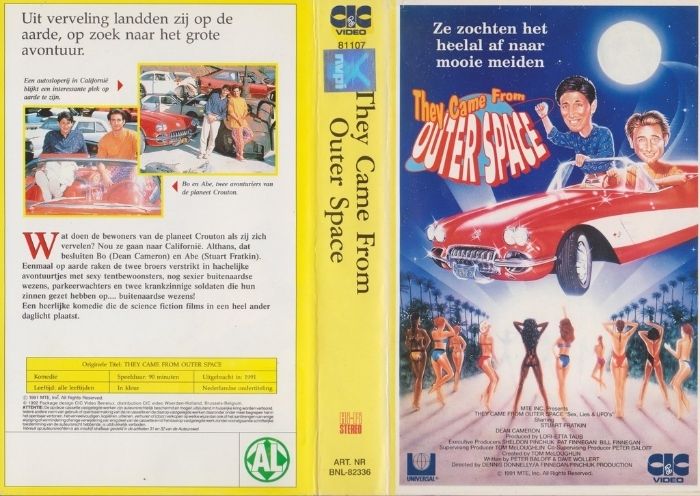 ---
Posted by Crash (Member # 7484) on :

Wow! You are really clearing out the cobwebs in my brain. I remember the two other short-lived Hollywood Premiere network shows from 1990, "Shades of LA" and "She-Wolf of London," but not this one. I don't understand how something this obscure can get an official DVD release while better known, mini-masterpieces like "Vengeance Unlimited," "Strange Luck," and "The New Adventures of Beans Baxter" languish in some studio vault. I keep hoping!
---
Posted by Pittsburghgirl (Member # 7514) on :

Crash, I still have our home taped VHS of most episodes of Vengeance Unlimited!
Atomik, I honestly do not remember this at all. But it sounds like a fun show.

---
Posted by Crash (Member # 7484) on :

Helen on here loves Michael Madsen but has never seen Vengeance Unlimited. I thought that it was a great series, killed way too soon by ABC. Someone needs to put out a DVD box set. Please!
---
Posted by aTomiK (Member # 6575) on :

All interesting tv-shows iīve never heard, Crash.
It seems that they aired Vengeance Unlimited here but mid to late 90īs were my "wild" years so i didnīt watch much tv
---
Posted by Crash (Member # 7484) on :

Actually, from what I remember of She-Wolf and Shades, they were pretty good. I wonder why They Came from Outer Space is the only of the three to get a DVD release. I think that they were all done by MCA/Universal.

---


UBB.classic™ 6.7.0