This is topic The Man from Hong Kong (1975) in forum Ŧ 70's Movies at iRewind Talk.


To visit this topic, use this URL:
https://www.fast-rewind.com/ubb/ultimatebb.php/topic/8/861.html

---
Posted by aTomiK (Member # 6575) on :




Damn it was great to watch The Man from Hong Kong (aka Dragon Flies in the US) again.
Last time i saw this was way back in mid 80s.

This Australian/Hong Kong co-production action flick stars Yu Wang, George Lazenby, Hugh Keays-Byrne (Toecutter from the first Mad Max),
Roger Ward, Rosalind Speirs, Rebecca Gilling and legendary Sammo Hung.

The movie was directed by Brian Trenchard-Smith (Turkey Shoot, BMX Bandits, Dead End Drive-In etc.)
This was his feature film debut, Yu Wang and Sammo Hung helped him with the fight scenes.

The fight sequences are pure hong kong style class and the longest one lasts about nine minutes.
This film also includes one of the craziest car chases ever filmed.

The cool score was composed by Noel Quinlan and you can also hear a tune called "Sky High" performed by Jigsaw.
The song went number one in several countries.

Supercool action, crazy stunts, great locations and Lazenby as a villain. Awesome stuff!

Opening titles Jigsaw - Sky High

The Man from Hong Kong trailer

Finnish VHS cover art: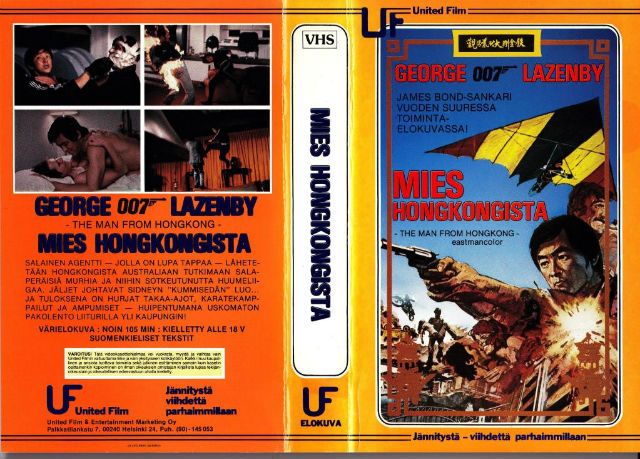 ---
Posted by Johnny Roarke is reckless (Member # 9826) on :

Hell yeah.. now that's a movie !


I practically forgot all about this one, untill a couple of years ago it was featured quite
extensively in the excellent 'Ozz-ploitation' documentary Not Quite Hollywood (2008).

I never saw it again after it was screened on Dutch television somewhere in the late 80s,
so i remember very little of it.

Apparently there are only region 3 and region 4 dvd releases of The Man from Hong Kong available,
which is quite a shame. You'd think that after the release of Not Quite Hollywood there would
be some interest from some company (any company!) to release this on dvd in Europe and
the US as well.. but no such luck.
---
Posted by aTomiK (Member # 6575) on :

Yeah, itīs a shame that it isnīt available here.
Every Bond collector would buy it asap and thereīs lots of them around the world.

---
Posted by Crash (Member # 7484) on :

I saw this on the bottom of a double bill at a scary grindhouse in Philadelphia around 1981. I can't even remember what the main attraction was, The Hong Kong Cat or something. This was a lot of fun. It really needs a DVD. Yay Brian Trenchard Smith!

---
Posted by aTomiK (Member # 6575) on :

Umbrella Entertainment releases this supercool film in october on blu-ray with massive extras!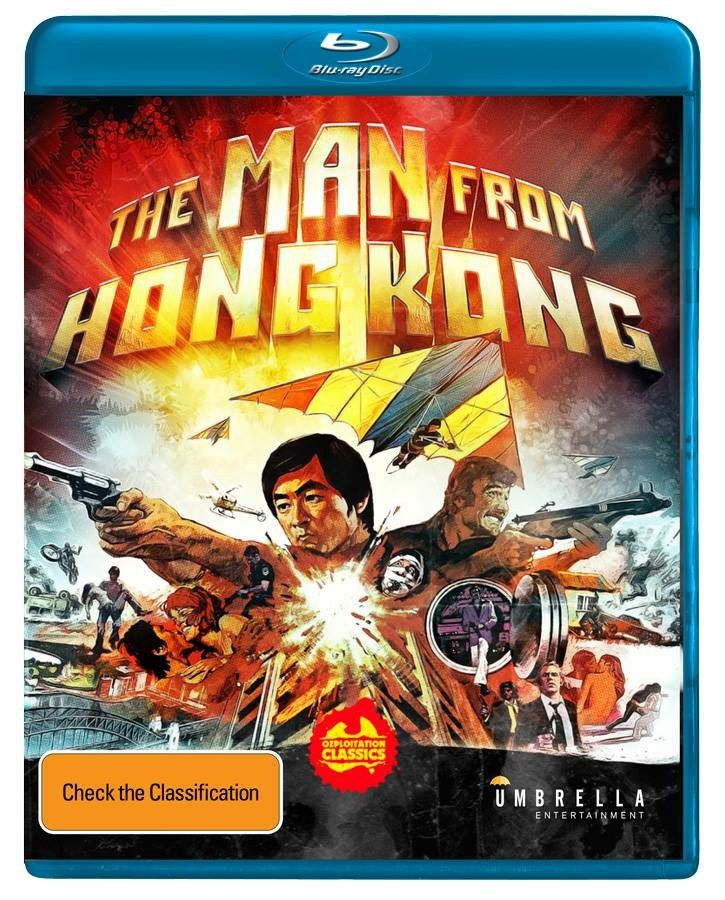 Extras:

· THE MAN FROM HONG KONG newly remastered 1080P HD release from an exclusive 4k transfer
· Audio commentary featuring Director BRIAN TRENCHARD-SMITH
· The Making Of THE MAN FROM HONG KONG
· Newsreel Footage Uncut
· NOT QUITE HOLLYWOOD interviews with cast members GEORGE LAZENBY, REBECCA GILLING and ROGER WARD, writer/director BRIAN TRENCHARD-SMITH, executive producer DAVID HANNAY and second-unit cameraman JOHN SEALE
· Trailers From Hell
· Brian Trenchard Smith discusses THE MAN FROM HONG KONG
· Deleted SceneAlternative cut of Theatrical Trailer
· HD Theatrical Trailer
· Exclusive 24 page booklet featuring stills and a new discussion of THE MAN FROM HONG KONG by Brian Trenchard-Smith. PLUS an excerpt from his new novel THE HEADSMAN'S DAUGHTER.

PLUS:

· DEATH CHEATERS (feature) plus Audio Commentary featuring BRIAN TRENCHARD-SMITH
· STUNT ROCK (feature) plus Audio Commentary featuring BRIAN TRENCHARD-SMITH
· Promo Reel
· Theatrical Trailer
· KUNG-FU KILLERS (feature)
· DANGER FREAKS (feature) plus Theatrical Trailer
· THE STUNTMEN (feature)

---
Posted by Crash (Member # 7484) on :

I remember seeing this in a big downtown Philadelphia theatre that had seen better days around 1980, double billed with, I believe, Karado: The Hong Kong Cat. Trenchard-Smith, a pretty decent filmmaker, was like the Roger Corman of Australia. He did cheap, exploitable films that he sold all over the world. I don't remember much about The Man from Hong Kong except that I kept thinking, "Hey, there's George Lazenby!" LOL

---


UBB.classic™ 6.7.0