This is topic C.H.O.M.P.S (1979) in forum Ŧ 70's Movies at iRewind Talk.


To visit this topic, use this URL:
https://www.fast-rewind.com/ubb/ultimatebb.php/topic/8/770.html

---
Posted by aTomiK (Member # 6575) on :




I donīt really like dog flicks (except Cujo)
but this movie is about "Canine Home Protection System", a robot dog!


Starring Wesley Eure, lovely Valerie Bertinelli, Conrad Bain, Chuck McCann,
Red Buttons and Jim Backus.

So my question is, is this any good?

---
Posted by mamamiasweetpeaches (Member # 1715) on :

I saw it on TV as a kid and liked it pretty okay. I think I thought "CHOMPS" was played by BENJI though. I loved Benji and I loved Valerie Bertinelli, they could do no wrong in my book. But I dont think the movie would 'hold up' very well if I watched it today as a grown up.hahaha

---
Posted by Bernie_Lomax (Member # 8571) on :

I thought this was great as a kid when video shops were all the rave. But good luck finding it now in a video store.

If I saw it though, I would get it.


"A dingo took my baby."

[ 15. January 2011, 01:35: Message edited by: Bernie_Lomax ]

---
Posted by Secret Admirer (Member # 3574) on :

I'll keep my eyes open for this one. Thanks for the tip off, atomik!

---
Posted by aTomiK (Member # 6575) on :

Just watched C.h.o.m.p.s. and it was decent but very silly family flick.
Silly soundtrack, silly villains and you can even hear one of the dogīs thoughts and usually thatīs too much for me


Bertinelli was cute and the robotics were retro-cool but thatīs about it.
It had animated opening credits but then again, itīs a Hanna-Barbera movie.

This is interesting stuff from Wikipedia:

Joseph Barbera approached his friend Samuel Z. Arkoff of American International Pictures
about his company collaborating with Hanna-Barbera on live-action films.
Though William Hanna and other members of Hanna-Barbera were not eager to venture beyond the animation field,
according to Barbera, Arkoff was enthusiastic about the ideas that Barbera presented, and agreed to do nine films together.
Barbera's first idea was for a film about a super-canine, robotic Doberman pinscher guard dog
which would capitalize on several ideas popular at the time.
Barbera recalled that Arkoff's son Louis suggested that rather than a Doberman,
the dog would have to be a non-threatening dog in the Benji mold.
Barbera attributes this change in focus in the story to the film's lackluster performance at the box-office.
In his autobiography, Barbera wrote that the film "did okay... but it never made the splash it should have".
Because of this, the future film deals between Hanna-Barbera and AIP were canceled.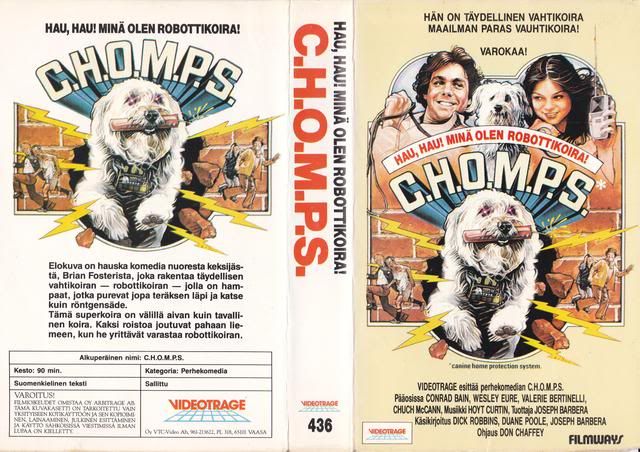 [ 29. February 2012, 09:28: Message edited by: aTomiK ]

---
Posted by Bernie_Lomax (Member # 8571) on :

I would watch it again if I could find it. Haven't been able to since about 1988.

I like Bertinelli. As gay as this sounds I used to like the show One Day at a Time, but when it was rerun on pay TV in the 90's. I wasn't around in the 70's. Eddie Van Halen is one lucky dude to have been married to her. Imagine that - a frankenstrat under one arm and Valerie under the other.

---


UBB.classic™ 6.7.0