This is topic Sharky´s Machine (1981) in forum « 80's Movies at iRewind Talk.


To visit this topic, use this URL:
https://www.fast-rewind.com/ubb/ultimatebb.php/topic/2/11929.html

---
Posted by aTomiK (Member # 6575) on :




"Tom Sharky is a narcotics cop in Atlanta who's demoted to vice after a botched bust. In the depths of this lowly division, while investigating a high-dollar prostitution ring,
Sharky stumbles across a mob murder with government ties, and responds by assembling his downtrodden fellow investigators (Sharky's "machine") to find the leaders and bring them to justice
before they kill off all his partners and witnesses, including Sharky himself." (IMDb)

Watched this pretty good movie starring and directed by Burt Reynolds.

I love how the film starts with "Street Life" on the soundtrack and the camera finds Burt wandering around Atlanta area.
The first action scene is straight from Dirty Harry handbook, Reynolds had promised Eastwood that he would do a film like this
after Clint stumbled to his territory with Every Which Way But Loose. A very cool scene with civilian casualties and big guns.

I like the cast and there´s some nice dialogue here but i didn´t quite buy the love story between Burt and super hot Rachel Ward.

Ward giving her last favor to bad guy Victor Scorelli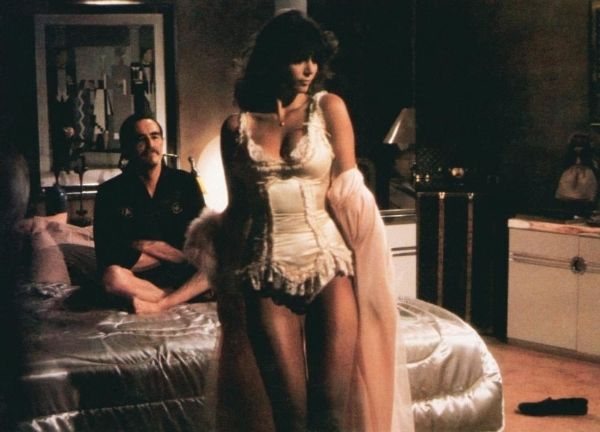 The movie is a bit too long and it was easy to guess the middle of the film twist. I´m glad that the studio didn´t accept Reynolds´ 140 minute version

Overall, it was good early 80s stuff and wood face Henry Silva gives extra chills to the audience near the end.


---
Posted by Logan 5 (Member # 1467) on :

I still find it hard to believe there was a time when Burt Reynolds was the most successful actor in Hollywood. It seems like a different world now.

---
Posted by aTomiK (Member # 6575) on :

I agree that it feels kinda weird. That´s one reason why i wanted to see these films.
I think that he´s not the most talented guy in the business but when has talent decided who´s rich and who´s not
---


UBB.classic™ 6.7.0