This is topic Slam Dance (1987) in forum « 80's Movies at iRewind Talk.


To visit this topic, use this URL:
https://www.fast-rewind.com/ubb/ultimatebb.php/topic/2/10915.html

---
Posted by aTomiK (Member # 6575) on :




"A cartoonist who had an affair with a girl who is murdered gets himself embroiled
in a high-level cover-up of a sex scandal involving his lover.
By using his artistic talent to try and reconstruct the scandal,
he attracts attention to himself by the people involved, and becomes a target himself." (IMDb)

After watching Echo Park, i needed to see more Tom Hulce stuff
so i picked Slam Dance from the shelf.
Last time i saw this was back in the late 80s when we rented the VHS tape.

Slam Dance was written by writer/actor Don Keith Opper (Android, City Limits, Critters)
and directed by Wayne Wang.
The movie stars Tmo Hulce, Mary Elizabeth Mastrantonio, Adam Ant, Virginia Madsen,
Don Keith Opper, John Doe and Harry Dean Stanton.
Hulce is awesome, Ant is pretty cool but Madsen is criminally underused.

Mysterious Madsen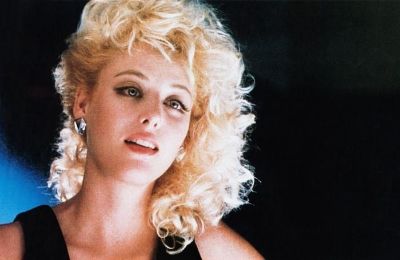 Some people seem to get counfused while watching this one but i like the fact
that the movie doesn´t explain everything.

Legendary producer/musician Mitchell Froom composed the interesting score
and i also like the opening and closing tracks.

Enjoyable scenes from the dark/surreal side of LA and a surprising nude role from Lisa Niemi Swayze
in her first feature film. Cool stuff!

Finnish VHS cover art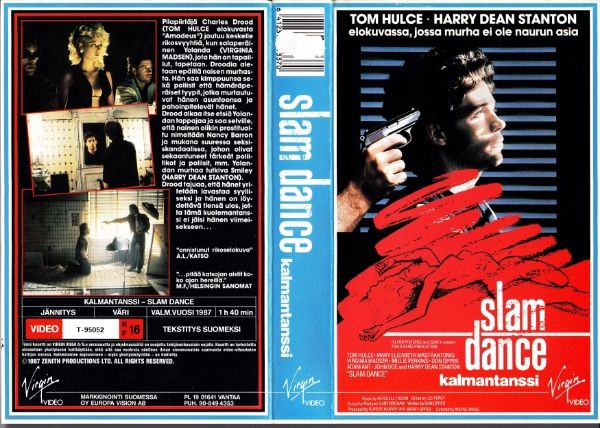 ---
Posted by Johnny Roarke is reckless (Member # 9826) on :

I watched Slam Dance early this morning, but wasn't really impressed by it.
This neo noir-ish thriller mystery has a great cast, which is indeed criminally under-used (and i mean not only Madsen).
It's always good to see Harry Dean Stanton, but his character here could have been played by any actor basically.
He simply doesn't have anything to do !

Slam Dance has a lot of style, but little substance. It's all kinda vague, and there are many loose ends to the story.

The visual style and editing reminded me of Tony Scott's The Hunger (1983), but never quite that good.

Not really my cup of tea, i guess.

---
Posted by cindymancini (Member # 679) on :

I've always wanted to see this but never got around to it...thanks for the review. I'll probably check it out some day. Virginia looks soooo hot! Wow!!

---
Posted by Nostalgic for the '80's (Member # 37454) on :

Just saw "Slam Dance" for pretty much the first time; I had seen it once before & the print was terrible, so am not really counting that.

This time around, the print was decent & I was able to appreciate the movie for what it was - i.e., an indy, quirky neo-noir with a strange soundtrack.

I felt the film's storyline was somewhat convoluted (but understandable, if you were paying attention) - however, the movie was more interesting in terms of the visuals/set design than the story. I.e., Tom Hulce's minimalist but appealing loft apartment, the L.A. scenery - especially @ dusk, the clothing, hair, etc. all came together to make an interesting - if not necessarily great - film experience.

---


UBB.classic™ 6.7.0