This is topic Brenda Starr and Jane and the Lost City - comic strip heroines on screen in forum Ŧ 80's Movies at iRewind Talk.


To visit this topic, use this URL:
https://www.fast-rewind.com/ubb/ultimatebb.php/topic/2/10594.html

---
Posted by aTomiK (Member # 6575) on :




Brenda Starr is a lovely adventure film made in 1986, but released in 1989, due to lengthy litigation over distribution rights.
Itīs based on Dale Messick's Brenda Starr comic strip about a glamorous, adventurous female reporter created in 1940 for the Chicago Tribune Syndicate.




The movie stars Brooke Shields, Tony Peck, Timothy Dalton, Diana Scarwid, Nestor Serrano, Jeffrey Tambor and June Gable.
You can also see cool actors like Charles Durning, Kathleen Wilhoite, Eddie Albert and Henry Gibson in small roles.

Brooke Shield looks fan-tas-tic as Brenda!
I love all her outfits and canīt picture anyone else for the role.
The project originally envisioned Jessica Lange as Brenda Starr. The script later came to Anjelica Huston, then to Melanie Griffith
but iīm so happy that Brooke finally got it. This is Brooke Shields in her prime.

The film bombed at the box office and yes, itīs very silly at times but itīs also highly entertaining
so i canīt help but like it


Brenda Starr movie trailer

Next: Jane and the Lost City.


---
Posted by aTomiK (Member # 6575) on :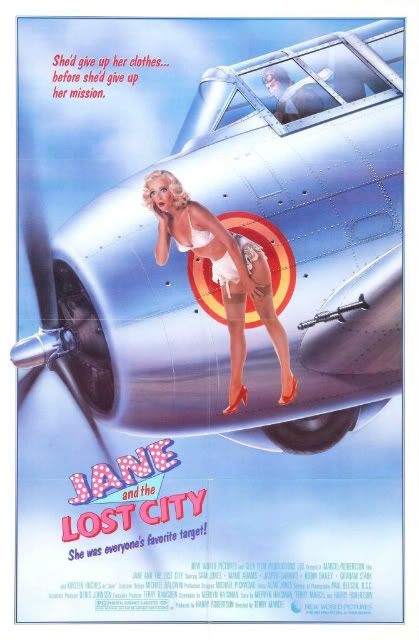 Just watched Jane and the Lost City (1987)
This was average adventure comedy set during World War II and based on the British newspaper strip Jane by Norman Pett.
Never seen the other two Terry Marcel action flicks Hawk the Slayer and Prisoners of the Lost Universe.

The movie stars Sam Jones, Kirsten Hughes, Maud Adams, Robin Bailey, Graham Stark, Jasper Carrott,
Elsa O'Toole and Ian Roberts.

The Film was shot in Mauritius and itīs a typical 80s treasure hunt flick.
Very, very silly comedy and Kirsten Hughes ainīt no Brooke Shields.

Love the posters but i have to say that the movie was pretty dull.

Jane and the Lost City trailer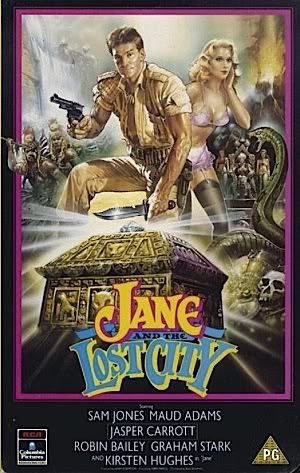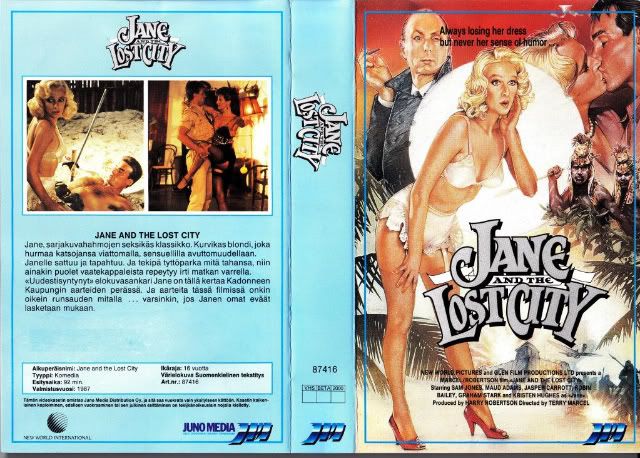 ---
Posted by Johnny Roarke is reckless (Member # 9826) on :

I wasn't really impressed by Jane and The Lost City either.
I have to say that every print i saw over the years was mediocre at best, mostly very fuzzy
and overly dark.
Brenda Starr aired on the MGM Movie Channel here some years back in a really good-looking widescreen version.

Apparently both these flicks were released on dvd by US company Anchor Bay Entertainment in the
early days of the format.
Unfortunately i have neither of these discs, so i can't comment on the quality.
Since they're long out-of-print by now, someone should consider a re-release some time soon.

I know i'd buy them !
---
Posted by aTomiK (Member # 6575) on :

Yeah, a double feature would be nice. Brenda Starr dvd goes for 30$ at the moment.

---
Posted by P_a_u_l (Member # 1022) on :

Jane and the Lost City needs to be viewed in context.

Jane was a British institution during the 2nd World War, being published in The Daily Mirror and read by pretty much everybody, both at home and overseas at the front lines.

It's an interesting fact that the level of flesh that Jane displayed was in direct proportion to the amount of morale boosting that the troops needed, and the day following Jane's first ever nude appearance in 1943, the British Army advanced an unprecedented five miles in North Africa.

The movie itself isn't great, but it's fun enough, and reflects the feel of the old comic strips nicely.

Edit: Here's acouple of typical wartime comic strips:




[ 17. April 2012, 01:17: Message edited by: P_a_u_l ]

---
Posted by aTomiK (Member # 6575) on :

Paul, thanks for the info which i needed but forgot to ask.
I have to say that this movie wouldīve been much more uplifting with a nude appearance
---
Posted by Bernie_Lomax (Member # 8571) on :

It would certainly be a good double feature with The Blue Lagoon if there was
---


UBB.classic™ 6.7.0