This is topic Videodrome (1983) in forum « 80's Movies at iRewind Talk.


To visit this topic, use this URL:
https://www.fast-rewind.com/ubb/ultimatebb.php/topic/2/10460.html

---
Posted by Kash (Member # 297) on :

Cult classic satire from unhinged visual genius, director David Cronenberg 'Videodrome' was a film ahead of its time in many ways; a glimpse into the future where the ever increasing demand for entertainment begins to consume the consumer.




James Woods was on fire from 1983-87 with a string of brilliant performances in this, Cat's Eye and Salvador. Videodrome sees him playing sleazebag TV exec Max Ren who, on the lookout for some new programs, is given a BETA tape featuring a bizarre and extreme show called 'Videodrome'.




Max Renn: Do you know a show called 'Videodrome'?
Masha: Video what?
Max Renn: Videodrome. Like video circus, video arena. Do you know it?
Masha: No.
Max Renn: It's just torture and murder. No plot, no characters. Very, very realistic. I think it's what's next.
Masha: Then God help us.




Enter radio psychologist Nikki Brand (Debbie Harry) and elusive analyst Professor Brian O'Blivion (Jack Creley)in a debate on the media and violence.




Brian O'Blivion: The battle for the mind of North America will be fought in the video arena: the Videodrome. The television screen is the retina of the mind's eye. Therefore, the television screen is part of the physical structure of the brain. Therefore, whatever appears on the television screen emerges as raw experience for those who watch it. Therefore, television is reality, and reality is less than television.



Max and Nikki delve deeper into the seedy world of Videodrome, plunging into a murky abyss of sadism that begins to change them...literally.




Things soon spiral out of control as Max seeks out Professor Oblivion to get some answers. But what he discovers may well wreck his remaining perceptions of reality, for the Videodrome conspiracy is far more sinister than anyone could have ever imagined...




Nicki Brand: I live in a highly excited state of overstimulation.

Bianca O'Blivion: My father has not engaged in conversation for at least twenty years. The monologue is his preferred mode of discourse.




Videodrome is a damning indictment of the media and predicts the state of the industry today. Cronenberg would return to some of these themes again over a decade later in Existenz but that movie was quite restrained and never got as dark as Videodrome. James Woods is excellent as is Debbie Harry believe it or not. This a film of ideas and sometimes those ideas can seem somewhat obtrusive and perhaps getting in the way of the film itself. But there's no denying the potent blend of horror, satire and outright weirdness that goes into making Videodrome what it is.

---
Posted by aTomiK (Member # 6575) on :

Love the pics, Kash!
Woods is indeed on fire and Debbie gives a good, sexy performance.

Mysterious and unique Cronenberg classic!




[ 01. May 2015, 15:24: Message edited by: aTomiK ]

---
Posted by Pyro (Member # 7658) on :

This is one of the earliest Sci-Fi/Thrillers I remember seeing at a young age that really tripped/freaked me the hell out. And yes, it was also the first in the Cronenberg film library I ever saw too. But, along with traumatizing me as a kid, it also made a lasting impression on me with it's visuals and special effects that were pretty ahead of it's time. Enough so that it's secured itself a permanent place on a list of my top favorite Retro Sci-Fi flicks.

---
Posted by Kash (Member # 297) on :

Cool poster aTomiK: Makes sense they would give Debbie Harry top billing since she was already famous at that point whereas Woods was still a relative unknown.

---
Posted by skatexedge (Member # 5712) on :

Great movie! Saw this one in the theater when it came out! Debbie was so hot with that red hair. Kinky as all get out and bizarre. I had never seen anything like this at that time. It's been permanently in my collection since way back when!

Through Videodrome I discovered David Cronenberg and his seriously twisted movies....Shivers, Rabid, The Brood, Scanners......just a few others that I like a lot. All his films make Canada look creepy, cold and scary.

---
Posted by Crash (Member # 7484) on :

Canada is creepy, cold, and scary.
---
Posted by Johnny Roarke is reckless (Member # 9826) on :

and they have bears there too !
---
Posted by the young warrior (Member # 9554) on :

i still think the scariest thing to come out of canada is michael ironside!

[ 10. December 2011, 04:05: Message edited by: the young warrior ]

---
Posted by skatexedge (Member # 5712) on :


quote:

---

Originally posted by the young warrior:
i still think the scariest thing to come out of canada is michael ironside!

---
Oh yeah! the first time I saw Michael Ironside was in the movie Visiting Hours (1981) and he played a psycho nutcase in that. Creepy!!!

---
Posted by the young warrior (Member # 9554) on :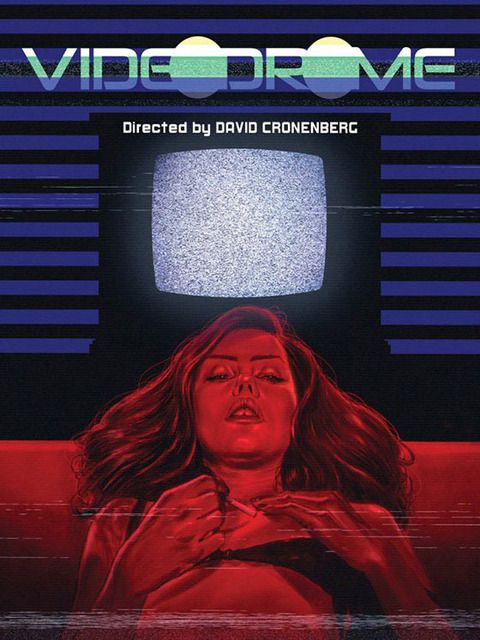 Watched this again for the first time in many many years the other month,it came across much better to me this time around,I think when I first watched it as a teen it was to way out there for my liking and a lot of it just went straight over my head.
Watching it all these years later it's still a completely bizzare and bonkers film but my Taste's have changed and I gotta say i totally dug it and think it's a really great movie!

[ 18. March 2016, 01:15: Message edited by: the young warrior ]

---
Posted by Nostalgic for the '80's (Member # 37454) on :

"Videodrome" is one of the many R-rated films I wasn't able to see as a kid in the early '80's, so watched much later as an adult.

Deborah Harry was at her hottest in this film - very nice


I recently re-watched this on Blu. Very trippy & extremely disturbing flick, even by today's standards. As has been said, the film was prophetic re: the subject matter of entertainment "taking over" people's minds.

30+ years later, this is actually happening - everywhere you look, people are so glued into their I-phones that they would probably have a nervous breakdown if they were to stop working....

---
Posted by Crash (Member # 7484) on :

A lot folks think that Videodrome is Cronenberg's best film. It's top three for me. Prophetic and amazing. It really got under my skin when I saw it way back in 1983. It opened during a really bad snowstorm on the east coast of the U.S. and played most theatres for only a week. I was lucky enough to catch it.

---


UBB.classic™ 6.7.0