This is topic Does this movie even exist? in forum « 80's Movies at iRewind Talk.


To visit this topic, use this URL:
https://www.fast-rewind.com/ubb/ultimatebb.php/topic/2/10437.html

---
Posted by J-Rod102507 (Member # 10097) on :

Ok, here's the thing. My dad has been looking for this movie from the 80's for quite some time now. He has no idea who starred in it or what the title consists of. He "believes" that "justice" MIGHT be in the title. The only thing he can recall is a brief description of the plot as follows: The beginning starts as if it is a western movie, but turns out that he was an actor filming a western. He returns home to find his family murdered. He seeks revenge in his pickup that has a spot where he hangs his rifle in the back glass of the cab. He claims the movie box cover displays a man in a long yellow coat with a rifel in his hands and he claims to be 100 percent sure that it came out in '82. Does anyone know of a movie that kind of resembles this????? or is my dad just delusional??? Someone suggested "Cole Justice" but that was not even close to what my dad described.

---
Posted by aTomiK (Member # 6575) on :

Hi there!

There is a vigilante tv-movie called Streets of Justice (1985)
Might be worth investigating.

---
Posted by J-Rod102507 (Member # 10097) on :

I appreciate the response but unfortunately that is not it. My dad said he only seen that movie one time when he rented at a video store back in the 80's. He went back to get the movie when that place went under, but they already sold it. I'll keep searching.....if you come up with anything else, please let me know.

---
Posted by aTomiK (Member # 6575) on :

Only vigilante films made in ´82 i remember are Fighting Back and Death Wish II.

I will also keep searching.

---
Posted by oneyedwilly (Member # 8730) on :

Atomik ur a legend mate - your knowledge absolutely astounds me sometimes....your like my hero...callin you Yoda from now on

---
Posted by J-Rod102507 (Member # 10097) on :

I'm just giving this a little bump to see if anyone else has had any luck.

---
Posted by the young warrior (Member # 9554) on :

j-rod ,ask your dad if he can remember any other little details,sat here for a few minutes when i initially ready your post,kept thinking about the cover with the man with the long yellow coat,but nothing has jumped to mind yet!

---
Posted by aTomiK (Member # 6575) on :

Just found this old post again and i´m gonna give another try.
What about Nomad Riders (1981)? Don´t believe IMDb, this was made in ´81.

At least here in Finland the vhs cover looked like this, no yellow coat but yellow background and a man with a gun: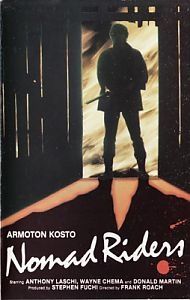 ---
Posted by Johnny Roarke is reckless (Member # 9826) on :

It's not from '82, but this is the one i found :




Outlaw Force trailer (in French) : www.youtube.com/watch?v=SHDqt-VCet8

Some reviewer on the Imdb calls the lead character "a modern day cowboy" doing live western stunt shows.

Could be it, right ?

---
Posted by TerdNthePoolGGB (Member # 9818) on :

Im just gonna throw this out there. Probably not it but you never know....
Final Justice with Joe Don Baker

---
Posted by aTomiK (Member # 6575) on :

Outlaw Force was indeed released 6 years too late but i´m thinking we´re getting veeery close with that one
---
Posted by Crash (Member # 7484) on :

Final Justice? Wasn't the goofy Joe Don Baker thing filmed on the Island of Malta, of all places?

---


UBB.classic™ 6.7.0