This is topic Flashpoint (1984) in forum Ŧ 80's Movies at iRewind Talk.


To visit this topic, use this URL:
https://www.fast-rewind.com/ubb/ultimatebb.php/topic/2/10361.html

---
Posted by Valley (Member # 1322) on :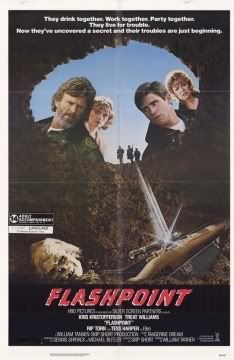 There are 80's movies that we consider hidden gems and then there are movies such as "Flashpoint" that are really good movies that the general public have totally forgotten ever existed.

If you are struggling to rememeber yourself..

"Flashpoint" is a mystery/thriller about two Texas border patrolmen who have just found out that the introduction of new technology is threating the future of their jobs... at the same time they have stumbled on a 1960's-era jeep buried in the desert along with human remains, a scope rifle, and $800,000 in cash.

These two guys are great friends to each other, but while one of them wants to take the money and run, the other is more skeptical and wants to secretly investigate further to be safe. What unfolds is a startling discovery that makes for a taut little known thriller that I highly recommend.




I've never been much of Treat Williams fan, but he is great as straight-laced Ernie Wyatt that just isn't so sure about taking the money, but the real star who gives an outstanding performance is Kris Kristofferson as Bobby Logan a somewhat burnt out border patrolman who is more than ready to start over again with this new found cash.




Check out this supporting cast: Rip Torn, Jean Smart, Tess Harper, Kevin Conway, Miguel Ferrer, and in a wicked role.. Kurtwood Smith.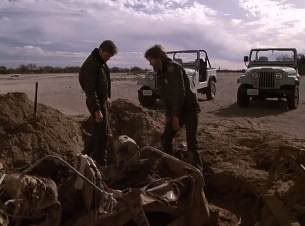 If you are still up in the air, I have two more enticing things to mention. The first is conspiracy theory and the second is the fact that if you watch it you are treated to an amazing score by Tangerine Dream!

Also, when the director William Tannen hired Tangerine Dream to score "Flashpoint" he told them not to do the end title song because he had one he was using - "Sympathy For The Devil" by The Rolling Stones. Tangerine Dream said it was the perfect song to end the film with. They scored the entire film but the ending. However, the studio felt The Rollingstones tune was just too expensive and hired Scott Richardson and The Gems to contribute two tunes to the movie.

Watch "Flashpoint" and then decide if this tune would have been the difference in making this film more memorable today: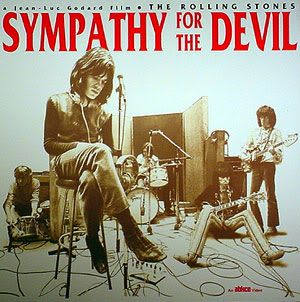 (click to play)

Oh and for Ronnie.. this is another 80's movie that was filmed primarily in Tucson, Arizona!
It is cool to truly know that all these years later the impact that the state of Arizona had on the 80's.


[ 21. August 2011, 12:03: Message edited by: Valley ]

---
Posted by aTomiK (Member # 6575) on :

Flashpoint is a classic mystery thriller.
It was called Texas Patrol here.

Kris Kristofferson and Treat Williams are very good
and you know itīs a good movie when you have guys like Rip Torn, Kurtwood Smith and Miguel Ferrer among the supporting cast.

Of course i love the TD score, i also own the soundtrack lp.

The R1 dvd cover art seems to be quite poor but donīt let it fool you.
Good pick, Valley. I highly recommend Flashpoint.

---
Posted by Logan 5 (Member # 1467) on :

SOLD!

Thanks guys.

---
Posted by Crash (Member # 7484) on :

I remember seeing this in the theatre way back when and then it played a lot on HBO throughout the mid-80's. (It was the first HBO-produced film, as I recall.) As V and a have said, it's quite the neat little thriller, very modest in scope, but well done and with a great cast. And it has yet another killer Tangerine Dream score (though the title song by The Gems is truly terrible).

---
Posted by aTomiK (Member # 6575) on :

Rewatched Flashpoint and it still rocks! Maybe too slow moving for modern people but old school paranoia thriller fans will love it.
Treat and Kris are great and watch out for supercool role from Kurtwood Smith. Always nice to see Miguel Ferrer (RIP) too.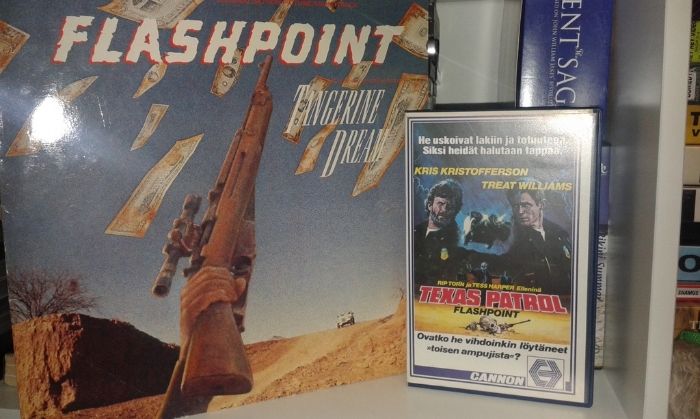 ---


UBB.classic™ 6.7.0