This is topic 18 Again! in forum « 80's Movies at iRewind Talk.


To visit this topic, use this URL:
https://www.fast-rewind.com/ubb/ultimatebb.php/topic/2/10335.html

---
Posted by Valley (Member # 1322) on :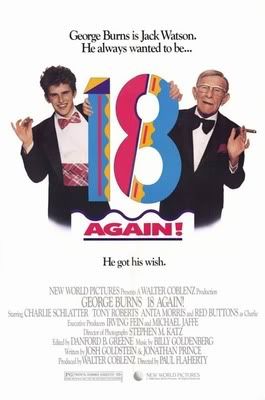 "18 Again!" stars Charlie Schlatter, George Burns, and Jennifer Runyon.

The film begins with 18 year old college freshman David Watson (Schlatter) sharing a history class with the adorable Robin Morrison (Runyon). David and Robin have a chemistry between them, but David if a bit shy around her.




Then one night David and his grandfather Jack (George Burns) end-up switching bodies during a wicked car accident while on their way back from dinner. Now suddenly, the 81 year-old businessman has to adjust to college life in the 1980's while at the same time coping with being 18 Again! Soon, Jack is thrust into aiding Robin write her History paper, the two soon become more than just friends, much to the disgust of her bullyish frat president boyfriend Russ.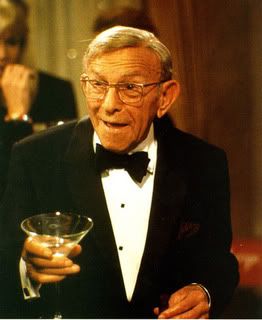 I've got to start with George Burns.. I was never personally a fan of his movies, but he is likeable in "18 Again!". And I must give the guy credit.. in the movie his character celebrates his 81st birthday while in real life he was 92! wow.. and the fact that smoking a cigar was one of his trademarks.. it is amazing that he was able to will himself to make it to his 100th birthday! One last thing on the 81st birthday.. I enjoyed when David and Jack were looking at each other during the birthday cake scene with one side saying 81 and the other side saying 18.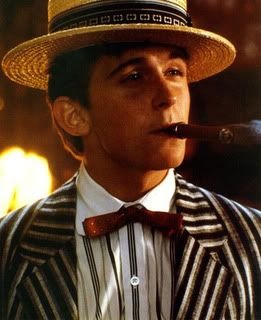 On rewatching "18 Again" today, I was probably most impressed with the performance of Charlie Schlatter as both David and Jack. Maybe even more as Jack and how he used some of George Burns mannerisms on screen to make it more believable to the audience.

I first watched this movie in my early 20's and it just wasn't that appealing to me. Of course, Jennifer Runyon caught my attention, but overall the movie left me only feeling like it was marginally good. But watching it today and of course no longer being 18, the movie had a charm to it and it was fun to see it again.

Also, seeing Pauly Shore so young was a trip in itself for me. And if you are on the fence still, I suggest you watch it just to count all the faces you recognize from other 80's movies. My fav being Kenneth Tigar who played Mr. Raymaker in "Just One of the Guys".


Finally, I've been told if you watch it .. you might just finish it feelling 18 Again!

Any fans?

Actually.. let's open it up for discussion about any of the body switching movies from the 80's.

Here's a few to spark your memory:

18 Again!

Like Father Like Son

Dream A Little Dream

Vice Versa

All of Me

Which are your favs?

[ 30. July 2011, 12:36: Message edited by: Valley ]

---
Posted by aTomiK (Member # 6575) on :

I was just wondering what movie to watch next and there comes your thread, Valley.
Well, i just watched 18 Again! the first time ever and i liked it.

The story is very basic "you can do it" stuff but there were so many great moments and scenes in the movie.

Burns and Schlatter were great and wow, Jennifer Runyon was beautiful.
Anita Morris was once again the easy lady, the role she knows very well

It was nice to see Pauly Shore too, This was his second feature film. For Keeps? (also 1988) was the first.

I was 18... well 18 years ago! It was fun but so is 36


I own all those mind/body switching movies you mentioned
and this is how i would rate them at the moment:

1. Like Father Like Son
2. 18 Again!
3. Vice Versa
4. Dream a Little Dream
5. All of Me


---
Posted by Valley (Member # 1322) on :

I just remembered something that might interest Ronnie..

There is club scene in "18 Again" and if you watch closely when David/Jack and Robin enter you can see a Teena Marie with Billy Ocean concert poster on the wall. Plus, there is some excellent 80's punk fashion as well.

---
Posted by Muffy Tepperman (Member # 1551) on :

I love me some body swapping movies!

I know I watched this one again the last time Val brought it up.

Atomik i'm really glad you liked it! I need to watch Like Father Like Son again I own that too....but it's been awhile....and it's your #1 Atomik? before Vice Versa??? but Malice.........Malice? weren't you the one that told me they were a real band? ha!

---
Posted by aTomiK (Member # 6575) on :

Haha, yeah i love Malice and that club scene rawwwks!
But at this moment, it´s number three. It could change after i´ll watch it again.

Like Valley said, 18 Again also includes a club scene and yeah, i saw Teena Marie poster on the wall.
The band playing in the club was The D1ckies (Killer Klowns from Outer Space).

Australia dvd cover art:


---
Posted by noikz (Member # 1000) on :

I love this movie, I remember watching it for the first time when I was off school er "sick" *cough cough*.


18 Again, Vice Versa and Big (not so much a swap) are my favourites.

---
Posted by kevdugp73 (Member # 5978) on :

I might put this at the top of my watch list as well. I really liked Vice Versa as a kid...so that'd be my fav too....

---
Posted by Valley (Member # 1322) on :

I haven't seen Vice Versa in years, but it still ranks #1 on my list for the body switching 80's flicks. Fred Savage and Judge Reinhold seemed to be a great combination and both were fun to watch.

Oh.. isn't it wild that Jane Lynch was in this movie and now years later her career has blown up because of "Glee"?

---
Posted by Muffy Tepperman (Member # 1551) on :

Watching 18 Again! before work this morning......such an awesome movie....! Schlatter really does do a great job.

I've always loved this movie!

---
Posted by cindymancini (Member # 679) on :


quote:

---

Originally posted by Muffy Tepperman:
I love me some body swapping movies!


---
Good healthy body swapping never hurt anyone!
---
Posted by Bernie_Lomax (Member # 8571) on :

I definitely think 18 Again! was the best of those type of movies. It seemed to have heart to it which seemed lacking (to me anyway) in the other movies.

---


UBB.classic™ 6.7.0