This is topic Witchboard (1986) in forum « 80's Movies at iRewind Talk.


To visit this topic, use this URL:
https://www.fast-rewind.com/ubb/ultimatebb.php/topic/2/10326.html

---
Posted by aTomiK (Member # 6575) on :




Just watched Witchboard, a cool horror movie directed by Kevin S. Tenney (Night of the Demons)
Starring Todd Allen, Tawny Kitaen, Stephen Nicholls and Cathleen Wilhoite.

"The film focuses on a female college student who is harassed and later possessed by an evil spirit
after communicating with it through a friend's Ouija board." (Wikipedia)

Ooh, I love 80s Tawny and own 8 of her 80s movies. Only missing a tv-movie called Malibu (1983) and Happy Hour (1987).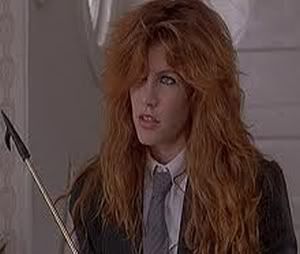 It´s a low-budget flick but entertaining enough and the cast did a solid job.

The movie soundtrack is pretty atmospheric and i like the end credits tune "Bump in the Night" performed by AOR band Steel Breeze.

Steel Breeze - Bump in the Night

Witchboard trailer

Any fans?

Next: Witchboard 2: The Devil's Doorway.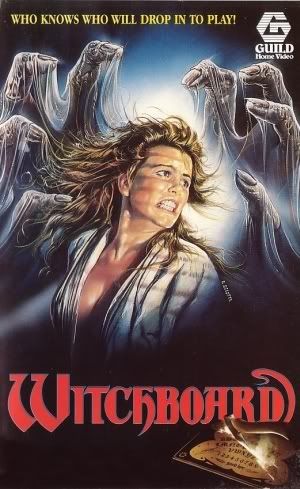 [ 26. February 2012, 22:50: Message edited by: aTomiK ]

---
Posted by Valley (Member # 1322) on :




Linda (Tawny Kitaen) who for some reason always reminds of girl rolling around on a hood of a car... becomes obsessed with the ouija board. Her obession began during an apparently harmless game party where the spirit of a young boy named David is contacted. After the party, Linda keeps on using the Ouija to talk to David, despite warnings from a friend that the young boy is actually an evil spirit in disguise. Soon it becomes obvious that a malevolent force has taken hold of Linda and soon people start to die.... 

'Witchboard' is both written and directed by Kevin Tenney who was also responsible for the horror flick 'Night of the Demons' (1987).  I remember the first time I watched "Witchboard" that I spent most of it amazed that Stephen Nichols had two eyes..  since then I've continued to watch it every Halloween season.




aTomiK.. if you are an Ami Dolenz fan like me.. you will enjoy "Witchboard 2" as a double feature!

---
Posted by Ronnie (Member # 465) on :

aTomik, I haven't watched Witchboard in quite some time, but I always liked it. Wonder what I would think of it now, since it's been so long?

**spoiler**

As a kid, the scene where Linda becomes fully possessed, always scared me. It was the evil voice that did it!

I also remember Kathleen Wilhoite from Private School, playing the quirky medium.

Great tune, aTomik!
---
Posted by aTomiK (Member # 6575) on :

I am a Dolenz fan and she was very cute in Witchboard 2.
More about the movie in the 90s section.

---
Posted by aTomiK (Member # 6575) on :

Ronnie, it was a cool scene. Fun to see and hear Tawny with that evil voice
---
Posted by Ronnie (Member # 465) on :

I've never seen Tawny in anything else, other than Witchboard and Bachelor Party... she's soooo beautiful! Love a girl with dimples.


The pic above that you posted aTomik, is from that scene I mentioned, I think? Spooky! It's time to watch it again.

---
Posted by aTomiK (Member # 6575) on :

It is from that scene, Ronnie.

---
Posted by cindymancini (Member # 679) on :

Isis gave me this DVD last year! Good movie! Tawny is enjoyable! I think the cover art for this has always been one of my absolute favorites! Love the whole ouija board bit!

---
Posted by pettyfan (Member # 2260) on :

I saw this one last summer and really liked it. I haven't seen the 2nd one, but I watched part of the 3rd one on Netflix instant streaming. So far I'm not impressed with it.

---
Posted by Muffy Tepperman (Member # 1551) on :

I remember the night a girlfriend and I rented this for our sleepover. We ate popcorn and got really scared,haha. We were about 12. When I read this thread yesterday I wrote her to see if she'd remembered watching it with me?.......and she vaguely does....sad. I'm just one of those (like you guys).....where even the mention of movies spark memories


So this is free ondemand and I tried to watch it last night as a second feature but fell asleep 10 mins in.......I'm just beat........so soon
---
Posted by 80'sRocked (Member # 6979) on :

Bumping this thread for the Halloween season! Great cheesy classic!

---
Posted by cindymancini (Member # 679) on :

Witchboard 2?? With Ami Dolenz?? How is it I never knew about this?? I better skip over to the 90's board and check this out!! Is it worth watching??

---
Posted by Bamersy (Member # 8808) on :

Tawny-so beautiful. Watched some Hercules movies recently where she plays his wife with the impossible name Deianira. Lol @ Patch
---


UBB.classic™ 6.7.0