This is topic Night of the Comet - Spoiler alert DEVO wasn't impressed! in forum « 80's Movies at iRewind Talk.


To visit this topic, use this URL:
https://www.fast-rewind.com/ubb/ultimatebb.php/topic/2/10319.html

---
Posted by Devolution (Member # 1731) on :

Devolution here,

So I decided to take the opportunity that Netflix has afforded me to watch Night of the Comet for the first time in forever. Needless to say I don't think that anyone should waste their time. While the girl from Weekend at Bernie's looks great and the Cheerleader from Fast Times is decent as the sister, this movie is not memorable at all. I mean come on, it's the end of the world and your sister is still alive? Nonsense! The bad guy from Revenge of the Nerds 2 is killed in three seconds (how he got her is beyond explanation) and the new hero on the male role is the deputy from Long Wolf McQuade! Now that's a movie!

Anyway, the plot isn't great, the bad guys are forgettable, and the mall when the world ends, while this might be the first time that it is done, (or second or third), is done better in other movies.

To sum up: save time see anything else!

We are DEVO

---
Posted by pettyfan (Member # 2260) on :

Wow...you're like the first person I've seen on here who doesn't love it. I've never seen it, but added it to my Netflix instant que awhile back. Still haven't watched it though. Doesn't really seem like my type of movie.

---
Posted by Ronnie (Member # 465) on :

While I don't feel that strongly about it being a bad movie, I don't particularly care for it either, D.

The movie takes an odd turn for me, and becomes hard to stick with. I used to like it more a long time ago, I even paid big bucks for the vhs tape (before 80s movies were being released on dvd). I bought the dvd when it came out and that is when I realized I wasn't as into it.

petty, you've never seen it? You should watch it soon and so you can let us know.. now that we know Mr. D isn't a fan!
---
Posted by Valley (Member # 1322) on :

It appears that I'm on the total opposite end from Devo and Ronnie on "Night of the Comet" ..

I love this movie!  


It feels a bit sad because Ronnie and I agree on a ton of films.. but not this one it seems.

For me, "Night of the Comet" has so many cool 80's elements that I enjoy .. arcade games, Valley Girl poster and soundtrack LP, neon lighting, dream sequences, mall shopping spree, zombies, and a killer soundtrack with a few hard to obtain tunes.  

Okay, I figured it out Ronnie.. It's Michael Bowen? Isn't it? ha.. he's still a total creepoid, but at least you finally get to crush that fly for real in this movie!

This NOTC thread goes more indepth from my point of view: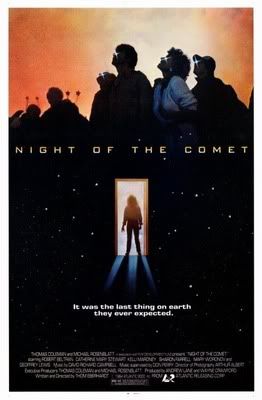 (click to read)

Pettyfan.. definitely give it a chance, but I agree it is not a movie style that you seem to enjoy most.

---
Posted by Devolution (Member # 1731) on :

Devolution here,

Valley,
while the aspects of the movie can certainly be understood as likeable, the very naturally 80's settings clothing and music, I remember as a kid being drawn in basically from that cop dream sequence, and the girls. I just felt the amount of relevant characters were too few. Maybe it's one of those cases of needing to love it when I was 10 to love it now, or may I just really went in wanting to remember it fondly and it fell short. I did enjoy your post and lord knows there is nothing that quite as cool as a girl that wants to be awesome at video games, in my opinion the movie fell short and needed more.

We are DEVO

---
Posted by skatexedge (Member # 5712) on :

Sorry you didn't feel it DEVO. It's one of my all time favorites! Saw it in the theater, bought the VHS and then the DVD! =)

---
Posted by kevdugp73 (Member # 5978) on :

I'm a fan as well. My first viewing of the movie was about a year ago, and I liked it even without the influence of seeing it as a teen. Cathern Mary Stewart in acid wash jeans was enough for me....

---
Posted by kenkobra (Member # 892) on :

Great Great Great movie! I must have seen it 20+ times over the years and never get tired of it.

---
Posted by gotta go back (Member # 9818) on :

I remember seeing this when it first came out at the theatre a block from Harry Trumans home in Independence. Saw many great 80's flicks there. Night of the Comet was one of them I thought was very cool. Watched it a year or two ago with my 5 year old son who also loved it. I will keep a copy lying around the house.

---
Posted by Crash (Member # 7484) on :


quote:

---

Originally posted by kevdugp73:
Catherine Mary Stewart in acid wash jeans was enough for me....

---
Amen, brother!
---
Posted by Blake (Member # 75) on :

I have to agree although its not the worst film in the world I didnt enjoy it

---
Posted by Jessie the Sunflower Goddess (Member # 1877) on :

I am utterly shocked that you didn't like it Devo. Has a great soundtrack, which I own and listen to quite frequently. No one can think of the 1980s and not think of this gem!

---


UBB.classic™ 6.7.0