This is topic Metalstorm: The Destruction of Jared-Syn (1983) in forum « 80's Movies at iRewind Talk.


To visit this topic, use this URL:
https://www.fast-rewind.com/ubb/ultimatebb.php/topic/2/10311.html

---
Posted by aTomiK (Member # 6575) on :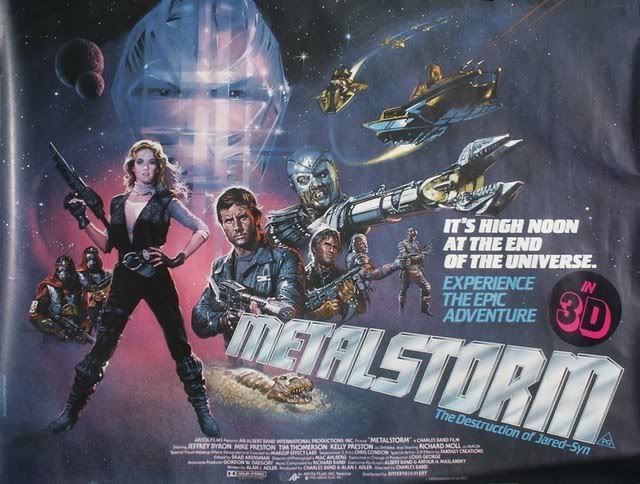 Now this was a pretty interesting sci-fi adventure directed by Charles Band.
Starring Jeffrey Byron, Tim Thomerson, Michael Preston, Kelly Preston and Richard Moll.

"A seeker named Dogen rescues Dhyana after her father is murdered by the evil Jared-Syn.
To avenge her father's death, Dogen must find Jared-Syn's hideout in the mysterious "Lost City",
but the only person who knows where it is an aging, burned-out seeker named Rhodes.
Along the way, they will need to do battle against the hunter Baal
and his Cyclopean minions for engaging Jared-Syn in a final encounter. (IMDb)

Byron can´t act but he has a convincing stare

Thomerson was a funny sidekick but Kelly Preston was criminally underused in her second feature film.

Cool villains, lots of Mad Max II vehicles and some Star Wars style scenes.
If you liked Spacehunter, i´m sure you will like this one too.

This movie surely will challenge your senses, already the movie title lies


Metalstorm: The Destruction of Jared-Syn (1983) Trailer

Here´s the Finnish VHS cover art:




[ 27. February 2012, 10:29: Message edited by: aTomiK ]

---
Posted by kevdugp73 (Member # 5978) on :

The images are super cool and vaugly familiar. I want to say I remember this...there's a small tweek in my brain....but not quite. Regardless....looks good....I want it!

---
Posted by Nostalgic for the '80's (Member # 37454) on :

"Metalstorm: The Destruction of Jared Syn" is '80's sci-fi, low-budget cheese at it's best. I actually remember seeing this in the theater as a kid with my Dad.

Years later, I remember my Dad & I watching this again on a TV broadcast. This is one of those movies that was so bad, it was good


Not surprisingly, Metalstorm recently came out on Blu-ray....obviously the film has enough fans to justify this release
---


UBB.classic™ 6.7.0