This is topic From Beyond (1986) in forum « 80's Movies at iRewind Talk.


To visit this topic, use this URL:
https://www.fast-rewind.com/ubb/ultimatebb.php/topic/2/10307.html

---
Posted by Valley (Member # 1322) on :

All the "Re-Animator" interest reminded me of this movie that everyone that enjoyed "Re-Animator" should check out. I pulled the idea for this thread from the posting I wrote in last year's Halloween thread.

From Beyond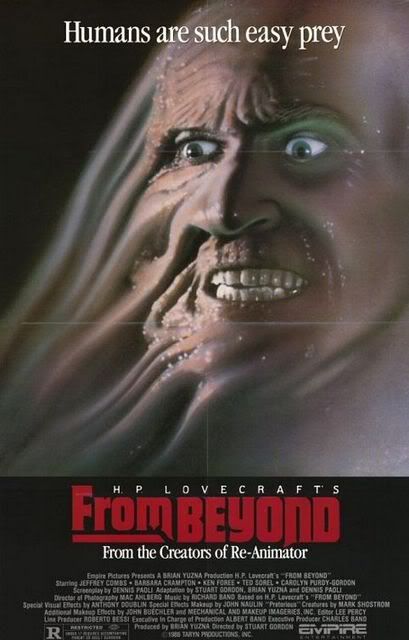 "From Beyond" centers around a pair of scientists attempting to stimulate the pineal gland with a device called The Resonator. An unforeseen result of their experiments is the ability to perceive creatures from another dimension that proceed to drag the lead scientist into their world, who later returns as a grotesque shape-changing monster and preys upon the others at the laboratory.

I finally got my paws on the uncut version of Stuart Gordon's "From Beyond".. I had heard about it years ago, but it wasn't until I saw "Re-Animator" on late night cable recently that it reminded of this flick. I've seen the 'R' rated version a couple of times and I can't imagine the gore getting much worse.. but bring it!




Scream queen Barbara Crampton is terrific in this movie.. and Jeffrey Combs has had quite the career, but I actually remember him best from from the Heather Thomas flick "Cyclone". Though most will totally say "Re-Animator". ha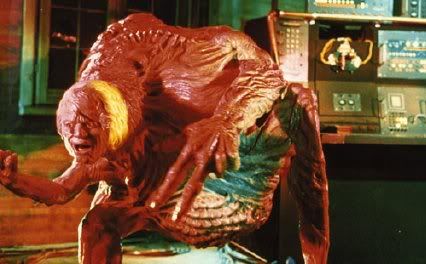 But the acting isn't the main reason to watch "From Beyond".. it is the special effects and make-up that are horror awesome. Sitting somewhere right in between hideously grotesque and artistically gorgeous, the special effects in "From Beyond" are some of the most well conceived and constructed for a b-movie.

[ 13. July 2011, 03:36: Message edited by: Valley ]

---
Posted by Ronnie (Member # 465) on :

gahh! haha never seen this, Val! looks awesome!

that "thing" above reminds me of Slither...the end.. ewww.. haha. i'm very interested in seeing this!


---
Posted by Pyro (Member # 7658) on :

Awesome Post for an Awesome Movie Valley!

I first saw this movie when I was like 15 years old..and even then it gave me the heepie jeepies.

I remember mentioning in another thread that the movie "Videodrome" is among one of the top movies I saw as a kid that really creeped me out...but, if I had seen this movie back then..this would easily have topped that.

Now of course being the Sci-Fi/Horror nut that I am..I absolutely love this movie!
Definitely toward the top of the list of awesome visual Sci-Fi/Horror flicks!

Now I'm gonna have to dust off my old VHS for another re-watch yet again..thank you:) And yes, I too recommend any fan of the genre to check this one out if you haven't already.

Great Write up of a great movie again Valley!

---
Posted by Johnny Roarke is reckless (Member # 9826) on :

In at least two other threads i've read that there are several people who were impressed by
Sony's dvd / blu-ray release of Night of the Creeps. So let me be the one to tell you, MGM did
an equally impressive special edition dvd of
From Beyond.
The disc features a truly spectacular restored transfer of the unrated director's cut, and lots
of bonus features including a Stuart Gordon commentary-track.
This is an absolute must-have dvd for all of you horror-enthusiasts.. trust me !

(the special edition is region 1, and thus far only on dvd.. no blu-ray)

---
Posted by SHOGUN (Member # 477) on :

great and a somewhat hidden gem.

how about this for a double bill?

From Beyond
Society

= )

---
Posted by aTomiK (Member # 6575) on :

From Beyond is a classic movie with a great cast.
Gotta love Combs, Crampton and Foree.

I have this UK Vestron Video VHS tape.


---


UBB.classic™ 6.7.0