This is topic Escape from New York (1981) in forum Ŧ 80's Movies at iRewind Talk.


To visit this topic, use this URL:
https://www.fast-rewind.com/ubb/ultimatebb.php/topic/2/10085.html

---
Posted by aTomiK (Member # 6575) on :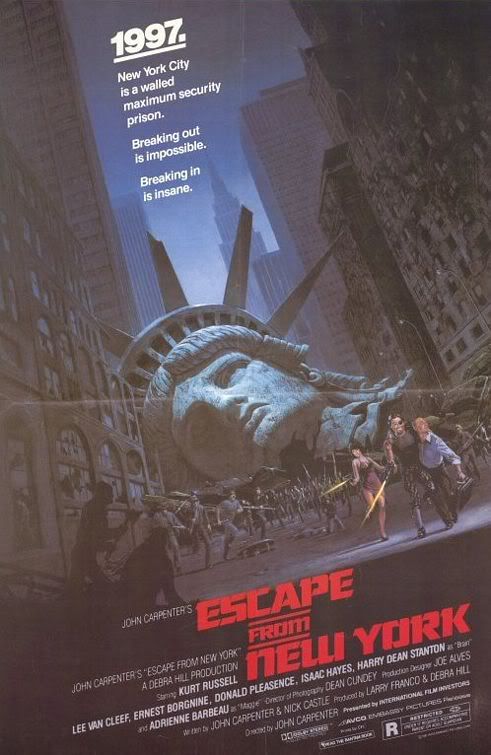 "Escape from New York is a 1981 American science fiction action film directed and scored by John Carpenter.
He also co-wrote the screenplay with Nick Castle.
The film is set in the near future in a crime-ridden United States that has converted Manhattan Island
in New York City into a maximum security prison.
Ex-soldier and legendary fugitive "Snake" Plissken (Kurt Russell) is given 24 hours to find the President of the United States,
who has been captured by inmates after Air Force One crashed on the island." (Wikipedia)

Watched this awesome movie again yesterday including the great dvd extra material.
After that i watched the movie again first time with the fantastic Carpenter/Russell commentary track.
It was done in 1994 for a VHS or laserdisc release, oh how the time flies.

I love the cast: Kurt Russell, Lee Van Cleef, Ernest Borgnine, Donald Pleasence,
Isaac Hayes, Tom Atkins, Adrienne Barbeau, Harry Dean Stanton and Season Hubley.

Lovely Adrienne Barbeau with Harry Dean Stanton.................Kurt "Snake Plissken" Russell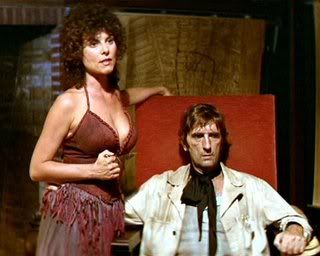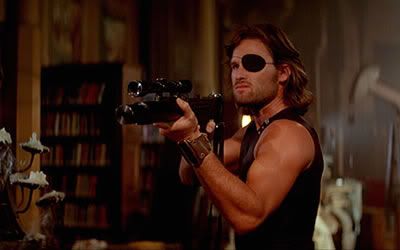 I also love the old school special effects, matte paintings, animation etc.
The movie score composed by Carpenter/Alan Howarth is classic early 80s synth soundtrack.

When the movie was made Carpenter was married to Barbeau and Russell to Hubley.

The film's total budget was only 5-6 million.
It was a commercial hit, grossing over 50 million worldwide.

I saw this movie first time in the late 80s.
The question is when and where you guys saw it first and what do you think of the movie today?

If you still havenīt seen this ultimate classic, itīs about time.

Escape From New York Original 1981 Trailer

Escape from New York Rewind pages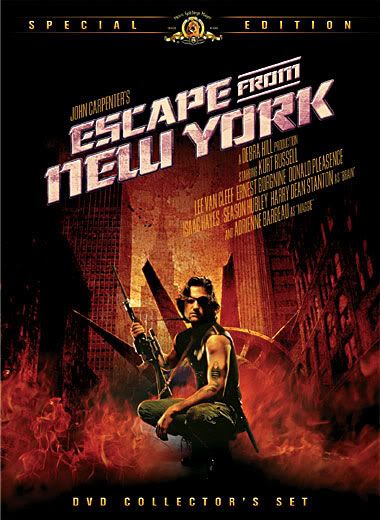 [ 20. February 2012, 05:03: Message edited by: aTomiK ]

---
Posted by kevdugp73 (Member # 5978) on :

I've owned this movie for quite some time, but have yet to see it. I was recently thinking about revisiting the Mad Max trilogy, but after this post, I think I'll start with this one....hopeing for tonight....

---
Posted by Helen_S (Member # 5804) on :

Bury it Kev


I usually love Carpenter, but rewatching this last year was torturous.

---
Posted by Crash (Member # 7484) on :

I saw this movie the Friday that it opened back in 1981 at a center city Philadelphia grindhouse called the Budco-Goldman. That theatre was the venue for many of my viewing pleasures for a couple of years when I lived in Philly. It was a classic grindhouse that showed first-run exploitation films like "Escape" as well as triple features of stuff like "Invasion of the Blood Farmers," "Savage Man, Savage Beast," and "Bloodsucking Freaks." For folks who were too young to see a real grindhouse, this place was a classic. Often, the show taking place in the theatre, not on the screen, was more entertaining than the film itself. The restrooms, which you never visited unless you were heavily armed and with your own militia, were located in the balcony. (For some reason there were ferns in big pots on that balcony, and folks butted the ash from roach clips into the pots.) I never saw anyone buy anything from the snack bar, even though they took food off of you if you brought it in from the outside. (They took a bag of apples off of a friend of mine once and gave it back at the end of the film. Just to play with his head, I talked all the way home about how the theatre emplyees probably put pins or Angel Dust in them. He wound up throwing them all away in an alley dumpster.) The catcalls and running commentary to the movies were always hilarious too. (Every time I ever saw a slasher film there someone would yell, "B****, don't go down dere!)

Oh, by the way, I love "Escape from New York." It's one of my favorite Carpenter films and one of my favorite B-films ever. I found the special edition DVD mis-priced once for some outrageously low price and had to have it.

[ 31. January 2011, 11:22: Message edited by: Crash ]

---
Posted by aTomiK (Member # 6575) on :

I remember your comment when you watched it Helen

kev, donīt believe her, sheīs the spokesman for the US Police Force.
They have this "thing" against Plissken.

Crash, awesome story once again!

---
Posted by Valley (Member # 1322) on :

Awesome flick..

The year is 1997... The U.S. President's plane, hijacked by terrorists, goes down in the midst of New York which is now a prison. Master criminal Snake Plissken whose chief personality traits are a dry wit and an unrivaled sense of self-preservation, is chosen to enter New York, rescue the President, and get out again. To insure his cooperation, he is injected with tablets that have a 24 hour life span. If Snake hasn't done his job by then, his head will explode. So, left without options, he dons a wristband James Bond would be pround of and hops in a glider heading for the top of the World Trade Center. How eerie is that to type?

"Escape from New York" has one of the most ingenious premises of any film released during the 1980s. And with director John Carpenter at the helm it truly plays out like a horror movie with Snake Plissken as our anti-hero.

I first watched it with my dad on late night tv back in the 80's.. we both enjoyed it and it is a great memory from my youth watching it with him. I've been a Kurt Russell fan since my childhood watching Disney flicks like "The Computer Wore Tennis Shoes", "The Strongest Man In the World", and "Now You See Him, Now You Don't". Dexter Riley is legend at my house.

---
Posted by aTomiK (Member # 6575) on :

Kurt Russell said that he really needed this movie after all the Disney stuff.
The studio wanted Charles Bronson but Carpenter said that Bronson was too old.
It helped that Carpenter already knew Russell, they made a pretty good Elvis tv-movie together two years earlier.
And so one of the greatest dynamic duos was born.

---
Posted by JAY LEE (Member # 6345) on :

This one never did it for me! Which is weird, cuz I love all the other early Carpenter stuff. There are just too many little things that nag me, and they escalate into an almost dislike of the movie as a whole. Though I do enjoy Adrienne Barbeau's cleavage


And I have the same version, and really like the audio commentary.... more than the movie itself
---
Posted by aTomiK (Member # 6575) on :

Say it isnīt so Jay!!
Glad you like Barbeau's cleavage and the commentary though


So, nobody else seen it, is this really that obscure flick!!??

---
Posted by JAY LEE (Member # 6345) on :

Ok, I like a few more things about it. The score is cool. Russell is cool as Snake, and Lee Van Cleef is the man. But for some strange reason, this is the dark horse in my Carpenter collection.

---
Posted by Logan 5 (Member # 1467) on :

The problem is it spawned a million low-budget rip-offs (maybe not a problem?) Which is why it's hard to watch it now without noticing all the cliches.

I still like it. Video rental classic.

---
Posted by kevdugp73 (Member # 5978) on :

Well...against Helen's advice, I watched this for the first time yesterday morning. I liked it, but, certainly not to the extent of the fanatics above! Once again, I feel that seeing this in one's childhood makes an enormous difference to your loyalty and love of any film.

Some may disagree, but I wasn't too impressed with the casting choices, aside from Snake, who did a great job. * Lee Van Cleef...I've seen him in so many Westerns, I find it hard to take him seriously without a cowboy hat and a horse! * Adrienne Barbeau...while I can certainly not disagree with the above observations regarding her assets, I was never a fan of her...neck up! * Harry Dean Stanton...I love this guy, but for whatever reason, did not like him in this role...Harry would have fit in perfectly to the MASH TV series me thinks! *Donald Pleasence....found it really difficult to take him seriously as the Presisent.

All in all, not a bad flick, though likely this has been my first and last viewing....unless....I revisit it in my senior years! Still interested in checking out the sequel....this worth a look?

---
Posted by Crash (Member # 7484) on :

The sequel is lousy.

---
Posted by aTomiK (Member # 6575) on :

I remember that the LA adventure was pretty entertaining flick.
Iīm gonna watch it again one of these days and refresh my memory.

---
Posted by The Good Package (Member # 9492) on :

i love this movie. Has to be one of the best endings in movie history

---
Posted by Bernie_Lomax (Member # 8571) on :

Funnily enough I saw this movie in 1997 and thinking this isn't happening
I thought it was a good movie but thought that the special effects could have been alot better even for an 81 film. At one point a plane nose dives to the ground and it looks like a balsa wood plane.

I did think it was good at the time but you guys have convinced me to watch it again.

[ 22. February 2011, 21:36: Message edited by: Bernie_Lomax ]

---
Posted by TerdNthePoolGGB (Member # 9818) on :

40th anniversary July 10

---
Posted by TheHoff (Member # 37515) on :


quote:

---

Originally posted by TerdNthePoolGGB:
40th anniversary July 10

---
Haven't watched this in years, great excuse to break it out again.

---
Posted by TerdNthePoolGGB (Member # 9818) on :

Yeah Huff. I wish i had it.

---
Posted by JCU (Member # 2851) on :

Escape From New York is THE Carpenter era IMO. HE did almost everything right up until the 80's ended. New York offered a steller cast, memorable soundtrack and an interesting story.

---
Posted by Helen_S (Member # 5804) on :

I kinda want to go back to this now and see if my opinion from 11 years ago has changed any!

---
Posted by Pittsburghgirl (Member # 7514) on :

I wanted to watch it, but of course it's not available to stream for me. It's on HBO MAX and Apple TV. 🙄. I can only subscribe to so many streaming platforms at a time.

---


UBB.classic™ 6.7.0