This is topic Deadly Blessing (1981) in forum Ŧ 80's Movies at iRewind Talk.


To visit this topic, use this URL:
https://www.fast-rewind.com/ubb/ultimatebb.php/topic/2/10039.html

---
Posted by aTomiK (Member # 6575) on :




"Strange murders occur in an Amish community.
Three young girls from the city, staying at a nearby farm,
are besieged by the unseen perpetrator as well.
The mad ringleader of the Amish "Hittites" (Ernest Borgnine) accuses the "incubus" as being responsible."
(Wikipedia)

This was a great movie!
Early 80s atmospheric horror at itīs best.

Directed by Wes Craven and starring Maren Jensen (Battlestar Galactica), Sharon Stone, Susan Buckner,
Jeff East (Up the Creek, Pumpkinhead), Lisa Hartman (Where the Boys Are '84), Ernest Borgnine
and Craven favorite Michael Berryman.
Cool cast and all the girls were soooo pretty.

Beautiful Susan Buckner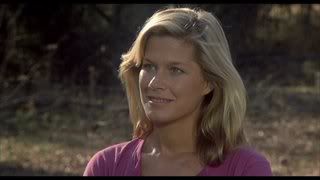 Sharon "hot hot hot" Stone and Maren Jensen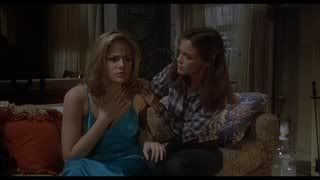 Ernest Borgnine giving the evil eye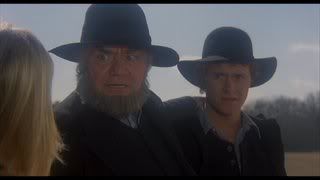 I liked the Lockhart, Texas locations but this sure ainīt Little House on the Prairie.

Spiders, snakes, ghosts, crazy hittites and the evil Incubus!
Itīs all here.

Highly Recommended!

Deadly Blessing trailer

[ 15. February 2012, 04:11: Message edited by: aTomiK ]

---
Posted by Muffy Tepperman (Member # 1551) on :

I love the cover art Atomik!

I laughed so hard with your Borgnine giving the evil eye. hahaha

I'll check it out for sure.....I love thrillers!

---
Posted by Spreadking (Member # 7280) on :

Lockhart?

thats only a 20 minute drive from me!

if I watched this I might have to move.

I think this used to come on TBS a lot, and I saw parts of it.

---
Posted by Crash (Member # 7484) on :

It's funny, aTomiK because, as much as I like most of Wes Craven's films, I always seem to forget about "Deadly Blessing" as part of his filmography. I haven't seen it in decades, but as I recall, while a good-looking movie--locations and female eye-candy--it's second-tier Craven, below "The Hills Have Eyes,""Nightmare on Elm Street," "The Serpent and the Rainbow," and "Scream," but well above his weak stuff like "Shocker," "The Hills Have Eyes, Part 2," "Deadly Friend," and those TV movies that he did back in the day.

And I think Texas is a pretty scary place anyway--even without Ernest Borgnine. :-)

---
Posted by the young warrior (Member # 9554) on :

Just finished watching Wes craven's deadly blessing,first time I've watched it in a few year,it's a great 80s horror with a very creepy atmosphere.

I thought The scene with the snake in the bath was well freaky,especially considering I've got a bit of a phobia towards snakes as was the spider landing in Sharon stone's mouth.

Sharon stone looks really great in what was one of her earliest film roles,Michael berry man is suitably creepy as the man child William as is Ernest borgnine as the leader of the local religious sect known as the Hittites.

I agree with atomik and Highly recommended it to all horror fans.

---


UBB.classic™ 6.7.0