This is topic The New Barbarians (1982) in forum « 80's Movies at iRewind Talk.


To visit this topic, use this URL:
https://www.fast-rewind.com/ubb/ultimatebb.php/topic/2/9995.html

---
Posted by aTomiK (Member # 6575) on :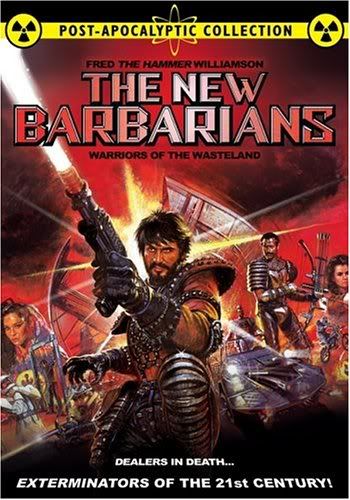 The New Barbarians (Italian: I nuovi barbari) is a 1982 post-apocalyptic Italian action movie directed by Enzo G. Castellari.
The film's central plot is that, in 2019, after a nuclear war, humanity is reduced to a starving remnant.
A ruthless gang called "The Templars" ravages settlers in an attempt to exterminate what is left of the human race in order to purge the Earth.
A former Templar, Scorpion, along with his allies, attempts to prevent the death of a small band of religious colonists at the hands of the Templars.
(Wikipedia)

Yesterday i watched this entertaining Mad Max II rip-off.
Starring Giancarlo Prete, Fred Williamson, George Eastman and Anna Kanakis.

Kanakis is very pretty but underused because this is MEN´s movie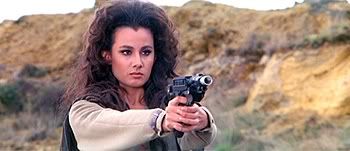 The locations, the costumes, the cars etc. are very low-budget stuff
but the director was really proud that Sylvester Stallone "stole" one idea from him
which was the crossbow with exploding arrows.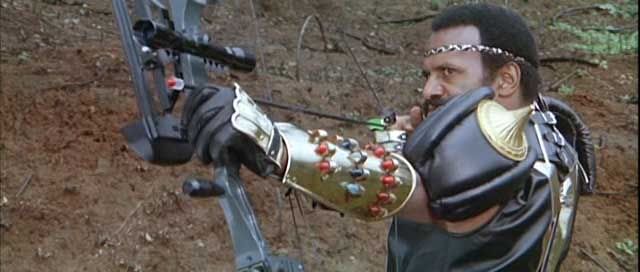 Blood and gore is almost non existent but this includes some cool explosion scenes with body parts flying around.

There´s lots of interesting undertones in the flick (you´ll know when you see it)
surprising stuff really.

Claudio Simonetti has once again composed a great electronic score for the movie.

Check it out if you like movies where people wander from one sandpit to another.
I know i do!

The New Barbarians trailer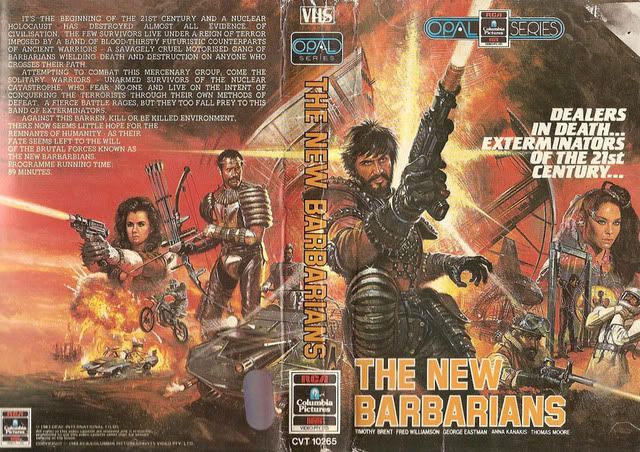 [ 15. February 2012, 04:16: Message edited by: aTomiK ]

---
Posted by logan5 (Member # 1467) on :

Man... I remember about a million movies with covers like this from the golden age of video. They were always set in, like, the year 3000, and they were usually Italian movies. The big one that springs to mind is 'Bronx Warriors'.

---
Posted by 80'sRocked (Member # 6979) on :

This looks like it is right up my alley! Never saw it....must get a copy.

---
Posted by Secret Admirer (Member # 3574) on :

Yep, I'm with 80sR, haven't seen it - need to see it. Thanks aTomiK
---
Posted by Lovers with Cassie (Member # 7794) on :

I have noticed that Venantino Venantini, who plays John in Exterminators of the Year 3000 (which I, of course, have seen) is in this.

I learnt about this through looking up The New Barbarians in my film review books, thanks to aTomiK.

---
Posted by Secret Admirer (Member # 3574) on :

Yep, I'm definitely getting this with '1990: The Bronx Warriors'. Looks like an awesome double feature.

---
Posted by Kash (Member # 297) on :

Great thread aTomiK!


The New Barbarians looks like a lot of fun. I preferred Castellari's Inglorious *******s to Tarantino's one, so I'll probably enjoy this too.

---
Posted by kenkobra (Member # 892) on :

This reminds me of Damnation Alley.

http://www.imdb.com/title/tt0075909/

---


UBB.classic™ 6.7.0