This is topic Return to Oz (1985) in forum « 80's Movies at iRewind Talk.


To visit this topic, use this URL:
https://www.fast-rewind.com/ubb/ultimatebb.php/topic/2/9970.html

---
Posted by Pyromantic (Member # 7658) on :

Return to Oz (1985):





I just finished watching this movie again on a family and childrens channel of all places. And I just kind of had to laugh a little. Isn't it funny what kind of stuff was considered "children's" movies back in the 80's?
Being only a child of 7 years old back when I first saw this; I certainly had a hard time sleeping for the next several nights to put it mildly. Funny how my parents for some reason thought I could handle seeing this movie as a kid, but thought the original Wizard of Oz might be a little too scary for me..lol. So, I actually saw this movie before I saw the original film.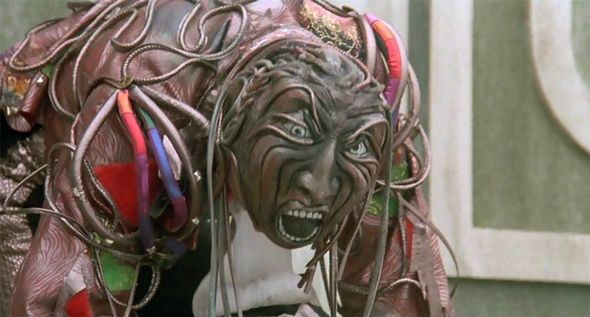 (creepy lookin' robot face alert!)




...just a few images that might unsettle the nerves of any unsuspecting and innocent child=/



This is a 1985 Disney fantasy film directed by Walter Murch that, strangely enough, MGM had little to nothing to do with. But that's largely due to the fact that this movie is based off the "Oz" books and not the original movie. So that makes it an unofficial sequel. The only part of the film that needed trademark approval from the original film was the use of the Ruby Slippers toward the end, which was settled with a large cash fee to MGM. The movie's plot is a combination of Frank Baum's novels "The Marvelous Land of Oz" and "Osma of Oz."

You can read the complete Synopsis on the Wiki page:
http://en.wikipedia.org/wiki/Return_to_Oz


And there's also a very nicely written review right here on the Rewind too:
http://www.fast-rewind.com/returntooz.htm




Playing the part of Dorothy Gale is a very young Fairuza Balk starring in her first motion picture role...

Awww..wasn't she just a doll?=)




.....




AHHHHHHH!!!!!

...Sorry, couldn't help myself=)


So anyway, Did this movie traumatize any other young hapless soul on here??..I know it had to have..Come on!

Discuss..

[ 19. February 2017, 13:53: Message edited by: Pyro ]

---
Posted by Muffy Tepperman (Member # 1551) on :

Awesome Pyro! I loved your little insights in your write up


Ok this movie scared me alot as a kid maybe not "traumatized" me....but it was dark for sure.

The wheelers scared me! many scenes were dark and didn't even make much sense to me then? I really need to re watch it just to see how I feel now.....the cover is so misleading is it not??

I can't believe you saw this before the original?

I also say that all the time....the stuff that we watched as kids and was considered "kid friendly" would so not be now!

---
Posted by logan5 (Member # 1467) on :

This is a very dark kids movie. Disney were really having trouble landing a hit back then, but even so, they kept making really interesting family films! It was slightly confusing but still a good movie, and it's flop status has unfairly tarnished it. I remember looking forward to it - then being disappointed by it - when I was younger. If I recall this was the year of 'Natty Gann'. Dayum! Disney were on a roll back then!

Then again, this was also the year of 'The Goonies', 'Back to the Future' (which Disney turned down) and 'The Breakfast Club'. So I guess they were up against some stiff competition!

---
Posted by Veronica Sawyer (Member # 2221) on :

Awesome post pyro!! I don't remember seeing this when I was a kid, but I do remember having a golden book based on it with lots of pics from the movie. Later on, when I was in high school, I became friends with a girl who was obsessed with return to oz, to the point where she was actually trying to duplicate the wheelers outfit...crazy huh? So I I finally watched it and really liked it. I love the score in it and and just the darker look of oz. But...even though there are some super creepy moments in return to oz, I still think the original is waaay creepier. Flying monkeys, anyone?

---
Posted by aTomiK (Member # 6575) on :

Great pics Pyro!
Never seen it but now i want it
---
Posted by Chris the CandyFanMan (Member # 3197) on :

It's been years since I saw it, but I remember it being reasonably good--a bit dark as noted, but that's certainly no bad thing.

---
Posted by Earth Angel (Member # 3301) on :

I used to have this on vhs that I taped from the tv. I used to watch it lots, but like Logan, I remember being excited about seeing it and then being a bit disappointed. It's not all singing and dancing like the original that's for sure. That room with the heads was pretty freaky and the wheelers were scary. I remember some sort of plastercine mountain thing that was wearing the ruby slippers???? weird. It's never on tv now...boooo
---
Posted by Earth Angel (Member # 3301) on :

Don't you think that Jack Pumpkinhead looks eerily similar to Jack Skellington from A Nightmare Before Christmas?

---
Posted by Devolution (Member # 1731) on :

Devolution here,

I said that to my wife when we spoke about it the other night. It's was very eerie to say the least.

WE are DEVO

---
Posted by 80'sRocked (Member # 6979) on :


quote:

---

Originally posted by Pyromantic:

(SPOILER ALERT!)....


And he's even more menacing due to the fact that when Dorothy first meets him, he puts on the false facade of being the kindest and most maternally caring character in the whole movie toward her.




---
Reminds me of the Burger King king. Never saw this movie.

---
Posted by The Pyromantic (Member # 7658) on :

How many people actually own this movie?...Cuz if enough people do..i was thinking it might make for an interesting watch on a rewind movie night. I highly doubt many people do really have this though..so I'm not holding my breath on this.

---
Posted by Veronica Sawyer (Member # 2221) on :

I have it
---
Posted by Logan 5 (Member # 1467) on :

I have it on video. I reckon it might be on Youtube or some other legal download sites.

---
Posted by The Pyromantic (Member # 7658) on :


quote:

---

Originally posted by Logan 5:
I have it on video. I reckon it might be on Youtube or some other legal download sites.

---
Yes, I found it uploaded on youtube..you can view it there in segments.

---
Posted by Nostalgic for the '80's (Member # 37454) on :

"Return to Oz" is a fantastic film - excellent story and effects. Really liked the inclusion of The Gnome King, the creepy Wheelers, etc.

Also, IMHO this is far superior to the original "Wizard of Oz" film - It's much truer to the original L. Frank Baum "Oz" books, i.e.:

-Dorothy (Faruiza Balk) is the appropriate age; Judy Garland was way too old to play Dorothy in the WOZ.

-Oz being an actual place, and not just a dream (as shown at the end of the original WOZ film).

-In "Return to Oz', the Cowardly Lion, Tin Woodman, Scarecrow, etc. looked like the illustrations in the original L. Frank Baum novels.

"Return to Oz" is actually a combination of several Oz books, including the original "Land of Oz" (where Jack Pumpkinhead is introduced) and some of the other Oz books.

I always hoped that "Return to Oz" would be the first in a long line of Oz films based on the original novels, but that didn't happen. Too bad.

---


UBB.classic™ 6.7.0