This is topic The Malibu Bikini Shop in forum « 80's Movies at iRewind Talk.


To visit this topic, use this URL:
https://www.fast-rewind.com/ubb/ultimatebb.php/topic/2/9832.html

---
Posted by Valley (Member # 1322) on :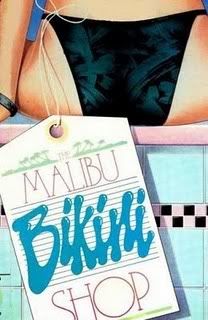 "Gentlemen, welcome. Remember: peeping is a privilege, not a right. Please remain seated at all times, keep your hands at your sides. Should you need oxygen, a mask will fall from the console above your head. Thank you. Have a nice day."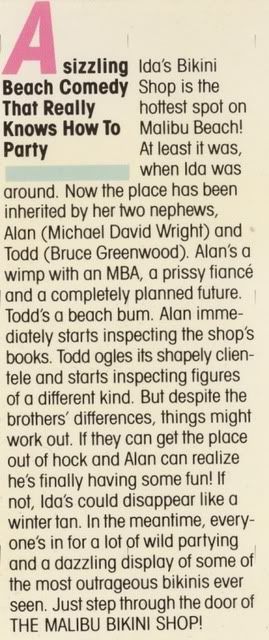 "The Malibu Bikini Shop" is a hidden gem of 80's beach movies.  It has the all the T&A and several low brow gags like so many other movies, but it also contains some excellent performances and a great love story.




It is hilarious to see Bruce Greenwood so young in such a carefree beach bum type role.  And Michael David Wright is the ultimate nice guy that learns to not settle.  But for me.. the beauty and charm of Amanda Horan Kennedy is almost mesmerizing.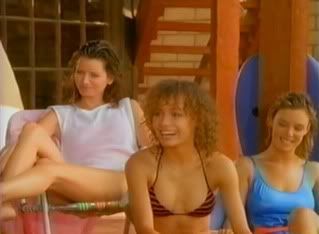 My only compliant is when Debra Blee overly whines.. I know her character is suppose to be annoying, but the whining is just over the top at times.

"Jane, you're right.... you and I are through!"

The dream sequences and especially the bikini fashion previews are a blast to watch.  Not a soundtrack that I'd probably seek outside of the movie, but it is totally 80's.  This flick makes me want to install a hot tub!

---
Posted by Muffy Tepperman (Member # 1551) on :

Valley I love this one........even the cheesy ending made for men! haha I loved the two-way mirror dressing rooms and the swimsuits they made......totally cool summer "b" movie flick Valley.

so what's Bruce Greenwood known for? I really don't remember knowing anyone in it all that much?

---
Posted by Valley (Member # 1322) on :

Muffy.. do you like the Ashley Judd movie.. "Double Jeopardy"? Bruce Greenwood has been in several good movies, but he might be best known as playing Nick the sleazy husband that set Judd up for murder.

Greenwood also recently played Christopher Pike in the "Star Trek" reboot.

---
Posted by Crash (Member # 7484) on :

My absolute favorite Bruce Greenwood role is in the much-loved, though quite obscure, UPN TV series "Nowhere Man" (1995). The series is fantastic, and Greenwood is in just about every scene--and he's brilliant. Anyone who wants to be challenged by great, intelligent television needs to get the box set of the one and only season of this one and watch it ASAP! Oh, Greenwood is also wonderful in "The Below" (2002), David Twohy's terrific haunted WWII submarine movie.

---
Posted by aTomiK (Member # 6575) on :

I love The Malibu Bikini Shop!
It really is one of the greatest beach T&A flicks.
Good music, sexy girls and great fashion.

Trailer The Malibu Bikini Shop

Finnish VHS cover art:


---
Posted by cindymancini (Member # 679) on :

"Yes...how is Todd?...." Hahahaha....

Valley & Muffy, I'm right with you guys!! I love this movie!! It's the perfect summer boardwalk type of flick! It makes me remember being at the shore when I was like 8 or 9 and everything was pink & teal...t-shirts, bikinis, sunglasses, etc. So great!!

And you're right, although it appears on it's face to be a stupid T&A movie, there really is an endearing little love story here. Alan & Ronnie are genuinely cute together!! Jane is fantastically annoying! I cringe every time she says, "kissy kissy kiss...."!! AHHHH!!! SHUT UP JANE!!!

As much as I am a connoisseur of 80's movie soundtracks, I agree, this one isn't that great...don't get me wrong, I've searched for the opening song "I'm Only Looking" for years to no avail and I thought Alphaville's "Big In Japan", at least a part of that song, was used in one the scenes but I'm not sure...might have to revisit and pay super close attention to confirm that one...

But overall, yes, I want to go to Ida's Bikini Shop, pick myself up a camo bikini & party with Alan & Todd one more time before the summer's over
!!!

Great thread Valley!!! Miss you Muffy girl!! We need to catch up soon!!!

---
Posted by the young warrior (Member # 9554) on :

yeh valley, i desperately want to watch this one,it's very difficult to get hold off here in the u.k,the vhs sales for good money!

i've noticed they show it from time to time on the mgm hd channel my dad gets,but i'm wondering what sort of look i'm going to get from my dad when i say do you fancy watching the malibu bikini shop over on mgm hd at the moment.


[ 04. August 2011, 06:12: Message edited by: the young warrior ]

---
Posted by Valley (Member # 1322) on :

Warrior, I actually have this movie saved to my DVR off of MGMHD.

The question is .. are you really a true fan of the 80's?

ha.. embarrassing yourself watch 80's flicks in front of your Dad is just part of the fun! Just tell him you are doing research for The Rewind.
---


UBB.classic™ 6.7.0