This is topic Go Youngblood!! in forum « 80's Movies at iRewind Talk.


To visit this topic, use this URL:
https://www.fast-rewind.com/ubb/ultimatebb.php/topic/2/9803.html

---
Posted by Valley (Member # 1322) on :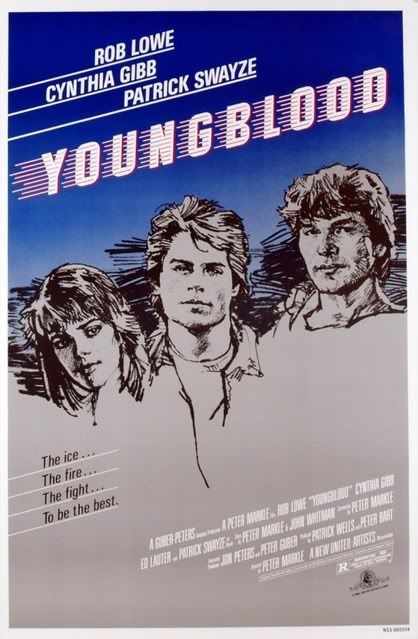 "Youngblood" begins with a 17-year-old farmhand from rural New York state, Dean Youngblood (Rob Lowe), who has dreams of playing in the National Hockey League. First he must prove to himself, his family and his teammates that he can survive in the harsh, brutal world of Canadian Junior Hockey with a rag tag team of roughnecks known as the Hamilton Mustangs. Possessing blazing speed and a quick stick, he has a violent run-in with a brutish player, Carl Racki (George J. Finn), during try-outs. Youngblood quickly learns that flashiness and pure athletic ability will not be enough to be successful in this league.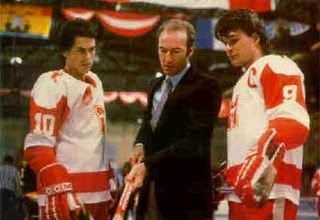 After his mentor and friend on the team, Derek Sutton (Patrick Swayze) is brutally injured by the thuggish Racki, Youngblood returns home to the farm out of fear, sadness, and disgust. After a pep-talk by his older brother, Kelly (Jim Youngs) about the nature of never quitting and always standing up for yourself, Youngblood is inspired to learn how to fight and survive on the ice and adapt the killer instinct that has been stopping him from being successful. Youngblood returns to the team a new man, ready to confront Racki in the final game of the Memorial Cup playoffs between his team and the Thunder Bay Bombers.




I really like Cynthia Gibb's character who played the coach's daughter who becomes romantically involved with Youngblood.  Gibb played it with just enough charming toughness to make her character believable.  The title to my thread is one of my fav scenes where she is listening to a game with an earpiece while in class at school and gets excited when Youngblood scores a goal.




One the flip side.. while Keanu Reeves made me laugh a few times, his role as a foreign player was just uncomfortable to watch as a fan.

Any Youngblood thoughts?

---
Posted by Kash (Member # 297) on :

Cracking thread, this thread has the fire, the ice, the fight...to be the best!

Youngblood is just pure entertainment through and through with a great soundtrack. Love the way they combine training / fighting elements from The Karate Kid and Rocky with everything you'd expect to see in a trad sports movie. I knew nothing about Ice Hockey when I first saw this film but it works to get you interested in the game itself.

I disapprove of the hazing scene because its just wrong on so many levels whilst the debate continues as to who was better looking: Jessie or Miss McGill the landlady?


Youngblood could've easily been a Tom Cruise movie, it's got all the classic Cruise elements. I always think of this film whenever I watch Point Break and recall Keanu Reeve's stunning ineptitude when it comes to mastering an accent. Rob Lowe and Patrick Sawayze share a great on screen rapport and I'm glad someone saw that in The Outsiders.



Remember, "Don't take any **** from them Canucks. To them, you're just another wetback, crossing the border to play their game."

I live by that advice
---
Posted by Pyromantic (Member # 7658) on :

After watching this movie again recently after not seeing it in many years. I'm sad to say that it's lost alot of the appeal and excitement it had over me when I was younger. Not to say that it's a bad movie, because it isn't. It just seemed rather dated and slow paced when I viewed it again. But maybe that's just me.

[ 08. August 2010, 20:32: Message edited by: Pyromantic ]

---
Posted by Devolution (Member # 1731) on :

Devolution here,

I got it as one of the best packages that I have ever bought at Costco. Youngblood, Red Dawn and Road House. It's a great movie because even though I don't love Hockey, to watch Rob Lowe grow up and become a player that didn't want to take crap made the movie great.

WE are DEVO

---
Posted by oneyedwilly (Member # 8730) on :

watched this when i just turned 11 and thought it was great. I remember being afraid of a bully at school and he was twice my size. Seeing rob kick but at the end was just awsome. Needless to say this movie combined with following van damme flicks led me to martial arts for the next 9 years and thus never being bullied ever again. Ha, who said movies and tv are bad for people...not me, great film from start to finish.

---
Posted by Secret Admirer (Member # 3574) on :

This is a good movie. My rule is, anything with Swayze is golden. Throw in a sexy romp with Cynthia Gibb and I'm getting spoiled.


sidenotes:

Willy, I had no idea you were so lethal.

Devo, that is a sweetass 3-pack.

---
Posted by Simply The Noms (Member # 2688) on :

I recently watched Youngblood with my family and they all agreed that it was all kinds of 80's awesome. My son will watch Swayze in anything and tends to agree with Secret's point of view that Swayze = Gold!

Nomsblood
---
Posted by Secret Admirer (Member # 3574) on :

Sounds like you got a kid with a good head on his shoulders, Noms
---


UBB.classic™ 6.7.0