This is topic Diner (1982) in forum « 80's Movies at iRewind Talk.


To visit this topic, use this URL:
https://www.fast-rewind.com/ubb/ultimatebb.php/topic/2/9757.html

---
Posted by Valley (Member # 1322) on :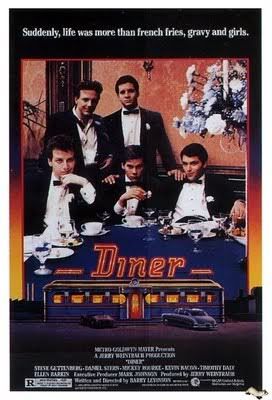 I missed "Diner" in 1982.. I knew it existed and even caught portions of it on HBO, but never sat down to watch it until a few years later. Veronica will have to cover her eyes, but after seeing and enjoying Kevin Bacon in "Footloose" in the 80's.. I decided to rent "Diner".  I've been told that actors and actresses really appreciate the acting in "Diner" because Barry Levinson the writer/director encouraged improv while filming and it lead to some great acting moments.




The cast is filled with actors that we now know very well.. Steve Guttenberg, Kevin Bacon, Daniel Stern, Mickey Rourke, Tim Daly, Paul Reiser, and Ellen Barkin.

"Diner" is a film that connects with us because we can all sympathize with its characters and their inner motivations. Eddie (Guttenberg) is afraid of getting married; Schrezie (Stern) is married and wishes he wasn't; Boogie (Rourke) would like to finally find a girl he could respect; Bill (Daly) wants to get married to the girl he loves but she doesn't want to. The whole movie appears to be focused on girls, and indeed most of it is, yet there's a lot of other stuff that's even deeper. Fenwick (Bacon) is what Bacon himself described as "permanently drunk" kid who doesn't know what he wants out of life, thrown out of his family and wandering the streets looking for a meaning to his life. He's the character who is so lost he doesn't even seem to care very much about girls.

Apparently women were such a puzzling phenomenon in 50's that after a date, the best way for guys to restore their equilibrium was to regroup with friends for the therapeutic consumption of cheeseburgers, greasy fries, black coffee, chocolate malts, Lucky Strikes, and loud arguments about football teams and pop singers.

The 50's atmosphere is sustained by a wonderful soundtrack of the times featuring the likes of: Chuck Berry, Eddie Cochran, Fats Domino, Jerry Lee Lewis, Dion & The Belmonts, Howling Wolf, Bobby Darin and Elvis.

Fans?

---
Posted by xchazx (Member # 7158) on :

i love this movie. i was only 12 when it came out so i too saw it years later on cable. i haven't watched this in a very long time but i'm going to have to watch it soon.

---
Posted by TKO (Member # 1471) on :

Thanks for giving this hidden gem some attention Valley.

I love Diner too. I had it on VHS, but it was one of many movies that I lost due to water damage.

The cast couldn't have been picked better. I even liked Daly in this (and you know how I normally feel about him) But my favourite characters were Shrevie the vinyl-nerd and of course Boogie, who becomes immortal after his popcorn-trick at the theatre.


Guess I need to order this at Amazon, cause I can't find it on dvd here.

---
Posted by Muffy Tepperman (Member # 1551) on :

I actually only saw Diner for the first time a few months ago. I really liked it. Great cast set in Baltimore in the 50's I hated Rourke's character he was an ***! But I guess that's what makes the movie good haha

---
Posted by There'll be no morning for us (Member # 5804) on :

But what a fine ***
I love this film more every watch, all the cast were brilliant. Leaves me with a proper cheesy grin
---


UBB.classic™ 6.7.0