This is topic Killer Party (1986) in forum « 80's Movies at iRewind Talk.


To visit this topic, use this URL:
https://www.fast-rewind.com/ubb/ultimatebb.php/topic/2/9374.html

---
Posted by Valley (Member # 1322) on :




It's April Fool's Day, and a trio of sorority pledges are getting psyched about the big party at the old frat house down the block. Having suffered through the worst of their 'initiation ceremonies', the three girls are ready to have fun. However, they had no idea what horror is in store for them at the "Killer Party". It turns out that the old frat house is haunted by the spirit of a former frat brother that was 'accidentally decapitated' during a freakish hazing accident 20 years earlier.

"Killer Party" never had a chance. While filming in the early 80s, the studio pulled the plug. A few years later they finished filming, supposedly cut out all the gore and released it in theaters. Around 1986, it was released on VHS, still cut. And that was that…what a cursed movie. I look at this movie as what might have been...it starts out so promising, but with all the deaths off screen it is hard to consider this flick a true horror movie. The last 15 minutes almost save it, but overall not what it could have been.

Riptide .. Did you ever watch it?

[ 01. February 2010, 07:45: Message edited by: Valley ]

---
Posted by Riptide (Member # 457) on :

Valley, shows you how busy I've been, I still have yet to watch it in it's entirety. Didn't know about it been cut to death, wuld love to see all those outakes.

---
Posted by pork pie mcfly (Member # 6802) on :

Never seen it but sounds ok... i'll see if i can get hold of a copy.

---
Posted by Jessie the Sunflower Goddess (Member # 1877) on :

I loved watching this movie on cable in the late 80's. It is a shame that it isn't available on DVD. If I ever find it I would snatch it up in a heartbeat!

---
Posted by cindymancini (Member # 679) on :

Just thought I'd dig this one up...Killer Party, oh what a saga it's been...I remember a few years back searching for a VHS of this movie. I finally found one but by that time, somehow lost interest & watched only part of it & then sold it on Ebay.

Since then, I attended a Monstermania Convention & at these events there are vendors who sell DVD's of obscure horror movies that are OOP. They're all pretty much VHS transfers but every now and then you'll score an HD version that was recorded from tv & looks amazing.

So in my convention haze, I stumbled across a DVD of Killer Party. I bought it on the spot & sacrificed Night Fright II for it...in hindsight, I probably should have listened to Valley & went the other way.

In any event, Killer Party has been sitting in my entertainment center for months now, once again, unwatched. I am going to make a serious effort to revisit this...I'm in full horror movie mode at this point with fall looming & all the dreary weather as of late.

My question is, I saw there was another thread about this movie from 2010 that mentioned an official release. Have any of you gotten it? What's the verdict? Is it still cut to pieces or did they restore it to it's original version?

I agree with Valley, the concept behind the movie had potential...shame when they blow it.

---
Posted by Veronica Sawyer (Member # 2221) on :

Cindy, I think Warner Archive was supposed to release a DVD of it this year...Maybe around Halloween?

---
Posted by Johnny Roarke is reckless (Member # 9826) on :

Killer Party was scheduled for a 2011 release from the Warner Archives Collection.
The last known release-date was somewhere in june, but i'm pretty sure it hasn't been released
yet.

---
Posted by Valley (Member # 1322) on :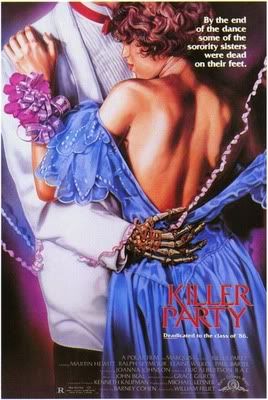 Cindy, since I'm one of very few people that actually enjoy "Fright Night Part II" .. I'm kinda glad you put it back in the bin.


So I might as well say that I enjoy "Killer Party" too, just felt like it had potential to be far better. Always thought the VHS cover art which matches the poster above was just way cool.

And Barney Cohen the writer (at one point at least) had success with movies like "Friday The 13th: The Final Chapter" which most of us enjoy and then later with movies like "Sabrina the Teenage Witch" and even an episode of Ronnie's "Thundercats"!

[ 07. September 2011, 13:39: Message edited by: Valley ]

---
Posted by Veronica Sawyer (Member # 2221) on :

This was released on DVD today by Warner Archive

http://www.wbshop.com/Killer-Party/1000232034,default,pd.html?cgid=

---
Posted by cindymancini (Member # 679) on :

Good lookin' out Veronica!! Wow, if you guys get a chance, watch the clip that's attached to the link above. The movie has been remastered & the quality is outstanding. Not sure how I feel about the $19.95 price but we'll see...Thanks V
!!

---
Posted by Megaforce (Member # 7183) on :

This was a really good movie, the beginning of the movie was funny as hell.

---
Posted by Veronica Sawyer (Member # 2221) on :

Cindy, that's kinda how I'm feeling too. I really would like to buy it but for $25 including s/h that's kinda steep...Knowing my luck the price will drop right after I order it LOL.

---
Posted by Riptide (Member # 457) on :

Valley, I did finally get around to watching it, but totally agree it should have been so much better. I watched around the time I got Night of the Creeps and some better 80's horror movies, so I didn't give it a chance. But if I see for sale, I am going to pick it up. So much of my stuff is on storage, that I have reverted to watching favorite 80's movies on youtube.

---
Posted by aTomiK (Member # 6575) on :

Watched Killer Party and totally agree with Valley and co. I hate the off screen kills but otherwise this movie ain´t that bad.

The 80s fashion shines, soundtrack oozes 80s greatness and i love the girls.




The film was supposed to be called The April Fools but then Paramount released April Fool´s Day. The similarities are obvious.
Lots of frat/sorority stuff here, jokes, pranks, some nudity and fake death scenes. It´s april fools after all!

There´s also not one but TWO fake opening scenes and the second includes this awesome White Sister video April (You´re No Fool)

William Fruet is an interesting director and i´ve also seen The Cries in the Night (1980), Bedroom Eyes (1984) and Blue monkey (1987) from him.

---
Posted by the young warrior (Member # 9554) on :

I wonder if an uncut print of this still exists as MGM sure damaged the overall film by cutting gory detail from every on screen kill
http://www.imdb.com/title/tt0091338/alternateversions

Bedroom Eyes and Blue Monkey I both found to be a lot of fun,from William Fruet's other directorial works I would like to see Death Weekend aka The House By The Lake and Search And Destroy the most.





Trapped is a good backwoods thriller of his that I own with a menacing performance from the always psychotic looking Henry Silva.

[ 20. September 2016, 09:33: Message edited by: the young warrior ]

---
Posted by Crash (Member # 7484) on :

William Fruet is one of those competent Canadian directors, who has worked seemingly forever. He started off way back in 1972 with an indie award winner, Wedding in White, and then directed a ton of genre films before moving on to genre TV. His best film, I think, is The House by the Lake a/k/a Death Weekend, a kinder, gentler, Canadian version of Last House on the Left with an outstanding lead performance by Brenda Vaccaro. And among the other films that he's directed, let's not forget the routine slasher Funeral Home and the totally rubbish and ludicrous Spasms a/k/a Death Bite where Oliver Reed is telepathically linked to a monster snake. Spasms makes the giant killer insect film that Fruet did, Blue Monkey, look like Citizen Kane by comparison.

---


UBB.classic™ 6.7.0