This is topic Child's Play in forum « 80's Movies at iRewind Talk.


To visit this topic, use this URL:
https://www.fast-rewind.com/ubb/ultimatebb.php/topic/2/8894.html

---
Posted by ISIS (Member # 1780) on :

I remember I watched this in the 80s, with a friend of mine, and he screamed the whole way through the movie...my brother called him a big baby...but I can't even remember anything about it.

I never watched any of the sequels. Is anyone a fan of these movies?

---
Posted by Antwuan (Member # 7763) on :

I like Child's Play 2 the best Out of all of the series.

This is how I would rank these series.

Child's Play 2 (The Best movie of the series)
Child's Play (Classic Movie)
Child's Play 3 (Good Movie)
Bride Of Chucky (Decent Movie to Good Movie)
Seed Of Chucky (Terrible Movie)

[ 19. March 2009, 16:22: Message edited by: Antwuan ]

---
Posted by Valley (Member # 1322) on :

"Child's Play" and "Child's Play 2" are creepy cool. But if you want to pay homage to a master, you need to watch the movie "Magic". That movie still creeps me out from when I watched it as a kid.

---
Posted by HeWhoWalksBehindTheRows (Member # 7821) on :

Child's Play is still one of my favs. I just bought "Chucky's 20th Birthday Edition" and I never get tired of it. I did read recently that they are remaking it.........of course...another remake.

---
Posted by buffalo-girl (Member # 7498) on :

i love child's play also the first one is my favorite then the second one is pretty good too bride of chucky was okay kinda corny and the seed of chucky was just dumb!!! i agree also about magic i watched it a while ago and it still gives me the creeps but it is a good movie!!

---
Posted by There'll be no morning for us (Member # 5804) on :

I love 1 and 3. The rest are a bit meh.

---
Posted by pettyfan (Member # 2260) on :

I've seen 'em all though the original is my favorite. The second part is pretty good too. Someone mentioned Magic--I haven't seen that one. Is it really good?

---
Posted by annier (Member # 3305) on :

I love these films but that doll is just creepy.
My next door neighbour has one sitting in the passenger seat of his car....
---
Posted by JAY LEE (Member # 6345) on :

1,2,3 are classics! the rest are trash!

---
Posted by mdlopez9 (Member # 7819) on :

"Now park this piece of ****." Chucky's hilarious

---
Posted by mdlopez9 (Member # 7819) on :

I remember this being the first movie I saw when my dad decided to buy a vcr.

---
Posted by imawalkingcorpse (Member # 1675) on :

I hate Jon Gruden.

---
Posted by Veronica Sawyer (Member # 2221) on :

I woke up this morning to find a perfectly overcast day in Chicagoland, and knew that it was time to start my October Horror Movie Marathon, even though it's still September
. The first movie on my list is the infamous "Child's Play", starring our favorite doll killer, Chucky.




"Child's Play" was released theatrically on November 9, 1988. It was not the first movie to revolve around a doll or toy killer. Many other horror movies covered this ground in the 70's and 80's, most notably "Dolls" (1987) and "Magic" (1978). "Child's Play" paved the way for the gruesome "Puppet Master" series in 1989, and of course 4 sequels. "Child's Play" stars Catherine Hicks (the mother from the "7th Heaven" TV series), Chris Sarandon (Princess Bride), Alex Vincent, and the always delightful Brad Dourif as Charles Lee Ray and the voice of the Chucky doll. A special edition of the movie was released in September 2008 called the 20th Birthday Edition, which has many special features (2 commentaries, 2 featurettes, etc), and is highly recommended by myself.




"Child's Play" is basically about a serial killer, Charles Lee Ray, known as the "Lakeshore Strangler," who upon being shot many times by a police officer named Mike, transfers his soul into a "Good Guy" doll. This doll is found by a street peddler, who sells it to the mother of a six year old boy named Andy. These dolls are a pop culture phenomenon in the same vein as the Cabbage Patch Kids in the 80's. There is a cartoon TV show, cereal, clothing, and numerous toys being marketed for this talking doll character, who is very similiar to the "My Buddy," "Corky," and "Cricket" dolls (which I had back in the 80's). The doll is given to Andy as a birthday present, and begins giving orders to him offscreen. The first night that Chucky is at Andy's house, he ends up killing Andy's baby-sitter. The police belive that Andy is the killer at first, and they take him into custody for the night, even though Andy tries to tell his mom and the police that Chucky is the killer. Andy's Mom takes Chucky home with her and tries to get him to talk to her. When he doesn't budge, she threatens to burn him in her fireplace, which makes Chucky scream lines like "you filthy sl*t!" and viciously bite her arm and eventually escape her apartment.




The rest of the movie centers around Andy's mom and Mike, the police officer who killed Charles Lee Ray at the beginning of the movie, trying to fend off Chucky and ultimately destroy him. We find out that Charles Lee Ray was being schooled in Voo Doo by a man named Dr. Death, who seems to specialize in the art of soul transfering or whatever you might call it. Chucky finds out from this man that in order for him to break out of the doll, he must transfer his soul into the body of the first person he revealed his true identity to, which would be 6 year old Andy.




I won't spoil the ending for anyone who hasn't seen it.

Even though I've seen this movie a few times already, I wasn't scared at all by it. I actually found myself laughing at Chucky most of the time, usually because of his hilarious one liners (he tells an elderly woman "F*ck you," when she remarks at what an ugly doll he is), and just the whole concept of seeing a doll running around and trying to kill people is kinda hilarious to me. I think the movie might have been scarier if the true identity of the doll was more mysterious, which was actually the original idea for the writer, Don Mancini.

Even though the movie didn't really scare me, I was still entertained by it. The movie was shot in Chicago, which gives it an eerie backdrop, and the music score was also very haunting.

Going to check part 2 next....

---
Posted by the young warrior (Member # 9554) on :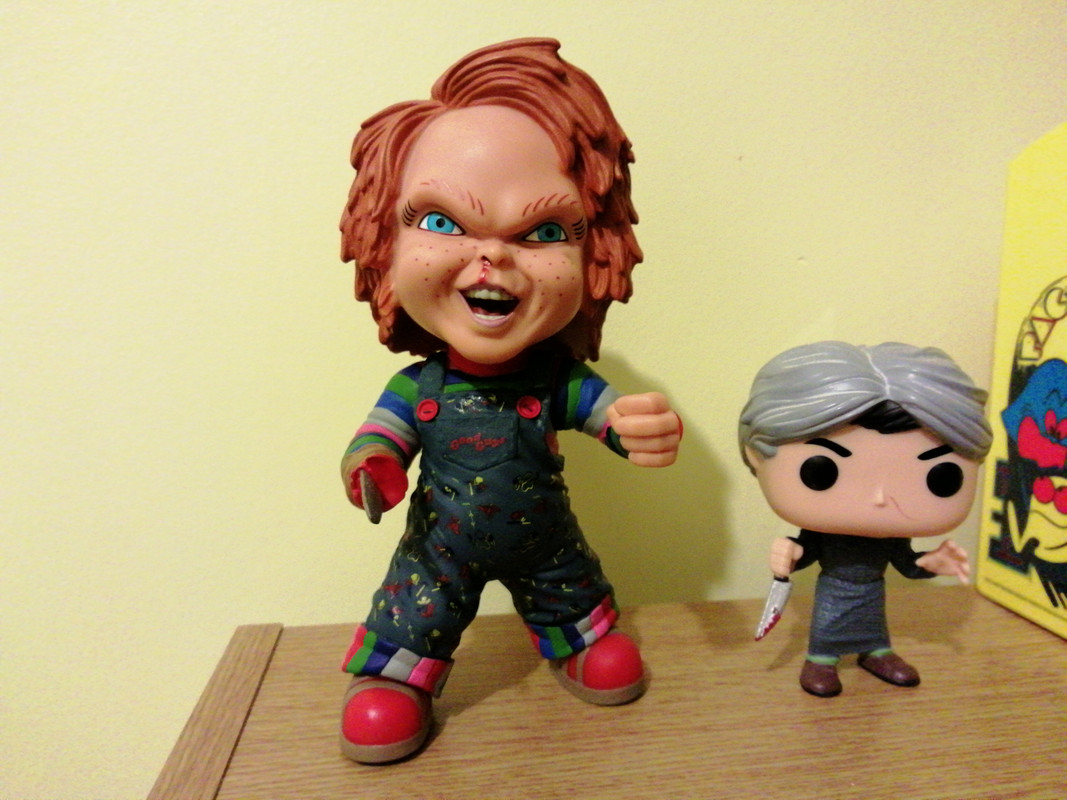 Hope everyone is keeping well it's great that the site is back up here's something I picked up on my travels and that is a Deluxe Chucky figure which comes with interchangeable arms and both the Child's Play 2 head (pictured) and the Child's Play 3 damaged head (below) which looks pretty cool!

Made by a company called Mezco that seem to do quite a few of these horror figures!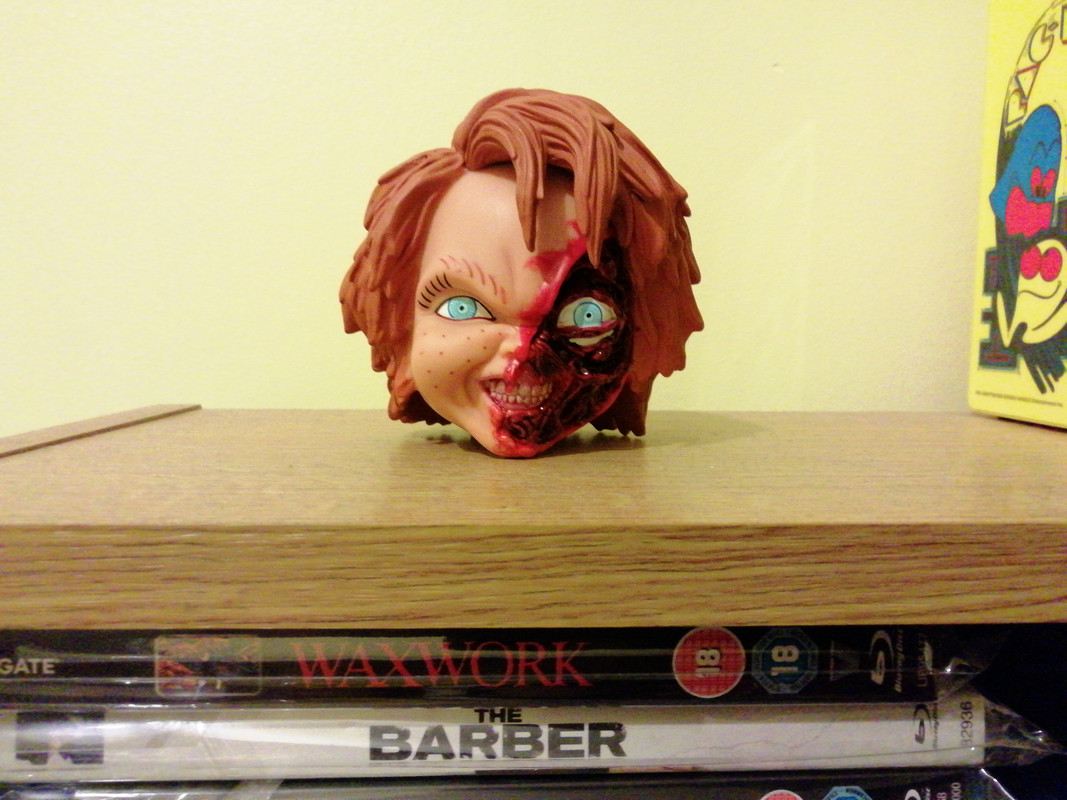 ---
Posted by Helen_S (Member # 5804) on :

Nice!
Love little Norman there as well!

---
Posted by TerdNthePoolGGB (Member # 9818) on :

The Chucky head great but what is the Pacman thing in the pic

---
Posted by the young warrior (Member # 9554) on :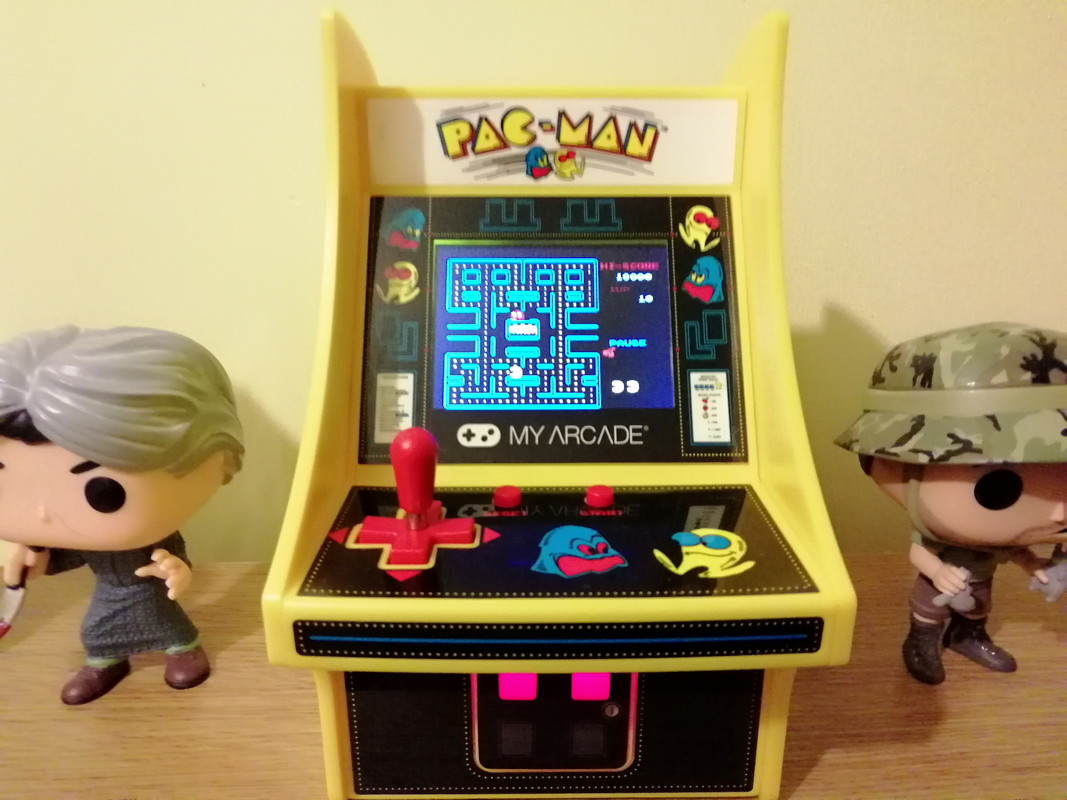 https://youtu.be/4SJXrRdWIwQ That's one of these Terd a pacman micro arcade machine it plays pretty well and they have just released Stateside a Ms Pacman version as well and have Galaga,Dig dug, Mappy,Galaxian,Rolling Thunder amongst others!

---
Posted by JCU (Member # 2851) on :

Two weeks late but I just picked up the Blu Ray for $5.00 @ Best Buy. The bonus features are what piqued my interest. With that said though, on appearance alone the film seemed low budget with not many frills and I'd think it has become a cult classic by now. The sheer grittiness made the film worthy of viewing.

---


UBB.classic™ 6.7.0