This is topic The Emerald Forest in forum « 80's Movies at iRewind Talk.


To visit this topic, use this URL:
https://www.fast-rewind.com/ubb/ultimatebb.php/topic/2/8428.html

---
Posted by jdogyeah (Member # 7159) on :

Anyone remember this movie?
I tracked down the title and remember seeing this when i was younger. Anyone care to comment what they thought of it????

---
Posted by stix33 (Member # 3861) on :

I remember this movie! The cover of the video always creeped me out, with that boy on the front...he looked so haunted, and with good reason.

---
Posted by halekido (Member # 7119) on :

Yeah, I saw that when it came out. Powers Booth was the dad and he was working some type of construction job on the edge of the Amazon Forest. His toddler son crawled away and into the forest and was then raised by some Indians. Great flick.

---
Posted by StevenHW (Member # 509) on :

Very good movie! I saw it on VHS back around 1986.

IIRC, the kid who played Powers Boothe's son was the son of the film's director, John Boorman. But I don't understand why he hasn't had better parts in movies after that.

---
Posted by aTomiK (Member # 6575) on :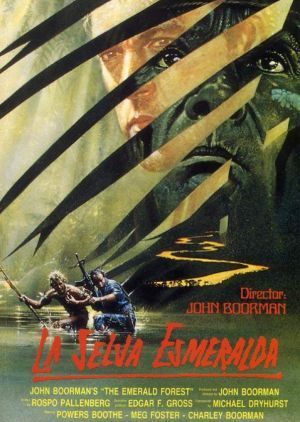 Watched The Emerald Forest (1985) few months back and highly recommend the film. It´s based on couple of different true stories and what an adventure it is!
I´ve always liked Powers Boothe and Charley Boorman gives an outstanding performance. Cinematography is top notch and the filming locations are breathtaking.
I sure hope that the remaining indians can live with peace.

---
Posted by Nostalgic for the '80's (Member # 37454) on :

Agree that "The Emerald Forest" is an incredible film. I've seen it several times over the years and it never fails to impress me. The fact that this is at least partially based on a true story/stories makes it that much more amazing.

The storyline is an obvious not-so-subtle "message" against the tearing down of natural habitats (in this case rainforests) to make way for "Modern" buildings/shopping malls, etc.

30 years later, I doubt there are many (if any) native people(s) who are still living in their natural environment like the natives depicted in this film.

---
Posted by Crash (Member # 7484) on :

With you 100% here. The Emerald Forest is an amazingly well-done film from one of my favorite directors, John Boorman. He may be one of the best directors of all time for man vs. nature films, with such a good eye for staging these conflicts.

---
Posted by Johnny Roarke is reckless (Member # 9826) on :

I have the region A blu-ray which looks very good, and the widescreen framing adds tremendously to the atmosphere !

---


UBB.classic™ 6.7.0