This is topic Eight Men Out in forum « 80's Movies at iRewind Talk.


To visit this topic, use this URL:
https://www.fast-rewind.com/ubb/ultimatebb.php/topic/2/6840.html

---
Posted by Jessie the Sunflower Goddess (Member # 1877) on :

I was wondering about this film and poof it happened to be on TV, kind of appropriate with the World Series and all.

I haven't ever seen any of it until tonight. This is the first time I have seen how many famous people played in this 1988 baseball drama. John Cusack and Charlie Sheen I knew were in it. But D.B. Sweeney, John Sayles, John Mahoney, Christopher Lloyd, (the car thief from Ferris Bueller's Day off)--sorry don't know his name right off.

Does anyone else have any comments on this one?

---
Posted by Riptide (Member # 457) on :

This was a quality baseball film, for some of the young actors in the film at the time, this must have been a labour of love, as Charlie Sheen is a huge baseball fan, and John Cusack and DB Sweeney are die-hard Cubs fans, wonder how they feel about their cross town rivals winng the World Series after 88 years of futitlity? The movie was a great historical portrait of the era, and it shows how the jury is still out on Shoeless Joe Jackson's actual participation in the fix. I rank this film with the Natural and 61 as my favorite baseball movies.

---
Posted by Pumpkin Head (Member # 27) on :

I always liked this movie. I remember watching it with my dad on HBO when I was younger. It tells the story about the Black-Sox scandal and as Riptide said, it makes you wonder about Joe Jackson's role in the scandal. Very interesting film and an independent film. Good weather you like baseball or not.

---
Posted by StevenHW (Member # 509) on :

First of all...congratulations to the Chicago White Sox for winning the World Series!


And yes, "Eight Men Out" is very good baseball film, and highly recommended.

As for Shoeless Joe Jackson, even though he was willing to participate in the scandal, the fact that he batted something like .375 (an impressive average in a World Series) and made no fielding errors, clearly indicates that he wasn't intentionally playing bad or "tanking" it.

However, I do think their pitchers Eddie Ciccotte and Lefty Williams definitely played like they were in on the fix.

---
Posted by Jessie the Sunflower Goddess (Member # 1877) on :

I wonder how accurate the film really was? I didn't get to see all of it so I am not sure how it started or ended actually. Has anyone read the book that this was based on?

---
Posted by Valley (Member # 1322) on :

Say it ain't so Joe!

Great movie about the Black Sox scandal. Cusack and Cutting Edge Sweeney were excellent in this movie. No sure of the accuracy of the material, but very emotional storyline. The ending is classic Shoeless Joe Jackson legend.

---
Posted by aTomiK (Member # 6575) on :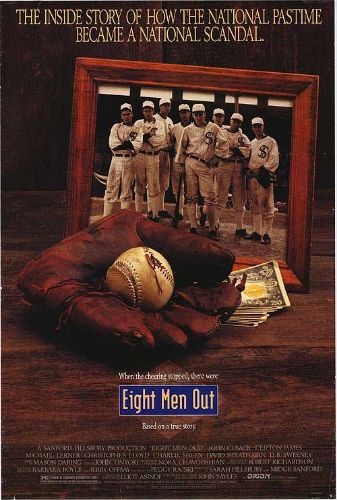 Just watched Eight Men Out.
Still not a baseball fan
but i have to say that this was an interesting movie.

The ensemble cast was superawesome and i´ve always loved John Sayles´ work.

Fun trivia from IMDb:
"Director John Sayles was contractually obligated to a running time under two hours.
To inspire the cast to talk fast, he showed them the film City for Conquest (1940).
The final cut of the film is 12 seconds under two hours."

You can see that Sayles and most of the actors loved what they were doing here.
However i need to say that i had a feeling this movie lacked real highs and lows
so i´m not surprised it was a commercial failure.

Finnish VHS cover art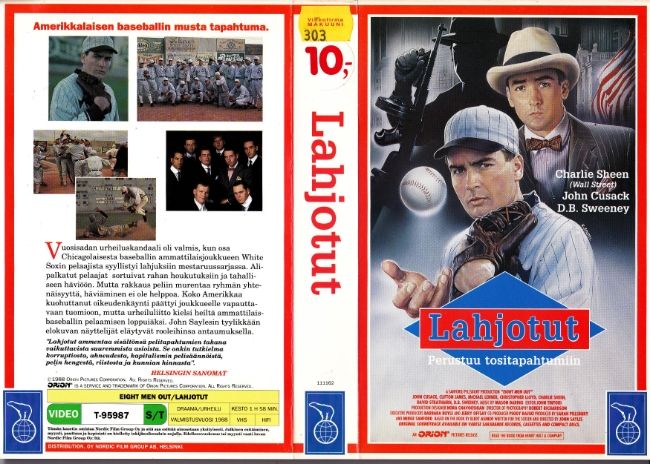 ---
Posted by Nostalgic for the '80's (Member # 37454) on :

Not a huge baseball fan, but "Eight Men Out" is one of my all-time favorite films, and probably my 2nd-favorite John Sayles-directed movie.

Excellent re-creation of the early 1900's, including the fashion, cars, architecture, clothes, etc.

Re: the story, this film was a real education for me - since, prior to seeing this, I knew next to nothing about the infamous "Black Sox" baseball scandal from this era. And, this film presented the story in a very linear way - while still making it entertaining.

Also, it seems like the famous saying "Say it ain't so, Joe!" is taken from this scandal, i.e. in the film it was a question directed towards "Shoeless Joe Jackson" by a little kid who was asking him if he had anything to do with the scandal - not sure if this was an actual statement, or purely anecdotal.

---
Posted by Jessie the Sunflower Goddess (Member # 1877) on :

I am so glad to see an old post revived. I have to admit that I still haven't seen all of Eight Men Out. Maybe someday....

---


UBB.classic™ 6.7.0