This is topic Which Porky's is your favorite? in forum « 80's Movies at iRewind Talk.


To visit this topic, use this URL:
https://www.fast-rewind.com/ubb/ultimatebb.php/topic/2/6791.html

---
Posted by cindymancini (Member # 679) on :

I have been on a Porky's kick lately. I finally found a copy of Porky's Revenge and I think I like it better than Part II. I thought the Blossom character was pretty damn funny. Meat had more of a role...I don't know. They're all so good. So which one do you guys like best?
---
Posted by Jessie the Sunflower Goddess (Member # 1877) on :

I actually liked the last one the best I think. Isn't that the one when they do the play. I remember when Wendy gets the fake boobs full of fake vomit and goes into that restaurant. Also when Miss Ballbricker is in telling the men at the school about what Tommy did and they cannot control their laughing. Wait--that might not have been the last one! Anyway, a hilarious scene.

When I think of Porky's I think of all of the funny scenes!

---
Posted by MotleyRulz (Member # 3598) on :

The first one by far. Sketch artist for the penis. LMAO...

---
Posted by mamamiasweetpeaches (Member # 1715) on :

The first one is the only one I liked. Well, I never saw Part Three. I hated Part Two though. (The fake vomit was in Part Two)

---
Posted by the young warrior (Member # 9554) on :





the original porky's is definitely my favourite of the three,part 2 is a bit of a step down but still pretty good fun.

when i first watched porky's revenge back in my teens i really didn't take to it much and found it barely raised a smile let alone a laugh and was overall very dissapointed with what i saw!

since revisiting it i've grown to like it a fair old bit and for me perhaps it feels more in tone with the original than the second part (the next day) and there's actually some pretty amusing moments in there.

not sure why i initially didn't take to it but pleased that i did revisit it,i think it's always worth giving a movie a second chance as it's happened more than a couple off times to me where i've gone back to a flick and thought actually that weren't too bad!






https://youtu.be/QWmtDAIK03M - porky's trailer

https://youtu.be/ajZTZ2agLi4 - porky's 2 - the next day trailer

https://youtu.be/jqvhxCZkkRs - porky's revenge trailer.

---
Posted by J2ME (Member # 5728) on :

I liked all of them, but the original was easily the best.


---
Posted by aTomiK (Member # 6575) on :

Rewatched Porky´s last night. First time from the Arrow blu which included cool Bob Clark interview and nice booklet.

It´s such a fun film and a real groundbreaker when it comes to big studio teen sex films.
The cast is awesome and there´s so many great scenes and most of them are based on real events according to Clark.

This was the first time i realised that it´s the goddess Jill Whitlow (Night of the Creeps) in her first movie role who plays Mindy
and asks why Tony Ganios´ character is called Meat


Original poster art:




Danish poster art:


---
Posted by Crash (Member # 7484) on :

I remember seeing Porky's at a sneak preview long before it was officially released. I, along with the rest of the audience, laughed super hard. It's one of those movies that was destined to be hated by critics, but loved by audiences. OK, it's not high art, but if you judge a film by whether it succeeds on what it sets out to do, then Porky's is a rollicking success. It sets out to be really, really funny, nothing more, nothing less--and it is. From the moment that the film starts with Dan Monahan and his ruler in bed, you know that film has nowhere to go but even lower in the gutter for laughs. But that's OK. There's something really charming about doing anything to please an audience. Porky's certainly was groundbreaking in explicitness for teen comedies.

[ 18. July 2016, 14:47: Message edited by: Crash ]

---
Posted by Pyro (Member # 7658) on :

The first one is actually the only one I've seen all the way through. Only have seen bits n pieces of the others.

---
Posted by aTomiK (Member # 6575) on :

Here in Finland the vhs cover art looked like this:


---
Posted by aTomiK (Member # 6575) on :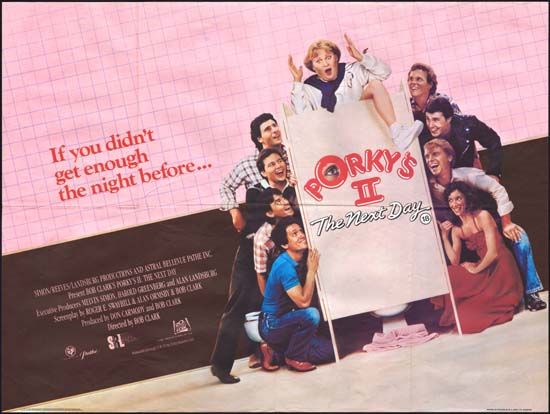 I rewatched Porky´s II: The Next Day and it´s a good sequel.
Almost entire cast from the original came back and i love to see more of these guys.

Not much nudity in this one but you gotta love Cisse "Graveyard Gloria" Cameron.
Porky himself is absent but we still have lots of cool bad guys: evil reverend Flavel (awesome Bill Wiley),
group of KKK members and all those corrupt city officials featuring the sleazy Gebhardt (great Edward Winter).

Lots of good stuff here including the superfun Kaki Hunter finale. One of the best comedy sequels IMO.

---
Posted by the young warrior (Member # 9554) on :

Porky's 2 was the first one from the series that I watched and though less Raunchy than the original it still has its fair share of laughs.

Love the scenes where the Klan get there comeuppance and the graveyard prank where Pee Wee does a runner completely starkers pass the two disbelieving police officers and then the drunk guy in the zombie costume jumps out in front of there car!




Here's my UK VHS box art for Porky's Revenge from CBS/FOX Video.

---
Posted by aTomiK (Member # 6575) on :

Watched Porky´s Revenge and it´s also a good sequel.
surprisingly many original actors and actresses still among the cast. More nudity, fun jokes and basketball.

Playboy Playmate of the Month September 1984, Kimberly Evenson is a sight for sore eyes.
I like the Dave Edmunds end credits tune High School Nights and we can also hear some synth sounds on the soundtrack.

Overall, this is still a very good T&A comedy series. Anyone seen the 2009 film Pimpin´ Pee Wee directed by Brian Trenchard-Smith?

---
Posted by the young warrior (Member # 9554) on :

Porky's Revenge was a fun final entry in the series and it's great how they managed to keep so many of the original cast on board and capture much of the look and feel of the original despite having a different director.





Here's my arrow steelbook which uses the original art minus a few details like the peeping eye through the hole in the wall which is on the back of the cover.

And here's the inside -



---
Posted by xchazx (Member # 7158) on :

I loved the first Porky's but the sequels kinda blew, much like the Revenge of the Nerds movies.

---
Posted by Crash (Member # 7484) on :

Lots of franchises have diminishing returns--Nerds, Jaws, Airport, Billy Jack LOL...

---


UBB.classic™ 6.7.0