This is topic Movie of the Day--American Flyers in forum Ŧ 80's Movies at iRewind Talk.


To visit this topic, use this URL:
https://www.fast-rewind.com/ubb/ultimatebb.php/topic/2/5434.html

---
Posted by jlp937 (Member # 1877) on :

This 1985 film follows the relationship of two brothers that take a cross country bike trip. The movie stars Kevin Costner, David Grant, Rae Dawn Chong, and Alexandra Paul. Kevin and David play two brother who learn to deal with their struggling relationship. The music of this film is really appropriate. Lots of shirtless guys strolling across the countryside on the way to discover themselves.

Does anyoe remember this flick?

---
Posted by isis9968 (Member # 1780) on :

I LOVED this movie!! Yeah JLP, you picked another one I saw. It is so well done, it really keeps you hanging to the end, and boy the end is a real shocker.

It is kind of a tearjerker in my book, so you definately have to be in the right frame of mind when you watch it.

I like the music in it, and I like it when Kevin Costner is training his brother and he gets "Eddie" to come help him, and Eddie turns out to be one wicked dog.

I highly recommend this movie to anyone who has never seen it.

---
Posted by jlp937 (Member # 1877) on :

Yeah the ending was a shocker, I didn't see it coming. That is one of the first movies that I remember seeing Kevin Costner in. If I recall I think he had a mustache in it, he looked really good too. That is one of the few films that I have really liked with him in it.

---
Posted by ValleyCat (Member # 1322) on :

This was a very good movie and I agree that the ending was a shocker. The whole time I was watching this movie it reminded me of another movie I really enjoyed that included cycling in it as well... "Breakin' Away'". Paul Dooley from "Sixteen Candles" played the father in it and he was way different, but you can see even then why he's such an accomplished actor. Also, an Isis "Totally" favorite P J Soles has a small part in this movie too.

I later found out Steve Tesich got writing credits on both movies, so the similarities made more sense then.

---
Posted by isis9968 (Member # 1780) on :

I just watched this movie 2 nights ago. I hadn't seen it in awhile. I love the song American Flyers in it. The guy that plays The "Cannibal"- the winner of the Hell of the West, doesn't he look like he could be Ted Danson's twin brother? I don't know the name of the guy who played him in real life, maybe they are related.

I think it is a great movie, I like Rae Dawn Chong and Alexandra Paul's characters too.

It is a great movie about families.

The thing I wondered is...did anyone else notice Jennifer Grey in it, she worked at the Fitness Center, and they invite her over to dinner at the beginning. I never remembered that being her-I was shocked when I saw it, cause I always forget little details.

---
Posted by TheHornedKing (Member # 2691) on :

I don't remember American Flyers. I did like Radio Flyer (1992). That was an awesome flick.

---
Posted by TheHornedKing (Member # 2691) on :

Especially the part when the younger kid flies away!

---
Posted by Richie (Member # 3527) on :

Wasnt the guy (Ted Dansons clone) named Bowdy, or something like that?

---
Posted by aTomiK (Member # 6575) on :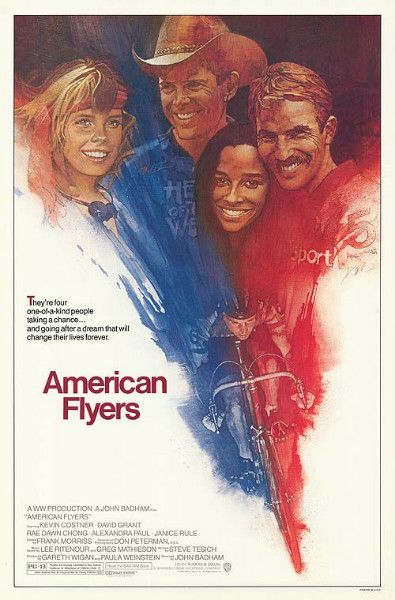 Watched American Flyers and it was an entertaining sports drama directed by John Badham.
Writer Steve Tesichīs earlier cycling film Breaking Away (1979) is a classic but American Flyers has itīs moments too.
The cast did a good job and i just love Alexandra Paul. She looks yummy in this one

The soundtrack is packed with uptempo tunes, we get to see nice american landscapes and the cinematography rules, especially during the races.
Recommended!

Alexandra Paul and Rae Dawn Chong, Shaversport service team.

---
Posted by the young warrior (Member # 9554) on :

I've always enjoyed American flyers,badham seemed to be on a bit of a roll during the 80s with this blue thunder,wargames,stakeout,short curcuit and then for me hit a bit of a blip with bird on a wire (it was still watchable) but then bounced back with - the hard way before directing some fun but not so critically well received action flicks such as the assassin (point of no return),drop zone and another stakeout.


I thought the Johnny depp flick - Nick of time which badham made in 1995 was quite underrated,christopher walken who also appeared was his usual terrific self,such a great actor that guy!

one i've never seen is the the movie he then followed that up with which he made in 1997 called incognito with Jason patric which sounds pretty interesting.

It (Incognito) was actually originally supposed to be directed by Peter weller of RoboCop fame but as this little bit of trivia from imdb states it wasn't to be -

Peter Weller was the film's original director and was replaced shortly after filming started because of his criticism of James G. Robinson and the film's budget (he said, "Their idea of a budget, is going to a hot dog stand.").
---
Posted by aTomiK (Member # 6575) on :

Yeah, Badham is solid as a rock. Havenīt seen Nick of Time and Incognito.
I also like his 70s films Saturday Night Fever and Dracula. Just got ī74 tv-movie The Law he directed. IMDb rating 8.4

---
Posted by Bernie_Lomax (Member # 8571) on :

Nick of Time is good. Definitely worth watching.

Have not seen this one but looks good.

---
Posted by the young warrior (Member # 9554) on :

Atomik you need to check out Nick of time like Bernie said and I've also stated it's definitely worth a watch!

---
Posted by the young warrior (Member # 9554) on :

Yeah badham's Dracula from 79 that was really good,I've not seen that in ages, dread to think the last time I actually watched it.

I'm going to add it to my rental list a.s.a.p

---
Posted by Bernie_Lomax (Member # 8571) on :

Nothing to give a way the movie but there is a scene in Nick of Time when Walken is in the elevator and he does an absolutely priceless facial expression - it's a must see.

---
Posted by Bernie_Lomax (Member # 8571) on :

Hang on a sec, I just realised that I have seen American Flyers. I remember it being alright. Nothing to rave about but worth watching.

---


UBB.classic™ 6.7.0