This is topic 80's Foreign Films in forum « 80's Movies at iRewind Talk.


To visit this topic, use this URL:
https://www.fast-rewind.com/ubb/ultimatebb.php/topic/2/1581.html

---
Posted by childofthe80s (Member # 1631) on :

There has to be some of you out there with some favorite foreign films from the 80's. If so, post them up. I'll post mine when I have more time.

---
Posted by The Wizard (Member # 533) on :

How do you define foreign? I live in the UK so technically most classic 80s films are foreign to me as they were made in America.

---
Posted by childofthe80s (Member # 1631) on :

Very careless of me to forget to point out I'm in the U.S. So when I said foreign, I meant all other continents.

---
Posted by NottoocoolJulie (Member # 1580) on :

Being from America, my favorite "foreign" film was "Breaking Glass". I still have the soundtrack on LP somewhere..

I also liked "Meet the Feebles". May not be 80's though..can't remember.

---
Posted by StevenHW (Member # 509) on :

80's films from outside the U.S. that I liked (and this is just a partial list):

"Cinema Paradiso" (from Italy), originally released in 1989, but didn't arrive to the U.S. until early 1990. Winner of the "Best Foreign Film" Academy Award the following year. A great movie for movie buffs!

"Diva" (1981), from France. Interesting little thriller involving an opera singer.

"Das Boot" (1982), from West Germany. Great submarine drama. The director (Wolfgang Peterson) now makes films in the U.S., such as "The Perfect Storm" and "In The Line Of Fire". The film was re-released with a "director's cut" longer version several years ago.

"Ran" (1985), from Japan. A samurai version of Shakespeare's play King Lear.

"El Norte" (1983), from Mexico.

"My Left Foot" (1989), from Ireland. Outstanding and inspirational movie based on a real story.

"Gregory's Girl", from Scotland.

"Three Men and a Cradle" (1985), from France. This is the original of the American remake "Three Men and a Baby".

"Spetters" (1981), a Dutch film from The Netherlands. It's about three young men who are amateur dirt-bike racers, who all want a better life but fall for the same woman. In some ways, this movie is like a dirt-bike variation of "Saturday Night Fever". But the sexuality of this film makes this sometimes a bit hard to take. It was directed by Paul Verhoeven, who later moved to the U.S. in the mid-80's to make "Robocop", "Total Recall", "Basic Instinct", and others.

I'm sure there's more, but that's all I can think of right now!

---
Posted by mansfield (Member # 939) on :

"La Boum"(1980) and "La Boum-2"(1982) from France with young Sophie Marceau.

!!! YOU MUST SEE THIS MOVIES !!!


---
Posted by childofthe80s (Member # 1631) on :

Thanks everyone for posting you're favorites.

Off the top of my head is

"Subway" - Christopher Lambert, early Luc Besson
"Next Summer" - Jean Louis Tritignant, kind of a French Terms of Endearment
"Manon of the Spring" - Emmanuelle Beart"
"A Taxing Woman" - Nobuko Miyamoto, very funny
"Police" - Sophie Marceau

There's more, but I have to go through my video collection.

Keep 'em coming

---
Posted by StevenHW (Member # 509) on :

ChildOfThe80s included the Japanese movie, "A Taxing Woman", and I agree, it's a very good movie. I should've mentioned it, but I saw it on TV during the early 90's instead of in a theater back in the late 80's! Maybe that's why I forgot!

Also, I got one more to add my previous list:

"The Gods Must Be Crazy" (1980) from South Africa. It was finally released in the U.S. in 1984. One of the hugely successful movies of its time, but also controversial as well.

I am reminded to include this one on this thread, because I just read that the star of this film, a Kalahari tribal bushman named N!xau passed away yesterday.

For more on this story, click below:
http://www.chron.com/cs/CDA/story.hts/ae/jump/1981444

---
Posted by Burnett (Member # 9924) on :

Some good ones are:

Le dernier métro (Truffaut, 1980)
Out of the Blue (Hopper, 1980)
Mad Max 2 (Miller, 1981)
Legendary Weapons of China (Liu, 1982)
Fanny and Alexander (Bergman, 1982)
Fitzcarraldo (Herzog, 1982)
Idi i Smotri (Come and See) (Klimov, 1985)
Phenomena (Argento, 1986)
A Better Tomorrow (Woo, 1986)
Akira (Otomo, 1988)
Grave of the Fireflies (Takahata, 1988)
The Killer (Woo, 1989)

---
Posted by Lovers with Cassie (Member # 7794) on :

I know of a film that Rewinders have most probably not heard of.

Ricochets (1986). An Israeli anti-war drama about Israeli soldiers fighting along with dying in southern Lebanon during the 1982 Lebanon war.

Watch this IDF made film when you have the chance.

---
Posted by Jakey V (Member # 37348) on :

I really want to see Christiane F., but can't find a copy anywhere. Has anyone seen it?

---
Posted by Pittsburghgirl (Member # 7514) on :

No idea, Jakey V. I checked the Just Watch app and it doesn't come up.

---
Posted by Johnny Roarke is reckless (Member # 9826) on :


quote:

---

Originally posted by Jakey V:
I really want to see Christiane F., but can't find a copy anywhere. Has anyone seen it?

---
That's a classic ! but i guess it's more easily available here in Europe than it is in the US.

A German 4K restored edition is coming in April, so maybe it gets picked up by US and UK companies
in the near future. It certainly deserves to be included in the Criterion collection, in my opinion !

---
Posted by Johnny Roarke is reckless (Member # 9826) on :

..and here is that upcoming 4K restored edition of Christiane F. ; Wir Kinder Vom Bahnhof Zoo on multiple formats :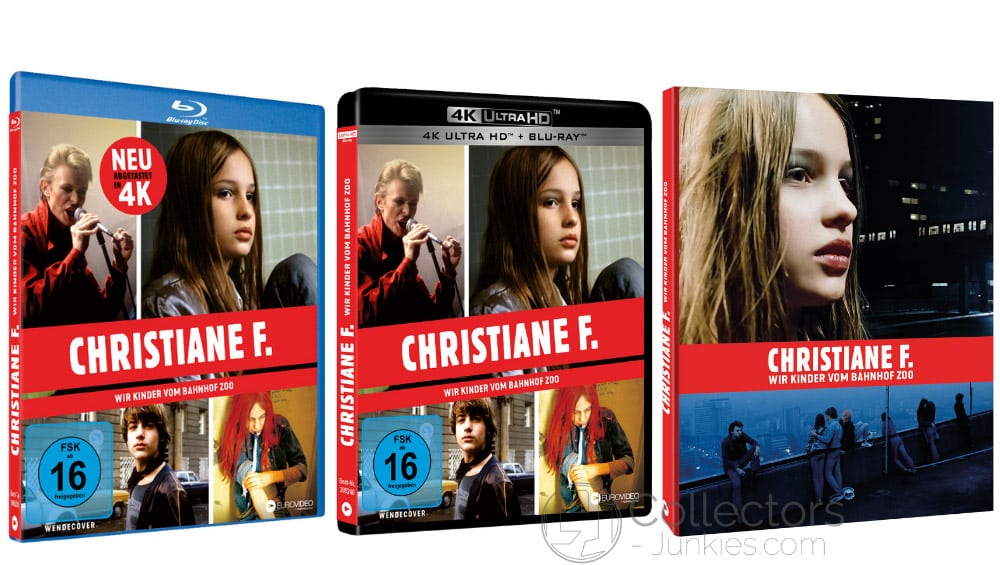 Apparently there are three editions being released, a single blu-ray, a UHD + blu-ray combo, and a blu-ray + dvd combo
in so-called mediabook packaging. New extra's include a commentary by director Uli Edel (probably in German though)
and an on-camera interview with Natja Brunckhorst (who played Christiane) !

I'm tempted.. but i wouldn't be surprised that more editions for other territories are coming. I think i will wait for a bit to see
what happens..

---


UBB.classic™ 6.7.0