This is topic The Karate Kid - The Perfect Halloween Flick in forum « Karate Kid at iRewind Talk.


To visit this topic, use this URL:
https://www.fast-rewind.com/ubb/ultimatebb.php/topic/1/1176.html

---
Posted by Valley (Member # 1322) on :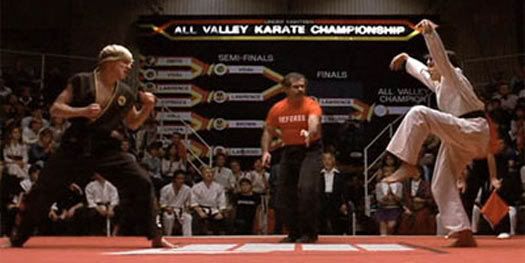 You've heard of 'think outside of the box' right? Well, for this thread I ask you to 'sneak inside the shower curtain' for some creepy fun.

The moment you hear "Cruel Summer" playing it is quite obvious that we are watching an unconventionally haunting 80's masterpiece. I mean what is more horrifying that moving across country and starting at a new high school? Wait, not so easy... you just accidently made nice with the leader of the wicked Cobra Kia's ex-girlfriend and he so isn't giving you a ride to Golf n' Stuff tonight.

Not convinced of "The Karate Kid" Halloween Horror mystique? I mean the movie even contains a Halloween party where our hero Danielson has to dress up as a shower to feel safe. But the real clincher for me are thoses incredibly awesome Cobra Kai skeleton costumes...that you get to see vividly as they are kicking Ali_with_an_i's new squeeze's tassh!




Run Daniel Run!
---
Posted by Ali_with_an_i (Member # 27) on :

I still think those skeleton costumes are awesome! The Cobra Kai's are just misunderstood...

Anyway I agree. This is a great movie to watch on Halloween!

---
Posted by Valley (Member # 1322) on :

I totally agree that the skeleton costumes are still wicked and the Cobra Kai being misunderstood is what I've been saying for years...sweep the leg Ali!

---
Posted by TresFoxy (Member # 542) on :

Wow thank you for the honor and the introduction.... Now that I have such standards to live up to I will have to take some time to compose my response.... But bascially "KK 1 and KK 2" are AMAZING!!! Thanks for welcoming me back Valley!!!
---
Posted by Valley (Member # 1322) on :

That's awesome TresFoxy.. so what you are trying to say is that we will hear from you again in about two years?

I'm dressing up as a Cobra Kai Skeletor this year.. the neighborhood kids might want to think twice about messing with my house.

How many 'new' Karate Kids do you predict I'll see this Halloween?

btw.. I'm thinking about upgrading to the giant Hershey Block bars this year!!

---


UBB.classic™ 6.7.0