This is topic Quantum Of Solace in forum Ŧ 21C Movies at iRewind Talk.


To visit this topic, use this URL:
https://www.fast-rewind.com/ubb/ultimatebb.php/topic/14/120.html

---
Posted by ISIS (Member # 1780) on :

My husband and son went to see it this afternoon, they said they really liked it. They said the end was really good. They said that it was pretty much the same as Casino Royale.

I have only seen a few James Bond movies, I have never been a fan of them.

---
Posted by 80sbabee (Member # 7554) on :

Eh, me neither. I don't really like Daniel Craig as Bond.

---
Posted by jdocster (Member # 5752) on :

I thought it was pretty good. You should check it out. You would probably be pleasantly surprised by Daniel Craig's portrayal of Bond. Really, if you don't see for yourself how will you ever know?
---
Posted by Kash (Member # 297) on :

I liked it, the Quantum group is based on reality and the plot is relevant to what's going on in the world today. Luckily, I watched 'Casino Royale' again the same day otherwise I wouldn't have had a clue as what was going on; do they seriously expect us to remember every detail from the last movie before going into see this one? I can understand why some people felt it was too short and a bit confusing, the last scene with Vesper's boyfriend in Russia was a tad stupid, but for the most part: Quality Bond, there's even a Goldfinger reference thrown in for good measure!

[ 04. December 2008, 07:30: Message edited by: Kash ]

---
Posted by Roger (Member # 7408) on :

I gave up on Bond after seeing Goldeneye it just dosent have the same appeal anymore.
Connery and Moore were the best Lazenby even though he only did one should have been given at least another shot at Bond.
The producers need to get back to the good ole days of fighting SPECTRE.

---
Posted by jdocster (Member # 5752) on :

Roger,

This is a completely different kind of Bond. He's a lot edgier, more like the books.

You should rent Casino Royal to see what I mean. I too grew up with Roger Moore and loved him as Bond.
---
Posted by aTomiK (Member # 6575) on :

Watched Quantum of Solace (2008).

Iīve heard some bad things about this film but it was actually pretty good.
Itīs a direct sequel to Casino Royale with good cast, cool action sequences, great locations and believable plot.
100 minutes was an ideal length for this film.

However, thereīs something wrong with these modern cars because i canīt see any explosions after they fall of the cliffs


Craig with Kurylenko and Arterton.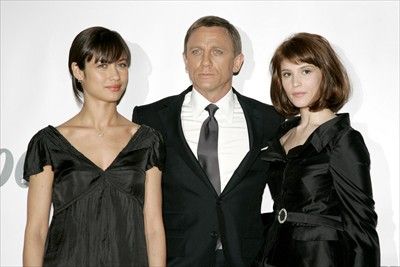 ---


UBB.classic™ 6.7.0