This is topic Belinda Carlisle w/gogo's vs. solo in forum « 80s Music at iRewind Talk.


To visit this topic, use this URL:
https://www.fast-rewind.com/ubb/ultimatebb.php/topic/10/899.html

---
Posted by Riptide (Member # 457) on :

Watching some Gogo's stuff recently, still love those videos like Vacation, Lips are sealed, etc. I remember seeing them on the cover of the Rolling Stone in the early 80's and being impressed as a youngster. When Belinda went solo a few years after they broke up I remember how sheek and A-list she looked. I couldn't believe it, I guess she lost weight, grew her hair, grew up, etc.,all in a few years.

http://pop.youtube.com/watch?v=KXj0QcSDVRE

She changed her sound after the gogo's. I usually always prefer the band, but some of her solo stuff I dig. Circle in the sand always conjures up some great memories. What is BC up to recently? Someone was telling me that she released a french album recently? She should try doing some shows in Quebec if that's the case. Oui, oui

---
Posted by TKO (Member # 1471) on :

Go Go's all the way for me, Riptide. Though her solo work in the 80's wasn't bad either.

Somehow I can't imagine her singing in French. The English and French language just don't seem to blend very well. Except for Canada where they speak both of course.

But hey, if that is what will get her to visit Quebec…


Bon chance mon ami!

---
Posted by 80'sRocked (Member # 6979) on :

I like her solo sound better for some reason. Circle in the Sand is my favorite from her.

---
Posted by Sam 'The Made Man' Hain (Member # 3150) on :

I've always wanted to hear The Go-Go's version of 'Johnny are You Queer' since it was originally their song.

---
Posted by cindymancini (Member # 679) on :


quote:

---

Originally posted by Sam 'The Made Man' Hain:
I've always wanted to hear The Go-Go's version of 'Johnny are You Queer' since it was originally their song.

---
I actually have it Sammy. It's a live or rehearsal version from the late 70's or early 80's. It's on their Return to the Valley of the Go Go's double cd. I can send it to ya via email if you'd like. Let me know
!

Josie Cotton best be grateful cause that could have been their hit!

---
Posted by cindymancini (Member # 679) on :

Riptide, I love the Go Go's, Belinda & Jane's solo stuff. I know Kathy Valentine has a band called The Dephines or something but I've never heard their music.

I think I'd have to go with prefering The Go Go's music overall. They only had four albums but there was a lot of great material there. Beauty and The Beat was the first vinyl I had. I got to meet Jane Wiedlin two years ago and I had her sign it! She was great...took pictures with us and talked. She's very pretty in person and very petite.

I loved the cover art for Belinda's first album. It was so simple and 80's but there was something classic about it too. Must be the pink and black.


I'm not sure what Jane was thinking with this album cover...


I think she was trying to go against the pretty, pop look and go more new wave, edgy, which reminds me, I loved her song with Sparks on the Valley Girl Soundtrack, "Cool Places."

Heaven On Earth was a good record too. Circle In The Sand is such a nice, relaxing, chill out to kind of song. After this album, I kind of lost interest.

I have Jane Wiedlin's Fur album and it has it's moments. Rush Hour is one of my all time fav songs. Inside A Dream is great too. I'm now on the lookout for Blue Kiss, after hearing it in Night of the Creeps.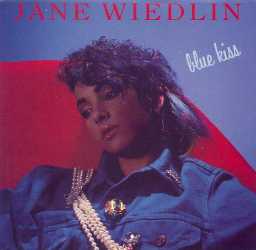 Favorite Go Go tracks:

We Got the Beat, of course.
Automatic
Speeding
Beneath The Blue Sky
We Don't Get Along
Mercenary
Lust To Love
This Town

I could go on and on. Love them! Your favs?

[ 16. July 2008, 06:52: Message edited by: cindymancini ]

---
Posted by Chris the CandyFanMan (Member # 3197) on :

Has to be Vacation for the group; the music video of them water skiing at Cypress Gardens is definitely an 80s classic. Of Belinda's solo tracks, I'd have to go with Leave a Light On.

---
Posted by NowhereGirl (Member # 465) on :

i've never been able to figure out why exactly, but i could never stand the go-go's. their only song i like as a group was 'vacation.'
i do like belinda's solo work (just a tad). 'mad about you' was my favorite.

i love jane wiedlin. she's so cute & cool...and has a little minnie mouse voice... as i've been told i do as well hehe.



jane was the best go-go girl in my opinion. i didn't like belinda too well.

---
Posted by mamamiasweetpeaches (Member # 1715) on :

BEAUTY AND THE BEAT was the first album I ever bought too! every song on there rocks!

I like both GO GOs and BELINDA solo but I have to give the GO GOs the edge here- they rarely have a song I skip and BELINDA DOES have songs I'll skip over.

---
Posted by the young warrior (Member # 9554) on :




Runaway horses,summer rain,world of love,heaven is a place on earth,leave a light on,circle in the sand,little black book,fool for love the list is endless of great solo Belinda tracks,but i do also like a lot of tracks from the go go's though as well.

I definitely agree about Jane wiedlin's track - rush hour https://youtu.be/gAsLDf-tYlg as well,such a catchy song!

[ 17. August 2015, 18:06: Message edited by: the young warrior ]

---
Posted by Riptide (Member # 457) on :

Thank you for reviving this thread! Completely forgot about it! What timing, I just listened to the out of bounds soundtrack today and listened to Belinda's track Shot in the Dark which I completely forgot about. I got Belinda's autobiography recently, a good recommended read! She went out with the Dodger's Mike Marshall who was a described big jerk! I was taken aback how much she struggled with substance abuse. In fact I almost thought I was reading Billy Idol's book for awhile. It's interesting there were early Gogo's members who didn't make it like Margot Oliviera. I would love to see another Gogo's album, but I think some members are estranged. I think Kathy maybe?

---
Posted by skatexedge (Member # 5712) on :

Go-Go's all the way. I can't stand BC solo. That music has no teeth. I don't like her either. Always seems to have an attitude and isn't very gracious or friendly with the fans.

---
Posted by Riptide (Member # 457) on :

I finally saw the band on their farewell tour this August, yes, and I wasn't the oldest in the audience! It was ok, but probably not worth the $100 I spent. A few surprises like Wiedlin doing cool places, but no Rush hour! They also did one of their earliest songs during their punk era fun with ropes. Not saying it was a bad show by any means, but maybe smart they are calling it a day supposedly.

---


UBB.classic™ 6.7.0