aTomiK
.... has green eyes as well....
Member # 6575





7 Updates!

Member Rated:


posted




---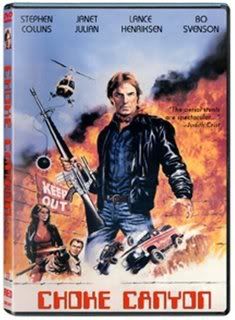 Choke Canyon aka On Dangerous Ground is a good action movie.

Stephen Collins plays a "cowboy scientist" trying to develop an alternative energy source.
However a corporation trying to find a remote place to illegally dump nuclear waste
throws him off his land and destroys his laboratory.
He spends the rest of the film committing ecotage against the company and trying to recover his land.

Also starring Janet Julian, Bo Svenson, Lance Henriksen and Nicholas Pryor.

Collins is great as a scientist who knows anything and everything (except how to start a helicopter
)
and can fight too!
Also look out for some crazy stunts.
(Director Charles "Chuck" Bail was a stuntman himself in the 60s and 70s.)

Once again Sylvester Levay has created a great score.
Mike + The Mechanics song "Silent Running (On Dangerous Ground)" was written for the film.
The video features a few clips from the film
(the action scenes, not the kid/family stuff)
Check out the classic video here:

http://www.youtube.com/watch?v=ep7W89I_V_g

Codereddvd released this movie on dvd,
so if you´re interested, it´s available.




[ 23. February 2012, 01:55: Message edited by: aTomiK ]
---
Posts: 6983 | From: Finland | Registered: Feb 2008 | Site Updates: 7 | IP: Logged |