REWIND
REVIEW

"
The movie even Madonna couldn't censor!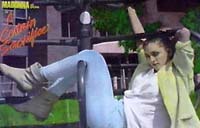 Starring
Madonna, Jeremy Pattnosh, Michael Dane, Sarah Magill
Timmy Leight, Charles Kurtz, Russell O. Lome, Angi Smit, Joseph Pattnosh, Ann Pattnosh, John Joseph Pattnosh, Chuck Varesko Update Cast
Review
"Certain to shock, certain to be talked about, and certain to be a collectors item."

That is the informing statement on the box of this rare piece of music history. Shot in 1979 but not released to the public until 1985, A Certain Sacrifice is the first project ever in which Madonna tested out her acting abilities. Though raw and mostly improvised, it's clear that even an un-known, 20-year old Madonna had intrigue which would be better displayed in her later projects.

The 'hero', so to speak, of this Stephen Jon Lewicki directed film is Dashiel (Jeremy Pattnosh). Dashiel is a rebellious early-twenty-something year old guy whose life is in a state of chaos until he meets our 'heroine' Bruna (Madonna). The two meet in a perplexing water fountain scene where Dashiel tries to rob the beautifully tom-boy chic Bruna, until she wrestles the gun out of his hands, enticing him as only Madonna can do.

The two have their share of problems living in New York's Lower East Side. Dashiel keeps bumping into a middle-aged, lust driven man named Ramond Hall, and Bruna has a "family of lovers", as she calls her slave-like friends, who are upset with her because she has transferred her love from them to the young Dashiel.

While in a diner relaxing with Dashiel, Bruna goes to the restroom to reapply her lipstick, and then is brutally raped by the disgusting Raymond Hall. Though this film is unrated, no explicit sexual content is shown, however the viewer sees a bloodied and bruised Bruna emerge from the restroom, cluing the viewer to the fact that she had just been horribly assaulted.

Bruna and Dashiel receive their revenge in a spooky conclusion, which is a bit on the creepy, disgusting side and utilizes a lot of fake blood.

Though quick-cut, and at times verbally intangible, this one-hour long experimental film is unique, controversial, and definitely a vital part of Madonna's history.
Author:
Bridgette Marie
Update This Review
Verdict
Yeah, yeah, yeah. I know that A Certain Sacrifice is technically a B-movie, and perhaps not the best film ever made, but come on now, for Madonna fans it's a must have and a very rare collectible.

I spent A LOT of time researching trivia from a lot of different sources, because frankly there's no A Certain Sacrifice trivia on the net. Well now, thanks to me, there is!

I've put together a bunch of trivia which ranges everywhere from Madonna's highschool years to her early years in New York when she made A Certain Sacrifice to 1985 when the film was finally released to the public; of course, I provide the specific A Certain Sacrifice trivia first.

Enjoy!
A rare collectors item, a young Madonna, unique, controversial

Extremely low budget
Rewind Rating
The Movie Data
Key Crew
Director: Stephen Jon Lewicki
Writer: Stephen Jon Lewicki, Robert Manganaro Morris, Jeremy Pattnosh
Producers:
Locations Manager:
Update The Crew
Data
Release Date: -- Dec 1985
MPAA Rating: R
Studio: World Vision
Production: Cine Cine Productions Inc.
Genre: Drama
Update The Data
The Movie Trailer
Jump To: Music & Soundtrack Vibes
Or use the menu to navigate
1985 World Vision
1999-2020 fast-rewind.com
V4_27 Powered by Rewind C21 CMS