REWIND
REVIEW

"
They are something more than lovers who are about to become something less than human...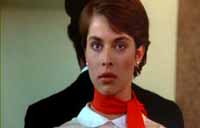 Starring
Nastassja Kinski, Malcolm McDowell, John Heard, Annette O'Toole
Ruby Dee, Ed Begley Jr., Scott Paulin, Frankie Faison, Ron Diamond, Lynn Lowry, John Larroquette, Tessa Richarde, Patricia Perkins, Berry Berenson, Fausto Barajas Update Cast
Review
Desert winds swirl across a sea of sand & skulls.

A woman is dragged to a tree & tied down by grim-faced tribal leaders, as she struggles vainly to escape from the punishment that will await her.

Night falls.

A black panther edges closer towards the woman. He pins her down. And then... Complete darkness.

So begins Paul Schrader's retelling of the horror classic "Cat People", set in the surrealistic, sensual scenery of early-80's New Orleans.

A beautiful brunette teenager, Irena Gallier (played by the always lovely Nastassja Kinski), arrives at the local airport and is taken to the home of her long-lost brother Paul (played by Malcolm McDowell of "Clockwork Orange" fame).

The girl is staying with Paul -and finally getting to know him after being seperated from him for almost her whole life.

Paul & his housekeeper (played by Ruby Dee) welcome Irena into their home with open arms. Irena, meanwhile, is also having a grand time getting used to life in the big city, with its entertaining attractions & its charming tourist sites.

But Paul is hiding many secrets... And also, during her sleepy nights at her brother's flat, Paul is lurking in her moonlit room, watching her lustfully from her bedside...

Not too long after her arrival, Irena gets a job at the New Orleans zoo. She is particularly drawn to the zoo's big cats and a beautiful, but dangerous Black Panther in particular. She is shown around the place by the charming, caring zookeeper Oliver (John Heard) & his assistant Alice (Annette O'Toole).

Irena quickly becomes attracted to Oliver and the two begin a loving affair, but Paul has other plans for Irena... Plans that could change their seemingly- "sibling" relationship -and their lives- forever...

What is the secret of the "Cat People"? What will happen when Oliver is pulled into the crossfire? Will Irena be able to keep her darling boyfriend and her human self? Will Paul have his way with his sister & warp all that she thought was her reality? Or will all go awry & Irena be forced to become one of her ancestors -the legendary "Cat People"?

All that and more is up for you to find out...
Author:
Anastasia Ashworth
Update This Review
Verdict
Film remakes aren't generally held in high regard by fans of the originals.

But even though I haven't seen the first "Cat People", I nevertheless enjoy the remake itself. The acting and cinematography are absolutely fantastic.

I also like the choice of cast members. (On a sidenote, Malcolm McDowell is a total hottie in this movie... Even though his character wants to get incestually involved with his sister, which is so very, very wrong.)

Overall, this film couldn't get more perfect for me.
Brilliant acting, marvelous music & cinematography, great action, and a dark, but gripping, storyline.

Much darker and insidious than the original. If you're not fond of certain things in movies, it may disconcert you to know that there's some, erm..."content" in this.
Rewind Rating
The Movie Data
Jump To: Music & Soundtrack Vibes
Or use the menu to navigate
1982 Universal Pictures
1999-2020 fast-rewind.com
V4_27 Powered by Rewind C21 CMS