REWIND
REVIEW
"
It's all about sex and sport. What else is there?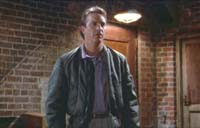 Starring
Kevin Costner, Susan Sarandon, Tim Robbins, Trey Wilson
Robert Wuhl, William O'Leary, David Neidorf, Danny Gans, Tom Silardi, Lloyd T. Williams, Rick Marzan, George Buck, Jenny Robertson, Gregory Avellone, Garland Bunting, Robert Dickman, Timothy Kirk, Don Davis (XII), Stephen Ware, Tobi Eshelman Update Cast
Cameos
Look for Max Patkin, Danny Gans making a cameo appearance!
"Bull Durham" was a type of tobacco / cigarettes manufactured by American Tobacco. The bullpen in baseball gets its name from the the fact that many ballparks used to have giant bulls in the outfield or along the foul lines advertising 'Bull Durham" tobacco, made by the American Tobacco Company, which closed down in Durham in the mid-1980s. Thus Bull Durham is an appropriate title for the movie.
More Trivia from Bull Durham
Review
There are few films that capture the spirit of baseball so accurately and so amusingly as "Bull Durham", the 1988 gem starring Kevin Costner (in his most charming, pre-Michael-Cimino-clone phase), Susan Sarandon, and Tim Robbins.

"Bull Durham" is a story about the Durham Bulls, a struggling minor league team, and the numerous characters that comprise and support the team. Susan Sarandon plays Annie Savoy, a sultry small-town woman whose love of men is equalled only by her love of baseball. Each season, she selects a member of the Bulls and opens his eyes to the secrets of life both on and off the field. This season, that guy is new team member Ebby Calvin Laloosh (Tim Robbins), a top pitching prospect with "a million-dollar arm and a five-cent head". Ebby has been given a huge signing bonus, but so far his play has been wildly uneven, walking and striking out equally large numbers of batters. The beleaguered manager of the Bulls (Trey Wilson), worried about Ebby's erratic performance on the field, is instructed to bring in someone who will be able to break in the young prospect. The organization sends him legendary minor league catcher Crash Davis (Kevin Costner), a pragmatic veteran in the twilight of his career.

There are immediate sparks between the world-wise Crash and Annie, and soon enough, Crash, Annie & Ebby, rechristened by Annie as "Nuke", find themselves enmeshed in a love triangle, with Annie in total command of the situation. Crash, knowing the difference between choice & the illusion of choice, takes himself out of the equation right off the bat. But as the season marches on, Crash is forced to confront his feelings about Annie, who also knows a secret about him; he's poised to break the minor league home-run record.

Who will Annie choose; Nuke or Crash? Will the Bulls pull it all together to make a magical season? Will Crash break the record? Well, unlike many other movies in the 80's, this is one movie where the outcome is always in doubt. This is also one of those rare 80's movies where the filmmakers never go overboard with the cheese. It's sentimental about love and the sport of baseball, without being maudlin. "Bull Durham" is filled with great supporting characters that are just as well-developed as the principals, witty dialogue, great cinematography, a bit of existentialist humor and an involving plot.

It's also got numerous classic scenes, such as when Crash tells Annie exactly what in life he believes in. Or the well-known scene where the players meet on the mound during a game to talk, covering such diverse topics as performance anxiety, voodoo curses, engagement announcements, and the perfect wedding present... all in the space of 5 minutes!

Add to that the perfectly cast leads, mix it all together with a whole lotta heart, and you've got a movie that should be on anybody's short list of the best movies of the last 20 years: "Bull Durham".
Author:
Ryan Long
Update This Review
Verdict
It's fun to watch a movie that is so fresh and original.

"Bull Durham" calls to mind a lot of great sports movies like "Slap Shot" and "The Longest Yard", without being derivative of them in the least.

Every time I watch "Bull Durham", it's like watching it again for the first time. This isn't light praise or anything, because there are only maybe 15 or 20 movies of which this can be said.

And, since this movie was voted the #1 sports movie ever in a Sports Illustrated poll, I guess I'm not alone on this.
Exceptionally talented cast, strong characters, literate and truthful script, great music, and the love scenes somehow manage to be super-hot without being gratuitous.

Anyone looking for a straightforward baseball movie may be a bit disappointed, as the story and characters preclude the sports action a bit
Rewind Rating
The Movie Data
Jump To: Music & Soundtrack Vibes
Or use the menu to navigate
1988 Orion Pictures
1999-2020 fast-rewind.com
V4_27 Powered by Rewind C21 CMS