REWIND
REVIEW

Adventures of Buckaroo Banzai
"
Beings from another dimension have invaded your world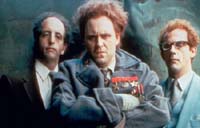 Starring
Peter Weller, John Lithgow, Ellen Barkin, Jeff Goldblum
The overall concept of this film seems to be taken from a pulp fiction character from the 30s and 40s, known as 'Doc Savage'. Both he and Buckaroo were surgeons, muscians, and adventurers. They also both carried on with an inner circle of sidekicks that went by nicknames (Renny, Ham, Monk, Long, Tom and Johnny, compared to Reno, New Jersey, Perfect Tommy and Rawhide).
More Trivia from Adventures of Buckaroo Banzai
Review
The Adventures of Buckaroo Banzai Across the 8th Dimension is a campy sci-fi flick taken right out of the comic books.

Buckaroo Banzai is a brain surgeon, a samurai and a rock star. He and his fellow scientists/bandmates (the Hong Kong Cavaliers) have developed a device that lets Buckaroo travel through solid matter. The device is known as an "Oscillation Overthruster".

With this overthruster, Buckaroo travels through a mountain into the 8th dimension.It is here where Buckaroo discovers that we are not alone!

While inside, Buckaroo gets a peek at some wild looking beings! The Red Lectroids, an evil group of aliens from Planet 10 who will stop at nothing to get the Overthruster. While Buckaroo, The Honk Kong Cavaliers and Penny Pretty (a look-a-like for Buckaroo's dead wife played by Ellen Barkin) attempt to stop them, a group of 8th dimensional beings join the fight againts the Red Lectroids.

The 8th dimentional creatures are a bit funny with their dread locks and Jamaican accents. They help Buckaroo and his gang to keep the evil aliens imprisoned in the 8th dimension.

Buckaroo and Penny provide the love story, as Penny, a tough talking girl of the 80s, eventually falls for Buckaroo's charm.

Meanwhile Dr. Lizardo (John Lithgow) wants the Overthruster so that he can bring his evil alien army to earth.

The plot is a bit outlandish at times, while the script seems to have been taken directly out of the comic book itself. At times it can also be confusing as to what is exactly taking place, but at the same time still entertaining.

In the end, the whacky plot comes together nicely, as we believe that Buckaroo is an honorable crimefighter and brilliant scientist. His bandmates and girlfriend are also played well by the likes of Ellen Barkin and Jeff Goldblum. John Lithgow of course steals most of his scenes with his mad scientist performance as the evil Dr. Lizardo!

This film is true 80s sci-fi camp at it's best!
Author:
Elizabeth Wright
Update This Review
Verdict
This film can confuse you just as easily as it will amuse you! Don't expect to see a grand use of decent special effects, or a good clean plot. At times the audience may feel dizzy with everything being thrown at them, but in some insane way it all seems to work out in the end!

The more you watch this film, the better you will understand it's story.
Campy fun for 80s sci-fi fans! Well acted, and fun to watch for everyone!

Unclear plot may confuse and annoy hardcore sci-fi fans.
Rewind Rating
The Movie Data
Jump To: Music & Soundtrack Vibes
Or use the menu to navigate
1984 20th Century Fox
1999-2020 fast-rewind.com
V4_27 Powered by Rewind C21 CMS