REWIND
REVIEW

"
I'm from earth, I'm a person, and I love you.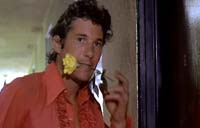 Starring
Richard Gere, Paul Tepper, Valerie Kaprisky, Art Metrano
James Hong, Valérie Kaprisky, John P. Ryan, William Tepper, Robert Dunn, Garry Goodrow, Lisa Jane Persky, Waldemar Kalinowski, Jack Leustig, Eugène Lourié, Georg Olden, Miguel Pinero, Henry G. Sanders, Bruce Vilanch, Robert Mark Quesada, Nora Gaye, Andres Aybar, Isabel Cooley Update Cast
Cameos
Look for D. Lee Carson, Tracy McBride, Jesse McBride making a cameo appearance!
Review
One of the most criticized and panned movies of the 80's, BREATHLESS has nevertheless attracted a cult following for its strong points; drama, comedy, action, and, most of all, passionate, almost obsessive, romance.

At the movie's opening, we are introduced to Jesse Lujack (Gere), a slick Las Vegas hustler with a penchant for auto theft, robbery and assault.

Yet, despite these flaws, we are shown that he has a good side.

This good side manifests itself in his powerful love for the enigmatic Monica Poiccard (Kaprisky), a beautiful, brilliant French co-ed and honors Architecture student at UCLA with whom he had a short-lived fling while she was spending her school holiday in Vegas. The two are in perfect diametric opposition to each other; She has very definite plans for her future, while he aspires to emulate his hero, the comic-book character the Silver Surfer. Bored with his glitzy Vegas existence, he hits upon the idea of relocating to Mexico – with Monica. You really have to hand it to him; This incredibly gorgeous man (Gere was at the height of his good looks at the time this movie was made) could have anybody, yet has eyes only for her (ooohhh…high romance!).

To that end, he hotwires a Porsche and hightails it out of Vegas and through the desert. His destination is Los Angeles, where he will collect Monica and money he is owed. But sometime during his ranting to Jerry Lee Lewis music – his favorite singer – and doing 100 m.p.h. down the barren desert highway, he's spotted by a highway-patrol officer and is pulled over. As Jesse is ordered out of the Porsche by the cop, he sees a gun that's in the car and picks it up in consideration of brandishing it. Tragically – and this accident will drag him through a downward spiral till the end of the movie – the gun accidentally discharges and injures the cop. Here we again see Jesse's good side as, horrified by his actions, he removes his fancy suit jacket, which contains all the money he has, and pillows it under the fallen policeman's head.

He closes the remainder of the distance to LA on foot and breaks into Monica's apartment, which will serve as his refuge for the next two days. In a brash yet charming move, he disrupts Monica during an important exam at school. Clearly, she's annoyed that this fling, whom she never expected to see again, has popped back into her life. She can't understand the passionate obsession he has for her and wishes he'd leave her alone and let her get her Architecture degree.

Jesse spends the next few days cajoling and convincing Monica to reciprocate his love and accompany him to Mexico while alternately attempting to cash a clean check which will enable him to start his new life with her there. But the cop he accidentally shot suddenly dies, and two grim detectives from the LAPD begin to shadow his every move. Now, he must also dodge the two detectives while attempting to woo Monica and cash his check.

After a passionate pool scene, in which Philip Glass' beautiful composition "Openings" is played, Jesse at last succeeds in winning Monica over. She is unaware, at this point, that Jesse is wanted for murder. The two lovers impetuously flee the police, who are now hot on Jesse's trail, on an exciting flight that takes them through the back streets and alleys of LA. They seek shelter in the secluded remains of an abandoned estate until they are able to make good their escape to Mexico the next morning.

It is here that Monica is jolted into reality when she sees her picture and Jesse's on the front page of the daily paper. Overcome by qualms of conscience, she informs the police of Jesse's whereabouts.

Despite her betrayal, he still loves her. Though BREATHLESS verges on soft porn and has B movie written all over it, it's one of the most passionate movies, if not the most passionate movie, I have ever seen. Jesse is to be admired for having the fortitude to put aside his immaturity and sordid ways to stay true and deeply in love regardless of the consequences. It's a classic example of 80's romantic action drama if one can put aside its flaws for a moment.
Author:
Celeste Harmer
Update This Review
Verdict
Passionate, action-packed, suspenseful (check out the ending!), this movie has more going for it than most viewers realize.
Passion, romance, action, suspense, and a great soundtrack.

Verges on soft p*rn, has a seedy B-movie look and feel.
Rewind Rating
The Movie Data
Jump To: Music & Soundtrack Vibes
Or use the menu to navigate
1983 Orion Pictures
1999-2020 fast-rewind.com
V4_27 Powered by Rewind C21 CMS