REWIND
REVIEW

"
It's only a state of mind.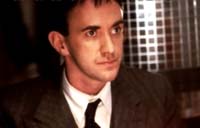 Starring
Jonathan Pryce, Robert De Niro, Katherine Helmond, Ian Holm
Kim Greist, Bob Hoskins, Peter Vaughan, Michael Palin, Jim Broadbent, Ian Richardson, Barbara Hicks, Charles McKeown, Derrick O'Connor, Kathryn Pogson, Bryan Pringle, Sheila Reid Update Cast
Cameos
Look for Terry Gilliam, Holly Gilliam making a cameo appearance!
Many of the characters names are in-jokes or references by Gilliam:
-Mr. Kurtzmann: Kurtzmann is German for "short in stature and success". Kurtzmann is played by famed short actor Ian Holm who played an inferiority complex-suffering Napoleon, obsessed with height in Gilliam's "Time Bandits". Kurtzmann is also the name of the editor of "Help" magazine, where Gilliam worked in the 60's.
-Mr. Helpmann: Helpmann is the only government character who "helps" Sam.
-Mr. Warrenn: A "warren" is a mazelike overcrowded area where rabbits live, which describes the place where Mr. Warrenn works.
-Harvey Lime: Likely a reference to Orson Welles' Harry Lime from "The Third Man", another movie involving a man on the run from the government.
More Trivia from Brazil
Review
It's British comedy meets Orwellian totalitarian society in former Monty Python member Terry Gilliam's surreal vision of dreams, government, and illegal plumbing.

Add to this already clustered mix a heapin' helping of dark comedy and you have one of the best and most creative films of the 80's.

Jonathan Pryce stars as Sam Lowry, a lowly civil servant for the ever ineffective beaurocracy, who spends too much time thinking about the woman of his dreams, flying among the clouds, and classic Hollywood cinema, to efficiently perform his job. However, Sam serendipitously stumbles upon a crucial clerical error which resulted in a warrant being issued for one Harry Buttle, instead of the outlaw heating and plumbing engineer Harry Tuttle (played by an especially wacky Robert De Niro), leading Sam to attempt to rectify this injustice.

Unfortunately for Sam, this seemingly simple correction turns out to be a huge undertaking beyond his means. The totalitarian government is an inefficient mish-mash of paperwork and self-important yahoos who are unreceptive to visits and even less receptive to corrections, thus Sam finds no assistance from the powers that be. Sam has another, more personal, attribute also working against him; this being that he is prone to sacrifice efficiency for escapism to a world where he soars with a beautiful woman and battles a huge metallic samurai.

Nevertheless, Sam forges ahead and on a visit to the remainder of the Buttle family finds himself at another roadblock. He discovers that the Buttle's upstairs neighbor just so happens to be the woman of his dreams, Jill (Kim Greist), a woman who is also a suspected terrorist.

Sam must then balance his quest for justice with his quest for the woman of his dreams, the latter of which makes him a suspected terrorist. We then find Sam on the wrong side of the law, seeking help from a stubborn Jill and wacky Harry Tuttle, as well as a whole host of other strange individuals of varying position and helpfulness.

Can Sam keep the government at bay long enough to right the aforementioned wrong, all the while convincing Jill that they are destined to be together? The answer might be a matter of the ever blurring line between dreams and reality, and the confidence to overcome.

Brazil is not your usual world, Brazil is filled with "Big Brother" like television intrusion, wild machinery, and thick unsympathetic British accents; a world not to be missed...
Author:
Carl
Update This Review
Verdict
Both a cult and a critical favorite, Brazil is a film that takes a few viewings to grasp and, eventually, appreciate. It's stunning, nightmarish view of the future provides a beautiful challenge for Gilliam's knack for unique visual style, as well as a nice juxtaposition for his unusual sense of humor.

Impossible to contain within genres or summaries, Brazil is a film I discovered only recently (which may be a good thing, because it could have been a difficult one to follow at age 2), but has quickly become a personal favorite.

A must-see for fans of Monty Python's Flying Circus, science fiction, fantasy, and dark comedy.
A stellar cast, an inexplicably complex and witty script, astouding visuals; I can't say enough.

Requires at least 3 viewings for adequate comprehension.
Rewind Rating
The Movie Data
Jump To: Music & Soundtrack Vibes
Or use the menu to navigate
1985 MCA Universal
1999-2020 fast-rewind.com
V4_27 Powered by Rewind C21 CMS