REWIND
REVIEW

"
Between the wind and clouds, between a silent boy and a beautiful girl, lies an amazing secret...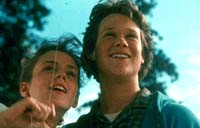 Starring
Lucy Deakins, Jay Underwood, Fred Savage, Bonnie Bedelia
Colleen Dewhurst, Fred Gwynne, Mindy Cohn, Janet MacLachlan, Chris Arnold, Cameron Bancroft, Michelle Bardeaux, Sean Kelso, Dwight Koss, Jennifer Michas, Aura Pithart, Raimund Stamm, Meredith Bain Woodward, Dan Zale Update Cast
Early Appearances
See Fred Savage, Jason Priestley before they were famous!
Cameos
Look for Nick Castle, John Carpenter, Louise Fletcher making a cameo appearance!
Writer/Director Nick Castle had previously written the screenplay for John Carpenter's "Escape from New York". He has also earned a small place in the history of the horror film by playing "The Shape" in Carpenter's "Halloween". Carpenter also named the lead character in "The Fog" after him. He is also credited for providing the original story for Steven Spielberg's "Hook". Castle was also slated to helm that quirky Peter Pan update until Spielberg came aboard.
More Trivia from The Boy Who Could Fly
Review
When Milly and her family move to a new neighborhood after the recent suicide of her terminally ill father, she meets a rather strange boy called Eric.

Eric is autistic and lives with his uncle after the tragic plane crash which killed his parents when he was just a child.

Eric has a fascination with flight and as the story progresses a wonderful story unfolds. The only way he can believe in his reality is by believing he can fly. But this is absurd as nobody can fly right?

When Milly and Eric attend a school trip and she takes a fall from a ledge which nobody should have been able to survive, she finds herself awake in hospital with only a slight concussion. So how did Milly escape a certain tradgedy? Can Eric fly after all?

Milly slowly brings Eric out of his shell and he learns if he wishes hard enough, anything is possible.

"
Wish hard enough... love long enough... and anything's possible
"
This is a well received film about the beauty of innocence. Also how a friendship can bring out the best in people.
You will find yourself hypnotised by Eric's behavior almost jealous of the unspoken bond between the two main characters.
The 80's vibe of teenagers coming together is very apparant in this movie. Much like in the breakfast club or Sixteen Candles the teenagers are the main characters in this movie and they manage to hold their own in a very adult dominated world.
Author:
chantal
Update This Review
Verdict
This movie shows us that with determination and love, we can achieve anything. This is an almost magical movie.

The characters are not beauty queens or handsome studs they are rather the kids next door and we can relate to this.

I cannot find one bad thing about this movie, when I first saw it I was bowled over. The tradgedies that Milly and Eric have faced makes them even closer and it makes you feel warm inside. This is a very feel good movie. You want the kind of relationship that they have and you never want this movie to end.

If you have not seen this movie then I recommend you hunt until you find it in your local video shop.
A magical and wonderful movie. It will leave you feeling warm inside.

None whatsoever
Rewind Rating
The Movie Data
Jump To: Music & Soundtrack Vibes
Or use the menu to navigate
1986 Warner Bros.
1999-2020 fast-rewind.com
V4_27 Powered by Rewind C21 CMS