REWIND
REVIEW

"
A Team is Not a Team if You Don't Give a Damn About Each Other.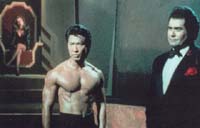 Starring
Eric Roberts, Phillip Rhee, James Earl Jones, Sally Kirkland
Chris Penn, John Dye, David Agresta, Tom Everett, Louise Fletcher, John P. Ryan, Edan Gross, Simon Rhee, Master Hee Il Cho, James Lew, Ken Nagayama, Master Ho Sik Pak, Dae Kyu Chang, Diane Mizrahi, Cal Bartlett, Ahmad Rashad Update Cast
Phillip and Simon Rhee had a higher standard to live up to than the rest of the fighters. They are the sons of Grandmaster Jhoon Rhee, who is known as the "Father of U.S. Tae Kwon Do" for having introduced the martial art to the United States.
More Trivia from Best of the Best
Review
As a once-devout student of Tae Kwon Do, having spent nearly five years in the "dojang", and as a fan of martial arts movies in general, "Best of the Best" is simply that. Combining a talented cast with a dramatic storyline, this film is one of the best darn martial arts movies out there.

South Korea holds the sport of Tae Kwon Do in very high regard. Just as America prides itself on sports like baseball and football, the Koreans treat Tae Kwon Do much like a national past time, and are considered to be the very best in the world at it. Every three years, they select a team of the five best martial artists in the country, to compete in a full-contact tournament.

Their opponents; Team USA, five martial artists gathered from every corner of the country. Though the story itself encompasses the entire team, the main plot revolves around only two of the five members. Alex Grady (Eric Roberts), a veteran fighter, serves as the team's captain, having come out of retirement after a severe shoulder injury to compete in the tournament, with the blessing of his young son Walter (Edan Gross), of course! Also leading the squad is Tommy Lee (Phillip Rhee), an extremely gifted martial artist with a haunting past, which begins to unravel much later in the film. Joining the two captains are Travis Brickley (Chris Penn), a hot-tempered southerner, Sonny Grasso (David Agresta), a former street-fighter from Detroit, and Virgil Keller (John Dye), a mild-mannered Buddhist from Rhode Island.

As might be expected from such a motley crew, the members don't get along too well at first, but fortunately, Coach Frank Couzo (James Earl Jones) is there to keep law and order. With a commanding presence and strict edicts, he goes all out to whip his team into shape in the scant few months before the competition, even recruiting a skilled personal trainer in the form of Katherine Wade (Sally Kirkland), who lends her vast knowledge of yoga and meditation to ensure that the team will be fully prepared. For both she and Coach Couzo know just how dangerous the Korean team can be.

The story takes a shocking turn when Tommy Lee discovers that his opponent in the tournament will be none other than Dae Han (Simon Rhee), who despite being one of the most feared martial artists in the world, also killed Tommy's older brother in a similar competition fifteen years before. Still tormented by the loss, not knowing if he'll be able to stand against his brother's killer, Tommy ultimately quits the team. Likewise, his co-captain Alex Grady receives an emergency call from his mother (Louise Fletcher), and must return home to tend to his comatose son, a move which violates Coach Couzo's inflexible terms of training and results in Grady's ejection from the team. With the competition in jeopardy, the members of the U.S. National Karate Team must search within themselves to decide what's more important: Themselves, or the squad.

In the end, the team ends up proving Coach Couzo's own philosophy. A team is not a team, if you don't give a damn about each other...
Author:
Joe Pingree
Update This Review
Verdict
As much about teamwork as it is about martial arts, this movie is fairly wide in scope as far as these movies go.

It truly captures the idea that being part of a team is not something to be taken lightly. All the spectacular fighting scenes aside, the level of drama in this film is what really makes it worth watching.
Dramatic story, memorable characters, and a touching ending. What more could you ask for?

Unless you're not a fan of martial arts films, there's really nothing to nitpick about.
Rewind Rating
The Movie Data
Key Crew
Director: Robert Radler
Writer: Phillip Rhee, Paul Levine, Max Strom
Producers: Frank Giustra, Michael Holzman, Phillip Rhee, Deborah Scott, Marlon Staggs, Peter E. Strauss
Locations Manager: Jerry Jaffe
Update The Crew
Data
Release Date: 10 Nov 1989
MPAA Rating: PG-13
Studio: Kuys Entertainment
Production: Best Of The Best Films, Kuys Entertainment, Movie Group, The, SVS Films
Genre: Martial Arts
Update The Data
The Movie Trailer
Jump To: Music & Soundtrack Vibes
Or use the menu to navigate
1989 Kuys Entertainment
1999-2020 fast-rewind.com
V4_27 Powered by Rewind C21 CMS