REWIND
REVIEW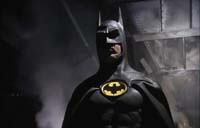 Starring
Michael Keaton, Jack Nicholson, Kim Basinger, Billy Dee Williams
Jerry Hall, Pat Hingle, Michael Gough, Robert Wuhl, Jack Palance, Tracey Walter, Lee Wallace, William Hootkins, Richard Strange, Carl Chase, Mac McDonald, George Lane Cooper, Terence Plummer, Philip Tan, John Sterland, Edwin Craig Update Cast
Cameos
Look for Tim Burton, Michael Balfour making a cameo appearance!
This was the first film to ever get a "12" rating in Great Britain. The rating was created to prevent young kids from seeing the film. It has been in place ever since.
More Trivia from Batman
Review
Night falls hard on the city of Gotham.

Mayhem and madness typically arise in the large metropolis. Two crooks rob and kill a husband in front of his wife and son. A shadow passes over the sky. A 6-foot tall, rubber clad bat saves the day. Thus begins the film Batman.

Based on the classic D.C. Comics written by Bob Kane, Batman is a critical and commercial success. Garnering everything from Coca-Cola commercials to an animated series to three sequels, the Batman logo is recognizable to practically every living being. Bruce Wayne is an outsider to the city of Gotham, thus it seems only appropriate that the director of this film is Tim Burton. But don't let his elusive demeanor fool you. Batman is anything but helpless.

About halfway into the movie we find out why Batman is Batman in the first place. After leaving a movie theater at night, a young Wayne and his zillionaire parents are trapped in a dark alleyway where a menacing looking man murders both of Bruce's parents and then asks:

The viewer then realizes that the distraught little boy, Bruce Wayne, grew up to be a vengence seeking vigilante who uses his parents massive amount of money to be a crime-stopping superhero.


"Have you ever danced with the devil in the pale moonlight?"
The film is set in Bruce's (Michael Keaton) adulthood and not a soul has figured out his double identity, although lots of people are intrigued by the elusive man-sized bat, including Vicki Vale (Kim Basinger). Vicki is a photographer eager to snap some pics of this Batman who many people don't even believe exists. I mean come on, what are the chances of their being a flying superhero in their own town? But there is one. And they need him. The mayor wants to hold a 200th anniversery of their prosperous city, but the crime-rate is so horrible that they feel even a city parade is too dangerous.
They were right of course, but after the creation of The Joker (Jack Nicholson) their lives would be put in peril more then ther ever imagined. Already a crook to begin with, all it took to turn Jack Napier into a walking Frankenstein was a plunge into a deep pool of toxic chemicals which turned his hair a sickly green and his skin a ghostly white. Facist plans to take over the world and create everyone into clown-lookalikes is on The Jokers agenda, but not if Batman has anything to say about it.
Filled with romance and humor, action and mystery, Batman is certaintly one of, if not the, best films ever made based on a comic book character. This film stands the test of time, and still looks incredible to this day. Watch Batman and let it carry you on its black wings of imagination to a justice prevailing outcome.
Author:
Bridgette Marie
Update This Review
Verdict
I love this film soooo much. How can anybody ever forget how big it was when it came out? It was enormous! My little brother was a Batman fan for years and so was I.

It was a film both girls and boys could watch and enjoy, even more so than say Superman.

After I watched the film I remember loving the colors red and green (Jokers main color coordinations).

Michael Keaton was the best Batman, in my opinion. He really brought a lot of charisma and depth to the character of Bruce Wayne that I feel other actors, like Kilmer and Cloony, failed to capture. Nicholson also did an amazing job and Basinger was at her most beautiful.

It was just an all around wonderful movie.
Great scenery, costumes, music, actors.....I could go on all day on what an awesome movie this is.

No weaknesses here.
Rewind Rating
The Movie Data
Jump To: Music & Soundtrack Vibes
Or use the menu to navigate
1989 Warner Bros.
1999-2020 fast-rewind.com
V4_27 Powered by Rewind C21 CMS